Becel Plant-Based "Butter" Tarts
Plant-based meets patriotic with this Canadian classic. Rich, flaky, perfectly sweet – a dozen may not be enough
Cooking time

20 min

Prep time

20 min

Servings

Portions 12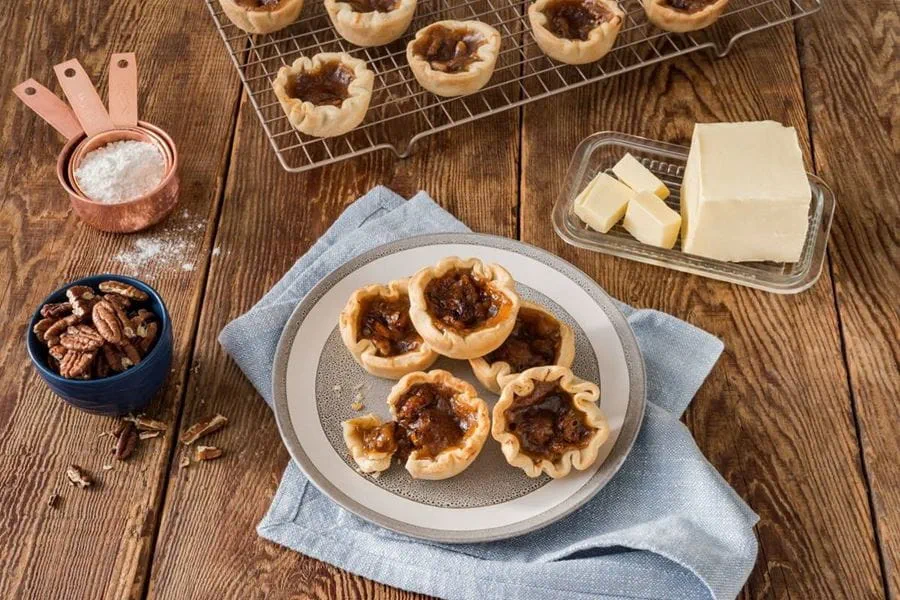 Ingredients
1 1/2 cups (375 mL) all-purpose flour
1/4 tsp. (1 mL) salt
4 oz. (125 mL) plus 2 Tbsp. Becel® Unsalted Plant-Based Bricks, divided
3 Tbsp. (45 mL) iced water
2 tsp. (10 mL) white vinegar, divided
1/2 cup (125 mL) firmly packed light brown sugar
1/4 cup (60 mL) corn syrup
2 Tbsp. (30 mL) pure maple syrup
1 egg *
1 tsp. (5 mL) vanilla extract
1/2 cup (125 mL) chopped pecans
1/2 cup chopped pecans
| | |
| --- | --- |
| Energy (kcal) | 30 kcal |
| Energy (kJ) | 124 kJ |
| Protein (g) | 0.4 g |
| Carbohydrate incl. fibre (g) | 0.6 g |
| Carbohydrate excl. fibre (g) | 0.2 g |
| Sugar (g) | 0.2 g |
| Fibre (g) | 0.4 g |
| Fat (g) | 3.1 g |
| Saturated fat (g) | 0.3 g |
| Unsaturated fat (g) | 2.7 g |
| Monounsaturated fat (g) | 1.8 g |
| Polyunsaturated fat (g) | 0.9 g |
| Trans fat (g) | 0.0 g |
| Cholesterol (mg) | 0 mg |
| Sodium (mg) | 0 mg |
| Salt (g) | 0.00 g |
| Vitamin A (IU) | 2 IU |
| Vitamin C (mg) | 0.0 mg |
| Calcium (mg) | 3 mg |
| Iron (mg) | 0.11 mg |
| Potassium (mg) | 18 mg |
Instructions
Preheat oven to 350°F (180°C).
Combine flour, oats, brown sugar and cinnamon in medium bowl. Mix in Becel® salted margarine sticks with hands until mixture is crumbly. Spread crumb mixture evenly on baking sheet in single layer and bake 15 minutes.
Remove from oven, stir, then return to oven and bake until golden, about 7 minutes.* Sprinkle over yogurt, ice cream or fresh fruit!
During this time, when ingredients may be hard to find, we've listed some easy substitutions. -Substitute cider vinegar or lemon juice for white vinegar. -Substitute honey or corn syrup for maple syrup. -Substitute rum, brandy or maple syrup for vanilla. Or the vanilla can be omitted. -Instead of chopped pecans, use any chopped nut, raisins, currants or chocolate chips. -If you don't have Becel Plant-Based Bricks, any Becel product will work. * To make this recipe vegan, omit the egg in the filling and replace with an additional 2 tablespoons (30 mL) melted Becel and 2-1/2 to 3 teaspoons (12 mL to 15 mL) cornstarch.
Becel Plant-Based Butter Tarts