Asian Steak Salad
Cooking time

8 min

Prep time

20 min

Portions 4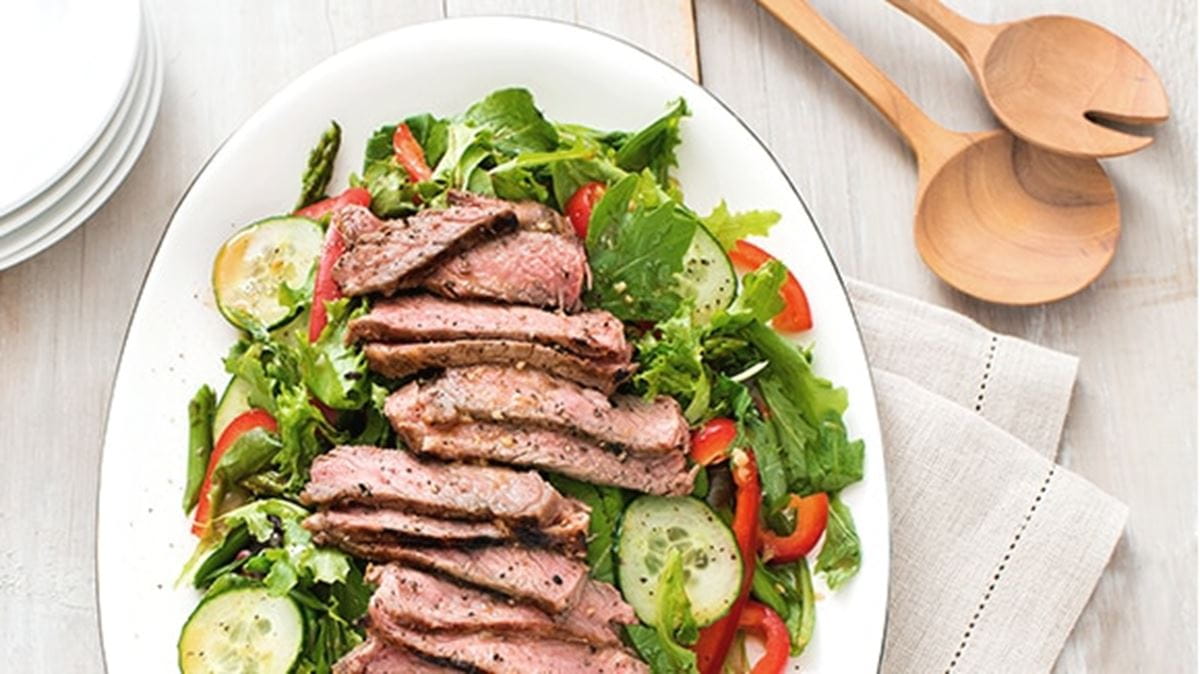 Ingredients
1/2 cup orange juice
2 tsp. light soy sauce
2 tsp. sesame oil
2 tsp. honey
1 1/2 tsp. rice wine vinegar
1 1/2 tsp. finely grated fresh ginger
2 cloves garlic , finely chopped
1 tsp. Becel® Oil
1/8 tsp. hot pepper sauce , (optional)
3/4 lb. boneless sirloin steak
3 quarts mixed salad greens , (such as romaine, arugula, red leaf, etc.)
1/2 lb. fresh asparagus , trimmed, cooked and cut into small pieces
1 medium red bell pepper , cut into thin strips
1/2 English cucumber , thinly sliced
3 green onions , thinly sliced
1/4 cup chopped fresh cilantro , (optional)
Nutrition facts
| | |
| --- | --- |
| Calories | 200.00 |
| Total Fat | 5.00 g |
| Saturated Fat | 1.500 g |
| Trans Fat | 0.000 g |
| Polyunsaturated Fat | 1.000 g |
| Monounsaturated Fat | 2.500 g |
| Cholesterol | 45 mg |
| Sodium | 200 mg |
| Sugars | 9.00 g |
| Protein | 23.00 g |
| Calcium | 4 % |
| Iron | 25.00 % |
| Omega-3 | 0.00 g |
| Omega-6 | 0.00 g |
| Vitamin C | 120.0 % |
| Vitamin A | 120.0 % |
Instructions
Blend orange juice, soy sauce, sesame oil, honey, rice wine vinegar, ginger, garlic, Becel® Oil and hot pepper sauce with wire whisk in small bowl. Pour ¼ cup (50 mL) dressing over steak in shallow non-aluminum dish, turning to coat. Marinate in refrigerator at least 30 minutes. Reserve remaining dressing.
Grill or broil steak until desired doneness, turning once, about 6 minutes. Let stand 5 minutes. Slice thinly on the diagonal.
Toss reserved dressing with salad greens, asparagus, red pepper, cucumber, green onions and cilantro. Top with steak.