Asian-Style Pork Tenderloin
Cooking time

25 min

Prep time

10 min

Portions 4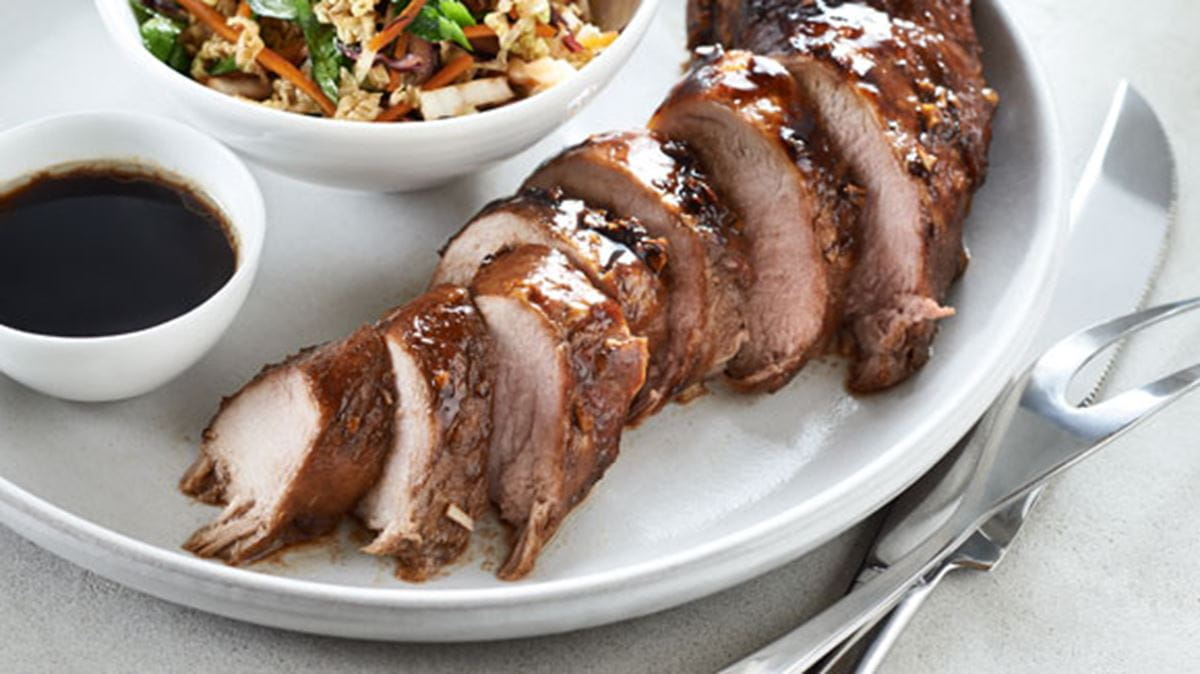 Ingredients
2 Tbsp. soy sauce
2 Tbsp. sugar
1 Tbsp. hoisin sauce
1 clove garlic , finely chopped
1 tsp. finely grated fresh ginger
1 tsp. five spice powder *
3/4 -lb. pork tenderloin , trimmed
1/2 tsp. Becel® Oil
Nutrition facts
| | |
| --- | --- |
| Calories | 100.00 |
| Total Fat | 1.00 g |
| Saturated Fat | 0.500 g |
| Trans Fat | 0.000 g |
| Polyunsaturated Fat | 0.300 g |
| Monounsaturated Fat | 0.600 g |
| Cholesterol | 45 mg |
| Sodium | 140 mg |
| Total Carbs | 2.00 g |
| Dietary Fiber | 0.0 g |
| Sugars | 1.00 g |
| Protein | 19.00 g |
| Calcium | 0 % |
| Iron | 6.00 % |
| Omega-3 | 0.00 g |
| Omega-6 | 0.00 g |
| Vitamin C | 2.0 % |
| Vitamin A | 0.0 % |
Instructions
Combine all ingredients except pork and Becel® Oil in non-aluminum shallow dish. Add pork and turn to coat. Cover with plastic wrap and marinate in refrigerator 4 hours or overnight.
Preheat oven to 375°F (190°C). Grease 27 x 15 cm (2 L) baking dish with Becel Oil; add pork and marinade.
Bake 25 minutes or until pork reaches 160°F (70°C). Let stand 5 minutes.
*Five Spice Powder is a spice blend frequently used in Asian cuisine.It can be purchased at Asian specialty markets and bulk food stores. To make, combine 5 mL EACH ground star anise, ground fennel seed, ground Szechwan pepper and 2 mL EACH ground cassia or cinnamon and ground cloves.