Banana, Date and Walnut Muffins
Cooking time

20 min

Prep time

25 min

Makes 12 muffins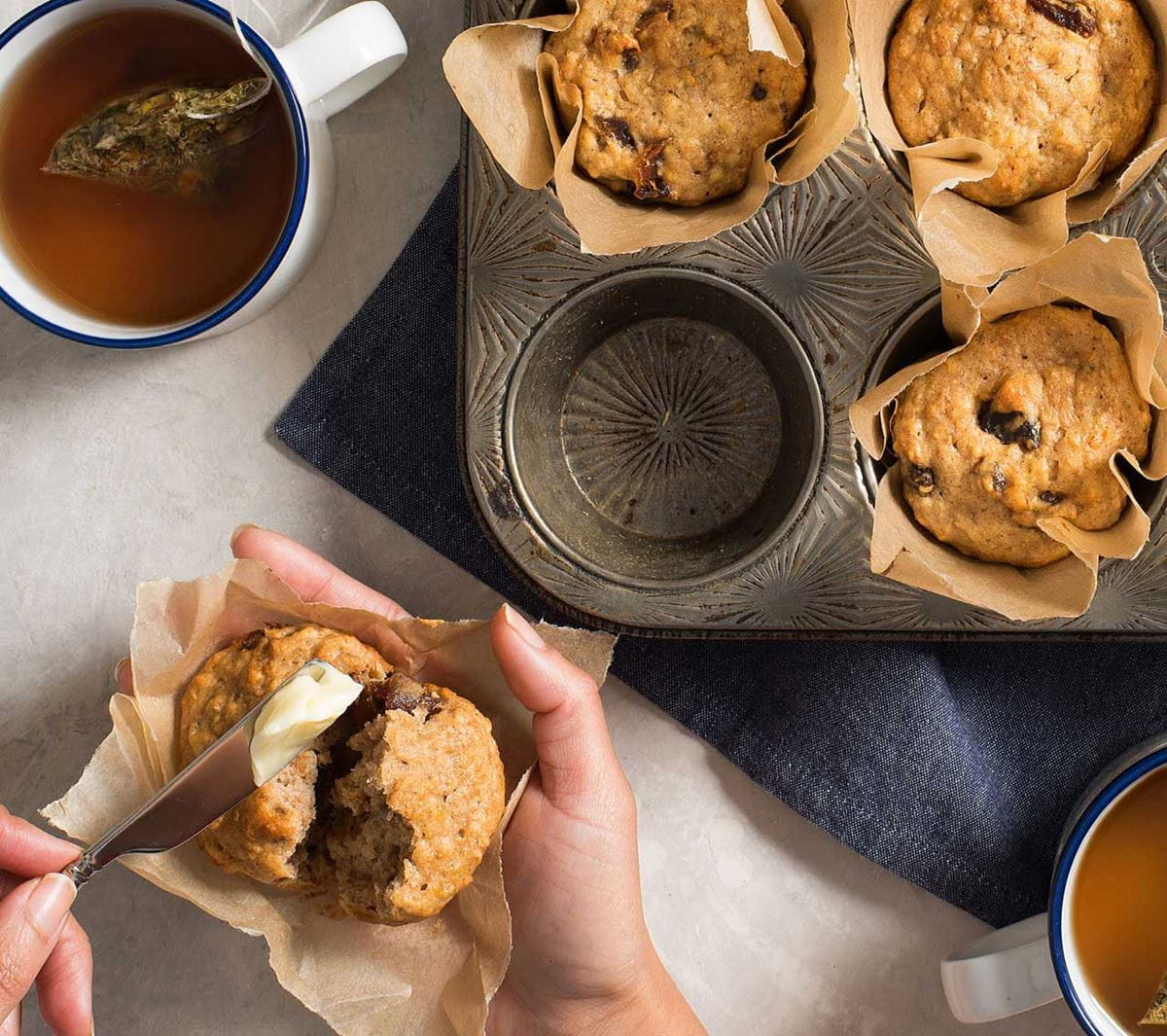 Ingredients
2 cups whole wheat flour
3/4 cup granulated sugar
1/2 cup old fashioned or quick oats
1 tsp. baking powder
1/2 tsp. baking soda
1/2 tsp. ground cinnamon
1 1/4 cups ripe, mashed banana (about 3 bananas)
2 eggs
3/4 cup plain low-fat yogurt
1/3 cup Becel® salted margarine sticks , melted
1 tsp. vanilla extract
1/3 cup coarsely chopped walnuts
3/4 cup chopped pitted dates
Nutrition facts
| | |
| --- | --- |
| Calories | 270.00 |
| Total Fat | 9.00 g |
| Saturated Fat | 2.000 g |
| Trans Fat | 0.000 g |
| Polyunsaturated Fat | 3.000 g |
| Monounsaturated Fat | 3.000 g |
| Cholesterol | 30 mg |
| Sodium | 150 mg |
| Total Carbs | 44.00 g |
| Dietary Fiber | 4.0 g |
| Sugars | 23.00 g |
| Protein | 6.00 g |
| Vitamin D | 0.000 mcg |
| Calcium | 6 % |
| Iron | 1.00 mg |
| Potassium | 297.000 mg |
| Omega-3 | 0.50 g |
| Omega-6 | 2.50 g |
Instructions
Preheat oven to 375° F (190° C). Spray 12-cup muffin pan with no-stick cooking spray; set aside.
Combine flour, sugar, rolled oats, baking powder, baking soda and cinnamon and in large bowl; set aside.
Combine eggs, yogurt, melted Becel® sticks, vanilla and bananas in medium bowl.
Stir banana mixture into flour, then stir in the walnuts and dates. Evenly spoon batter into prepared pan.
Bake 20 minutes or until muffins are golden, and a toothpick inserted comes out cleaned. Cool on a wire rack for 10 minute, then take it out of pan and cool completely.