Cinnamon Roasted Sweet Potatoes & Apples
Cooking time

35 min

Prep time

10 min

Portions 6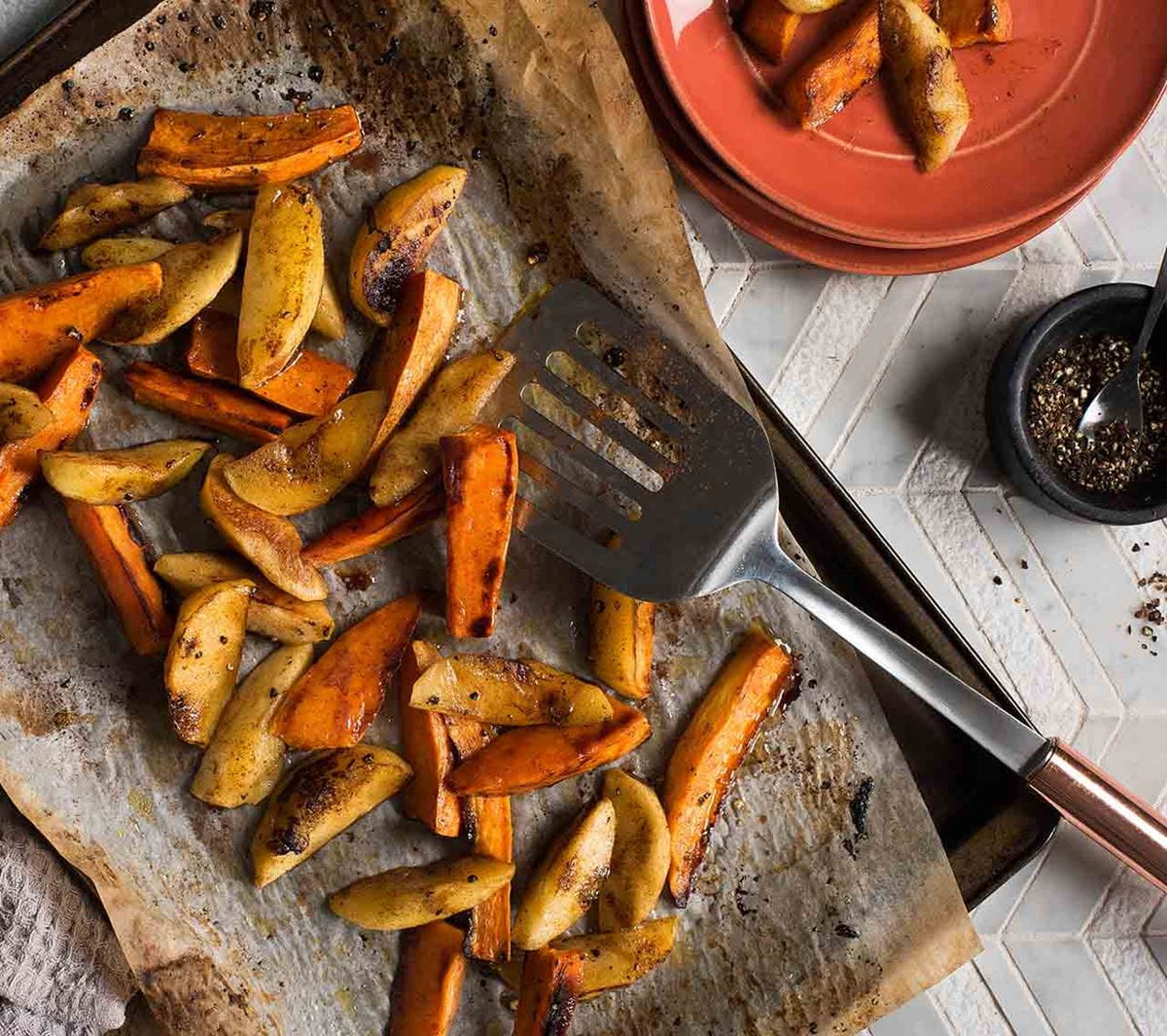 Ingredients
1/4 cup Becel® Buttery Taste margarine* , melted
2 tsp. cinnamon sugar **, divided
1/4 tsp. freshly ground black pepper
3 Granny Smith apple , peeled, cored and cut into 1-inch wedges
3 sweet potatoes , peeled and cut into 1-inch wedges
Nutrition facts
| | |
| --- | --- |
| Calories | 190.00 |
| Calories from Fat | 70.00 |
| Total Fat | 8.00 g |
| Saturated Fat | 1.000 g |
| Trans Fat | 0.000 g |
| Cholesterol | 0 mg |
| Sodium | 95 mg |
| Total Carbs | 30.00 g |
| Dietary Fiber | 5.0 g |
| Sugars | 17.00 g |
| Protein | 2.00 g |
| Calcium | 2 % |
| Iron | 4.00 % |
| Omega-3 | 0.60 g |
| Omega-6 | 2.00 g |
| Vitamin C | 20.0 % |
| Vitamin A | 70.0 % |
Instructions
Preheat oven to 450°.
Combine Becel® Buttery Taste margarine, cinnamon sugar and pepper in small bowl.
Toss apples with 1 tsp. cinnamon sugar mixture in medium bowl; set aside.
Toss potatoes with remaining cinnamon sugar mixture on baking sheet; arrange in single layer. Bake potatoes 10 minutes.
Stir in apple mixture and bake, stirring once halfway through, until potatoes and apples are tender, about 25 minutes. Toss gently before serving.
*Becel® Gold in Quebec. **To make Cinnamon Sugar, mix 1-1/2 tsp. sugar with 1/2 tsp. ground cinnamon.