Cranberry Chocolate Oatmeal Granola
Cooking time

25 min

Prep time

10 min

Makes 14 cups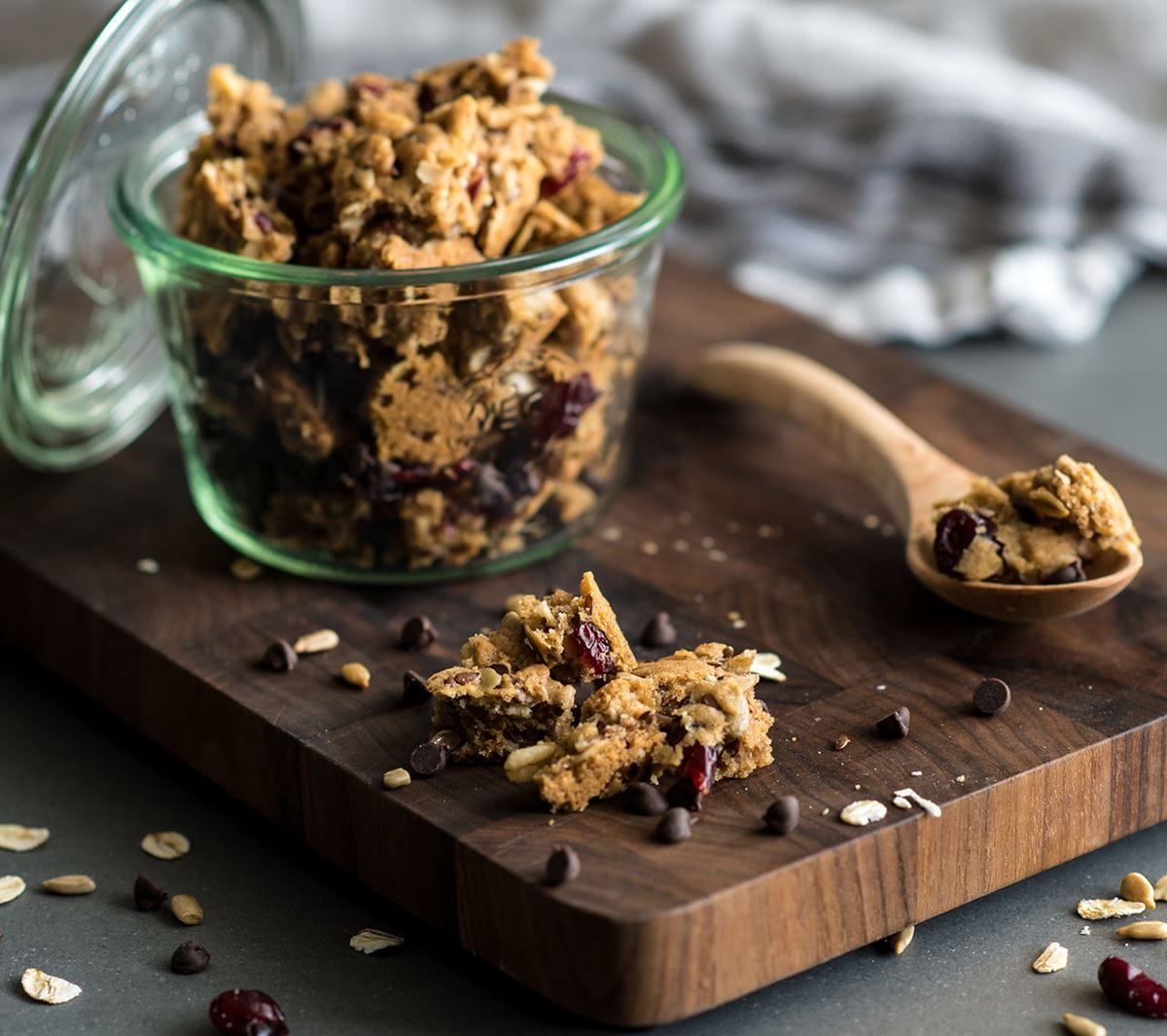 Ingredients
2 1/4 cups all-purpose flour
1 tsp. baking soda
1/2 tsp. salt
1 cup Becel® Original margarine
1 cup firmly packed light brown sugar
1/4 cup granulated sugar
2 large eggs
1 tsp. vanilla extract
1 cup rolled oats
1 cup dried cranberries
1/2 cup flax seeds
1/2 cup raw sunflower seeds
1 Tbsp. ground cinnamon
1/2 cup semi-sweet chocolate chips
Nutrition facts
| | |
| --- | --- |
| Calories | 50.00 |
| Calories from Fat | -1.00 |
| Total Fat | 3.00 g |
| Saturated Fat | 0.000 g |
| Trans Fat | 0.000 g |
| Polyunsaturated Fat | 0.500 g |
| Monounsaturated Fat | 1.000 g |
| Cholesterol | 5 mg |
| Sodium | 40 mg |
| Total Carbs | 6.00 g |
| Dietary Fiber | 0.0 g |
| Sugars | 4.00 g |
| Protein | 1.00 g |
| Vitamin D | 0.000 mcg |
| Calcium | 6 mg |
| Iron | 0.00 mg |
| Potassium | 19.000 mg |
| Omega-3 | 0.30 g |
| Omega-6 | 0.40 g |
Instructions
Preheat oven to 375°F (190° C). Combine flour, baking soda and salt in medium bowl; set aside.
Mix Becel® Original margarine with sugars in large bowl. Mix in eggs and vanilla until blended. Gradually add in flour mixture; mix just until blended. Add oats, cranberries, flax seeds, sunflower seeds and cinnamon. Divide dough in half. Press each half into ungreased 13 x 9-in. (33 x 23 cm) baking pan.
Bake 20 minutes or until golden. Cool 20 minutes on wire rack. Remove from pans, crumble and cool completely. Stir in mini chips.