Gluten Free Maple-Oat Trail Mix
Cooking time

15 min

Prep time

15 min

Upfield.CalcMenu.Recipes.YieldLabel 4 cups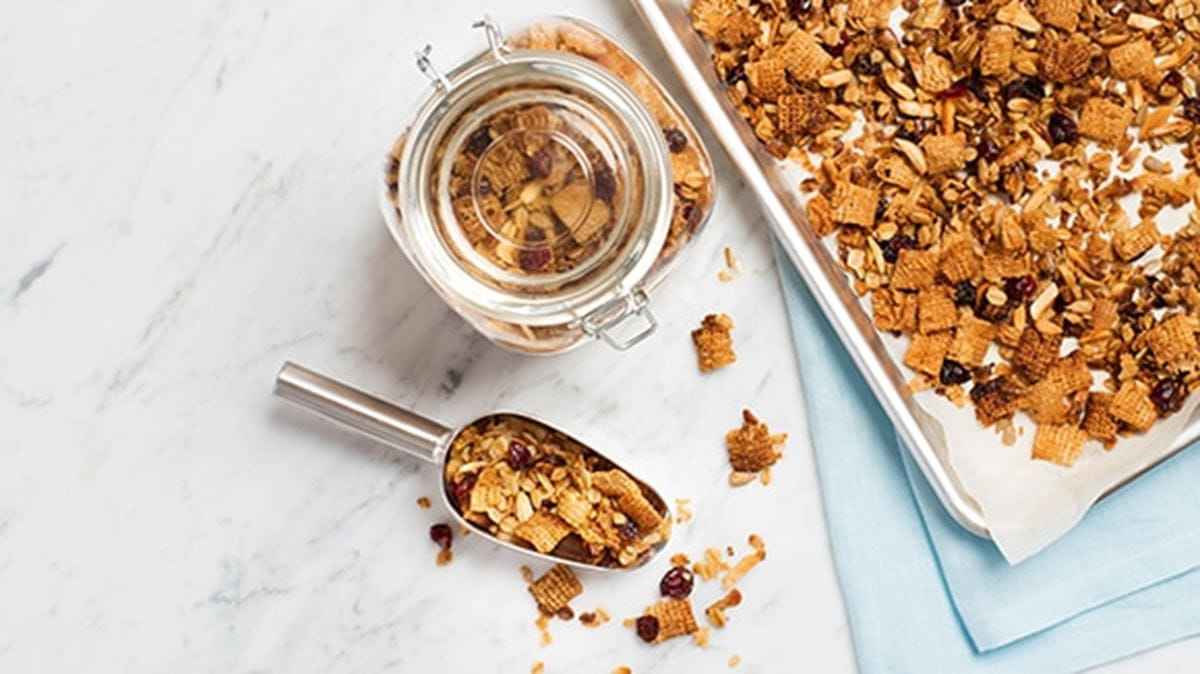 Ingredients
2 cups gluten free square rice cereal
1 cup rolled oats
1/4 cup slivered almonds , toasted
1/4 cup sunflower seeds
1/4 cup dried cranberries
1/4 cup Becel® Buttery Taste margarine*
6 Tbsp. pure maple syrup
1 tsp. gluten free pure vanilla extract
1/4 tsp. ground cinnamon
Nutrition facts
| | |
| --- | --- |
| Calories | 80.00 |
| Total Fat | 4.00 g |
| Saturated Fat | 0.000 g |
| Trans Fat | 0.000 g |
| Cholesterol | 0 mg |
| Sodium | 30 mg |
| Total Carbs | 11.00 g |
| Dietary Fiber | 1.0 g |
| Sugars | 5.00 g |
| Protein | 2.00 g |
| Calcium | 2 % |
| Iron | 2.00 % |
| Omega-3 | 0.10 g |
| Omega-6 | 0.70 g |
| Vitamin C | 0.0 % |
| Vitamin A | 2.0 % |
Instructions
Preheat oven to 375˚F (190˚C).
Arrange cereal, oats, almonds, sunflower seeds and cranberries in medium bowl; set aside.
Microwave Becel® Buttery Taste margarine with maple syrup, vanilla and cinnamon in medium microwave safe bowl at HIGH until spread is melted, about 30 seconds.
Drizzle over cereal mixture; toss to coat. Arrange in single layer on baking sheet and bake, stirring once, until golden brown, about 15 minutes. Let cool completely. Store in air-tight container.
*Becel® Gold in Quebec. Great as a snack, yogurt topping or with milk for a super breakfast. For a nut-free version, omit the almonds and sunflower seeds and increase the cereal and dried fruit by 1/4 cup (60 mL) each.