Loaded Mashed Potatoes with Bacon, Cheddar and Broccoli
Cooking time

10 min

Prep time

15 min

Recipe serves 6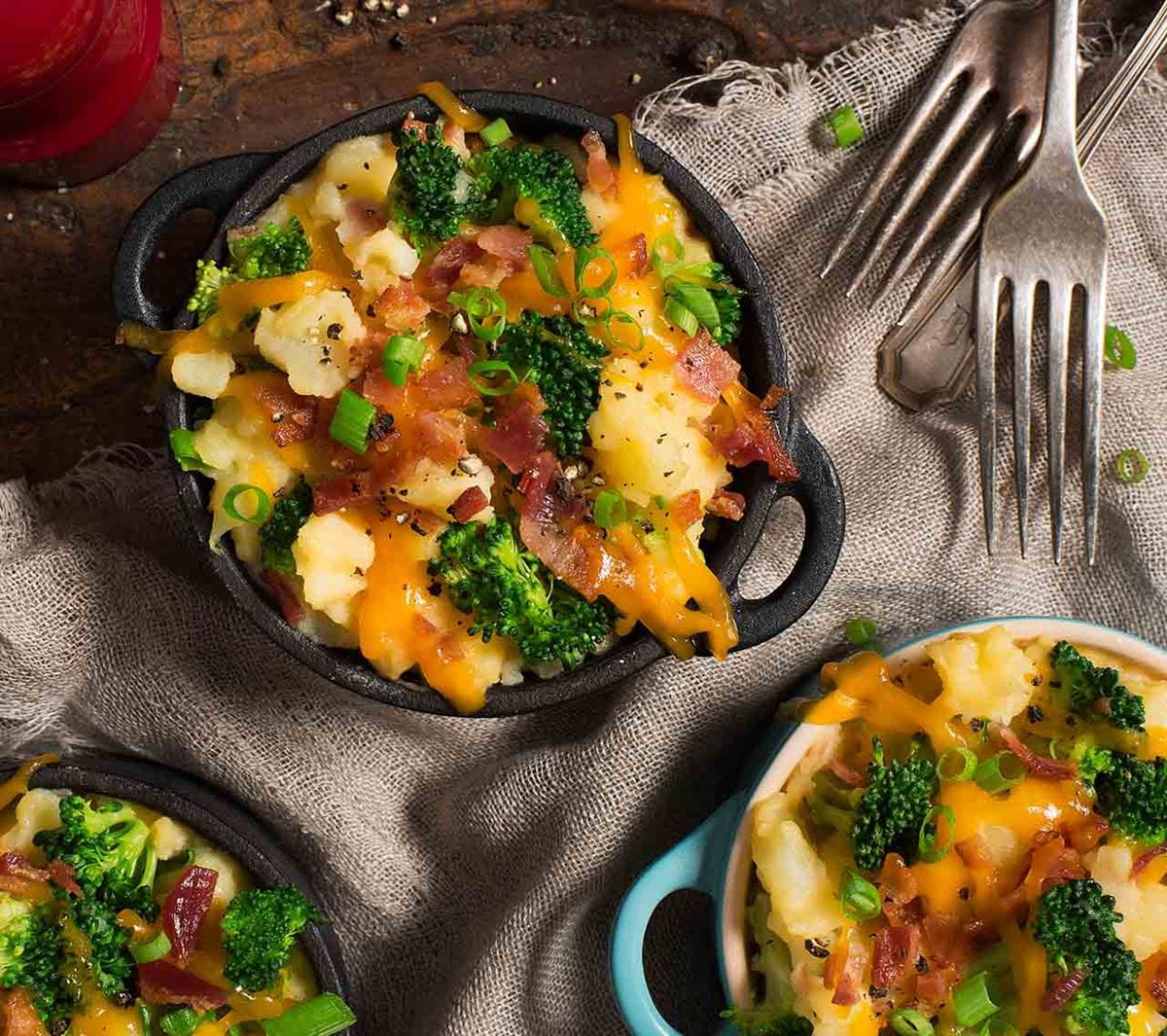 Ingredients
1 1/2 lbs. potatoes , peeled and cut into 1-inch cubes
1/3 cup Becel® Buttery Taste margarine*
1 package (300 g.) frozen chopped broccoli
1 cup shredded low fat cheddar cheese
1/3 cup sour cream
4 slices turkey bacon , crisp-cooked and crumbled
4 green onions , thinly sliced (optional)
Nutrition facts
| | |
| --- | --- |
| Calories | 200.00 |
| Calories from Fat | 110.00 |
| Total Fat | 12.00 g |
| Saturated Fat | 3.000 g |
| Trans Fat | 0.000 g |
| Cholesterol | 10 mg |
| Sodium | 290 mg |
| Total Carbs | 18.00 g |
| Dietary Fiber | 3.0 g |
| Sugars | 2.00 g |
| Protein | 9.00 g |
| Calcium | 10 % |
| Iron | 6.00 % |
| Omega-3 | 0.68 g |
| Omega-6 | 2.40 g |
| Vitamin C | 60.0 % |
| Vitamin A | 20.0 % |
Instructions
Cover potatoes with water in medium saucepot and bring to a boil over high heat.
Reduce heat to medium and cook until potatoes are very tender, about 10 minutes; drain. Return hot potatoes to saucepot.
Stir in Becel® Buttery Taste margarine and mash until almost smooth. Add broccoli and mash lightly. Stir in cheese, sour cream, bacon and green onions, reserving some of each, if desired, for garnish.