Mini Chocolate Chip Shortbread
Cooking time

17 min

Prep time

20 min

Recipe serves 16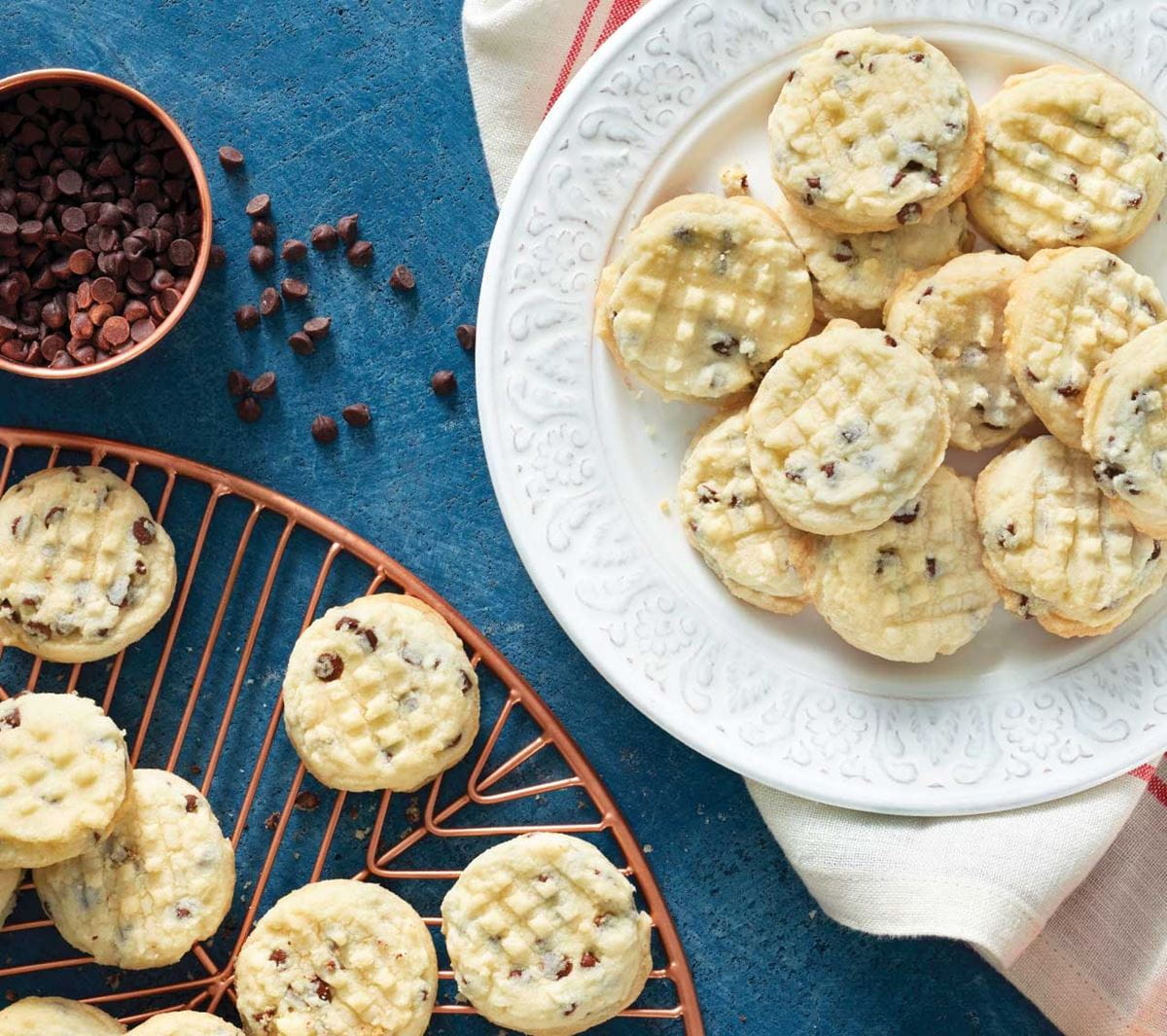 Ingredients
1 cup (2 sticks) Becel® salted margarine sticks
1 cup icing sugar
1 tsp. vanilla extract
1/2 tsp. salt
2 cups all-purpose flour
1 cup mini semi-sweet chocolate chips
Nutrition facts
| | |
| --- | --- |
| Calories | 240.00 |
| Total Fat | 15.00 g |
| Saturated Fat | 5.000 g |
| Trans Fat | 0.000 g |
| Polyunsaturated Fat | 2.500 g |
| Monounsaturated Fat | 7.000 g |
| Cholesterol | 0 mg |
| Sodium | 75 mg |
| Total Carbs | 26.00 g |
| Dietary Fiber | 1.0 g |
| Sugars | 13.00 g |
| Protein | 2.00 g |
| Vitamin D | 2.000 mcg |
| Calcium | 7 mg |
| Iron | 1.00 mg |
| Potassium | 62.000 mg |
| Omega-3 | 0.50 g |
| Omega-6 | 2.00 g |
Instructions
Preheat oven to 325° F (160° C).
Beat Becel® sticks and sugar until well blended and lightened in color, about 2-3 minutes. Stir in vanilla extract and salt until combined.
Add flour until you almost have a ball of dough. Stir in mini chocolate chips and mix until the dough comes together.
Divide dough into sixteen 1/2" to 1" (1.25 to 2.5-cm) balls, flattening with a fork dipped in flour or icing sugar. Arrange on baking sheets.
Bake 12 to 17 minutes or until edges and bottoms are very lightly browned. Transfer cookies to wire rack and cool completely.