Plant-Based Anything Goes Cookie Dough
Cooking time

10 min

Prep time

10 min

Makes 30 cookies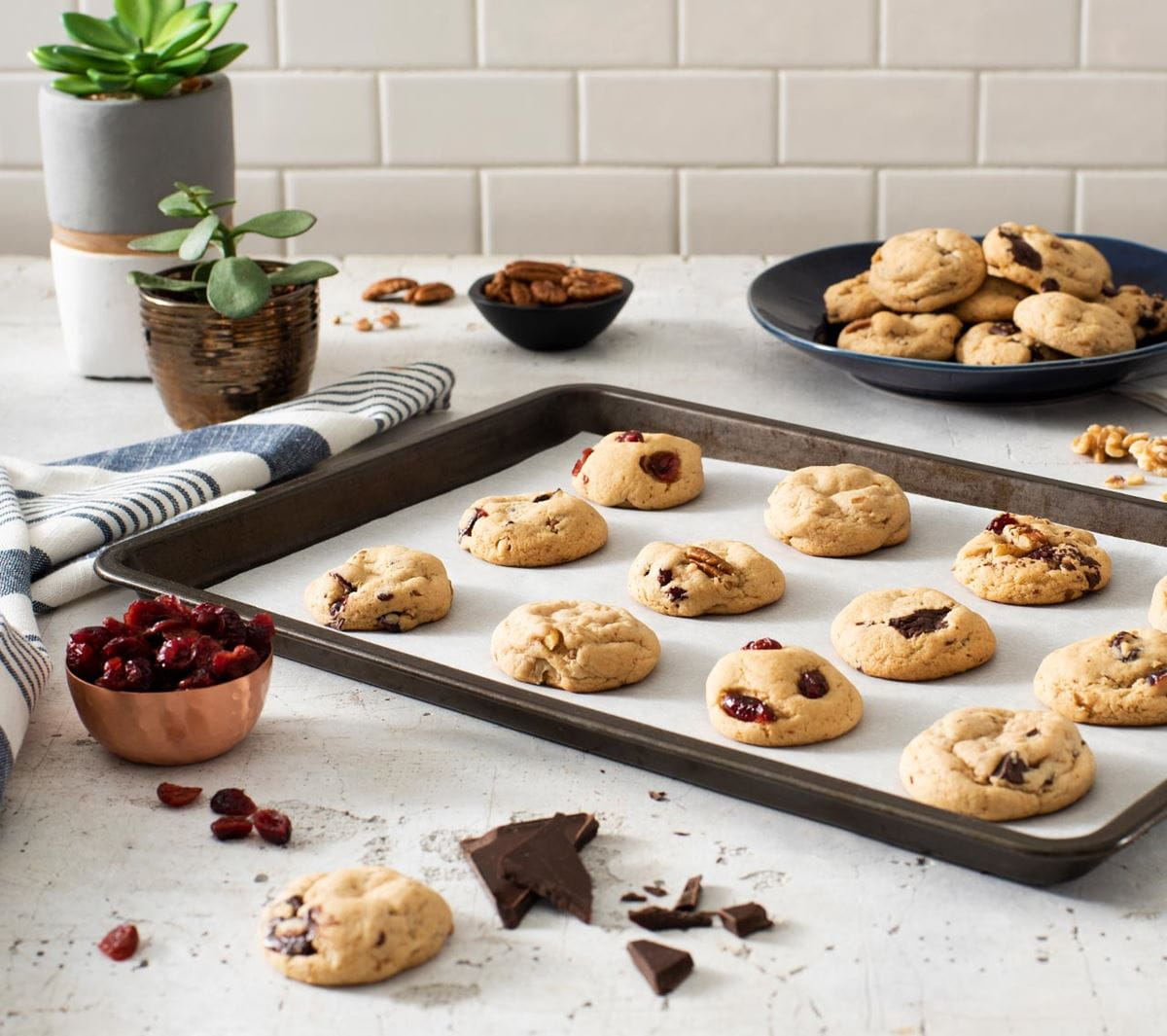 Ingredients
1 3/4 cups all-purpose flour
1 1/2 tsp. cornstarch
1 tsp. baking powder
1/2 tsp. baking soda
1/2 cup Becel® Original margarine
3/4 cup granulated sugar
1/4 cup unsweetened applesauce
1 Tbsp. soy milk
1 tsp. vanilla extract
2/3 cup mix-ins , such as dried fruits, dark chocolate chunks, nuts, seeds
Nutrition facts
| | |
| --- | --- |
| Calories | 90.00 |
| Total Fat | 4.50 g |
| Saturated Fat | 1.000 g |
| Trans Fat | 0.000 g |
| Polyunsaturated Fat | 1.500 g |
| Monounsaturated Fat | 2.000 g |
| Cholesterol | 0 mg |
| Sodium | 60 mg |
| Total Carbs | 12.00 g |
| Dietary Fiber | 0.0 g |
| Sugars | 6.00 g |
| Protein | 1.00 g |
| Vitamin D | 0.000 mcg |
| Calcium | 7 mg |
| Iron | 1.00 mg |
| Potassium | 15.000 mg |
| Omega-3 | 0.30 g |
| Omega-6 | 1.00 g |
Instructions
Preheat oven to 350°F (180°C). Line baking sheet with parchment paper.
Combine flour, cornstarch, baking powder and baking soda in medium bowl; set aside.
Beat Becel® Original margarine and granulated sugar using electric mixer until light and creamy. Beat in applesauce, soy milk and vanilla until blended.
Gradually add in flour mixture and beat until just combined, scraping down sides of bowl occasionally (do not overmix). Fold in your choice of mix-ins. Refrigerate dough 30 minutes or until chilled.
Drop by tablespoonfuls on prepared baking sheet 2 inches apart. Bake 10 minutes or until edges are golden. Cool 5 minutes on wire rack; remove cookies from baking sheet and cool completely.