Savoury & Sweet Hasselback Sweet Potatoes
Cooking time

1 hr 30 min

Prep time

15 min

Recipe serves 4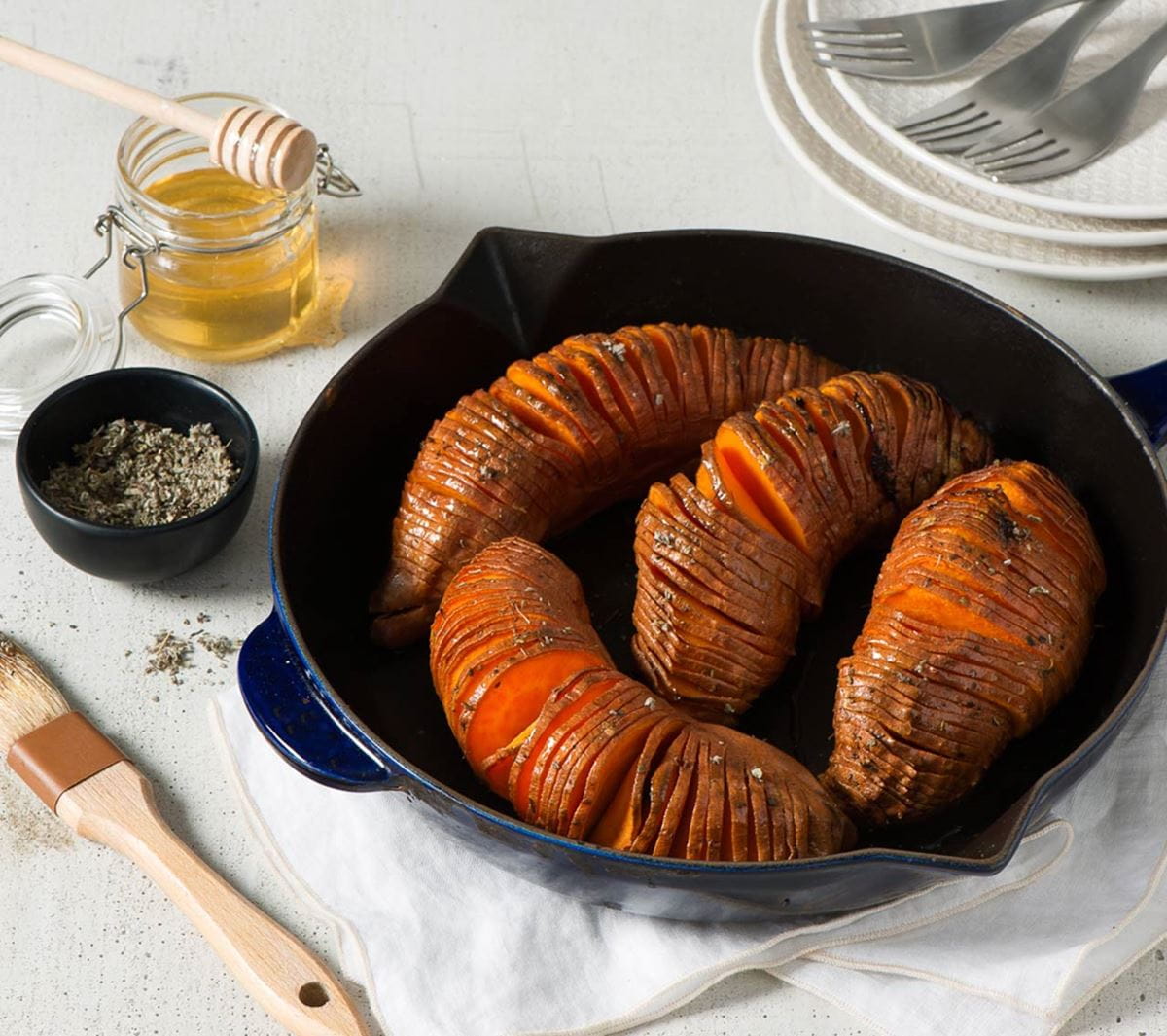 Ingredients
4 medium sweet potatoes
4 Tbsp. Becel® Buttery Taste margarine* , melted
1 tsp. freshly ground nutmeg
2 Tbsp. dried sage
1/4 cup Manuka honey , slightly heated to soften
Pinch each salt and pepper
Nutrition facts
| | |
| --- | --- |
| Calories | 290.00 |
| Total Fat | 12.00 g |
| Saturated Fat | 2.000 g |
| Trans Fat | 0.000 g |
| Cholesterol | 0 mg |
| Sodium | 170 mg |
| Total Carbs | 44.00 g |
| Dietary Fiber | 4.0 g |
| Sugars | 23.00 g |
| Protein | 29.00 g |
| Vitamin D | 0.000 mcg |
| Calcium | 53 mg |
| Iron | 1.00 mg |
| Potassium | 451.000 mg |
| Omega-3 | 0.90 g |
| Omega-6 | 2.50 g |
Instructions
Preheat oven to 400°F (200°C).
Using a sharp knife, make crosswise cuts in each sweet potato, 1/8 to 1/4-in. (3 to 6 mm) apart, stopping about ¼ in. (6 mm) from the bottom. Your sweet potato should look like an accordion.
In a mixing bowl, combine melted Becel® Buttery Taste margarine* nutmeg, sage and honey.
Place sweet potatoes on parchment paper-lined baking tray. Season with salt and pepper. Using a pastry brush, brush honey mixture over the tops and into the grooves of each sweet potato. Reserve remaining honey mixture as glaze after baking.
Bake for 1 to 1 1/2 hours, or until sweet potatoes are soft and fully cooked through. Remove from the oven and brush sweet potatoes with the remaining honey mixture. Serve warm.