Vegan Mushroom Wellington
Cooking time

55 min

Prep time

20 min

Servings

Recipe serves 6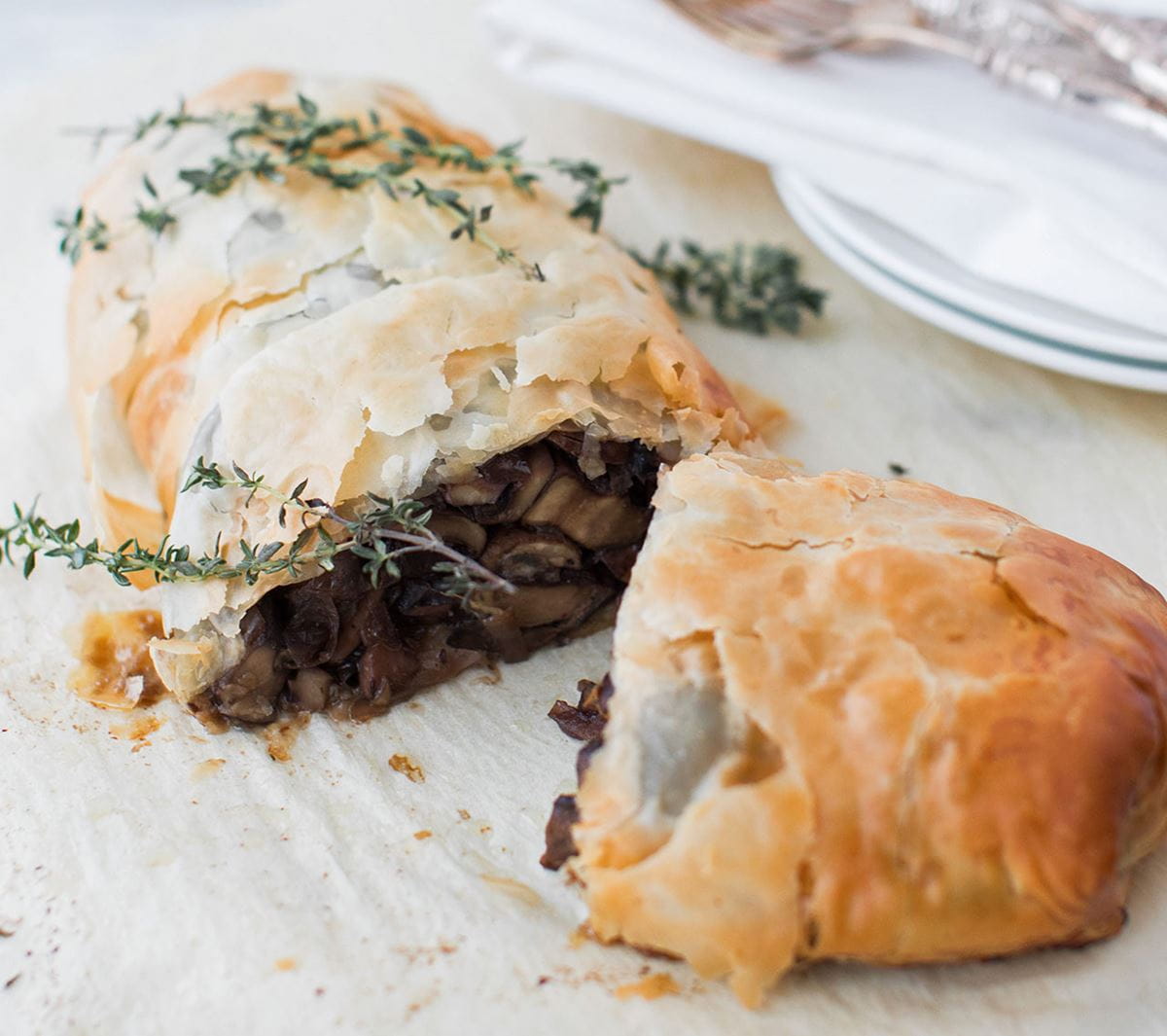 Ingredients
5 Tbsp. Becel® Vegan margarine , PLUS 2 Tbsp. (30 mL) melted Becel® Vegan
1 cup finely diced yellow onion , (1 medium)
1 1/2 tsp. crushed fresh garlic , (3-4 large cloves)
4 portobello mushrooms , cleaned and cut into 1/2-inch slices
4 large brown mushrooms , cut in quarters
4 cups sliced white and brown mushrooms (mixed)
1/2 cup red wine
1 tsp. chopped fresh thyme leaves
1 tsp. sea salt
1/2 tsp. fresh ground pepper
1 sheet frozen puff pastry
extra thyme sprigs for garnish
| | |
| --- | --- |
| Calories | 330.00 |
| Total Fat | 24.00 g |
| Saturated Fat | 6.000 g |
| Trans Fat | 0.000 g |
| Polyunsaturated Fat | 4.000 g |
| Monounsaturated Fat | 8.000 g |
| Cholesterol | 0 mg |
| Sodium | 620 mg |
| Total Carbs | 23.00 g |
| Dietary Fiber | 3.0 g |
| Sugars | 5.00 g |
| Protein | 6.00 g |
| Vitamin D | 0.000 mcg |
| Calcium | 14 mg |
| Iron | 2.00 mg |
| Potassium | 616.000 mg |
| Omega-3 | 1.00 g |
| Omega-6 | 3.00 g |
Instructions
Preheat the oven to 375°F (190°C) and line a large baking sheet with parchment paper.
Thaw the filo or puff pastry according to the package directions and if using the filo pastry, cover with a damp cloth.
In a large frying pan, heat Becel® Vegan margarine on medium heat and add the diced onion. Sauté until the onion is transparent, 3-4 minutes. Add the garlic and sauté for an additional 1-2 minutes, stirring.
Add all of the mushrooms and cook, stirring occasionally, until the mushrooms start to soften, approximately 10 minutes. Add the wine, thyme, salt and pepper and stir occasionally until the mushrooms are fully cooked and softened and the mixture is thick with no excess moisture at the bottom of the pan. Remove the mixture from the stove, place in a medium bowl and cool to room temperature.
If using the filo pastry, place one sheet of filo on to the middle of the parchment-lined baking sheet and brush the filo sheet lightly with melted Becel® Vegan using a pastry brush. Place another layer directly on top of the first sheet, lining them up, and brush again with melted Becel® Vegan. Repeat until you have 5 layers on top of each other.
If using the puff pastry, roll out the pastry on a lightly floured surface to approximately 14"x 18". Place the rolled sheet of puff pastry on top of the parchment-lined baking sheet.
Spoon the cooled mushroom mixture lengthwise in the middle of the pastry of your choice, leaving a 3-4" border along the edges of the pastry.
Carefully fold the pastry over the mushroom mixture in a burrito style, rolling it from the long end and gently tucking in the ends as you roll.
Lightly brush the exterior of the Wellington with melted Becel® Vegan margarine and bake until the pastry is golden brown, approximately 25-30 minutes.
Remove from the oven, transfer the Wellington to a long plate or platter, and garnish with the fresh thyme sprigs. Cut into pieces before serving.