Acai Berry No-Bake Cheesecake with Graham Crumbs, Pomegranate & Cocoa Nibs
Cooking time

10 min

Prep time

30 min

Portions 12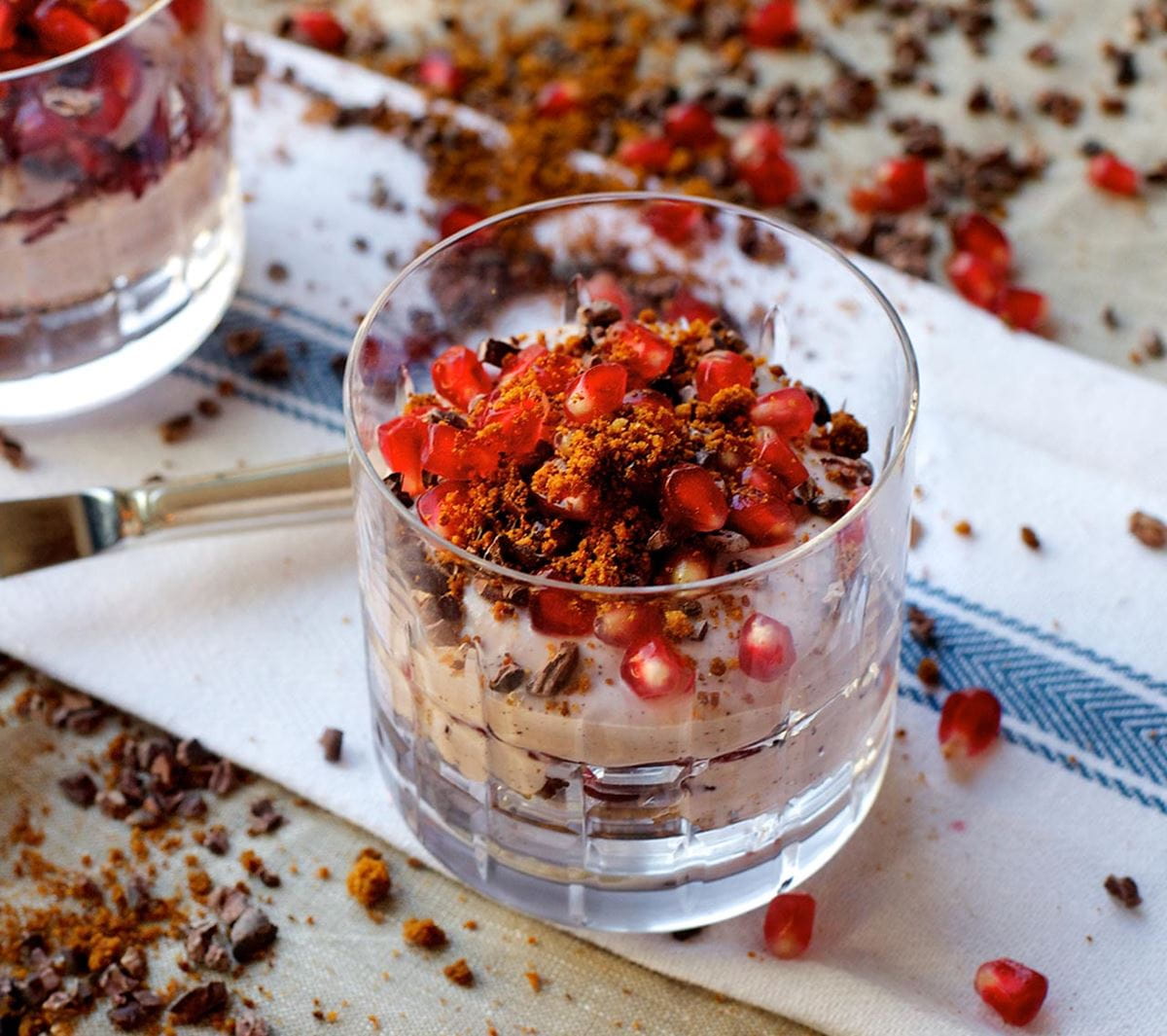 Ingredients
1/4 Becel® margarine sticks , melted
1 cup graham cracker crumbs
2 cups light cream cheese , room temperature
Juice of 1 lemon
Zest of 1/2 lemon
1/2 can (150 mL) sweetened condensed milk
1 Tbsp. acai powder
1 pomegranate , seeded
1/2 cup organic cocoa nibs
Nutrition facts
| | |
| --- | --- |
| Calories | 290.00 |
| Total Fat | 19.00 g |
| Saturated Fat | 9.000 g |
| Trans Fat | 0.000 g |
| Polyunsaturated Fat | 2.500 g |
| Monounsaturated Fat | 6.000 g |
| Cholesterol | 25 mg |
| Sodium | 270 mg |
| Total Carbs | 23.00 g |
| Dietary Fiber | 3.0 g |
| Sugars | 15.00 g |
| Protein | 5.00 g |
| Vitamin D | 0.000 mcg |
| Calcium | 119 mg |
| Iron | 1.00 mg |
| Potassium | 211.000 mg |
| Omega-3 | 0.60 g |
| Omega-6 | 2.00 g |
Instructions
Preheat oven to 375°F (190°C). Mix melted Becel® margarine sticks and graham cracker crumbs well with your hands. Place on a nonstick baking sheet and bake for 5 to 8 minutes until nicely browned or toasted.
In a mixer, add the cream cheese, lemon juice, lemon zest and condensed milk and blend together until smooth and fluffy. Add the acai powder until well incorporated and remove mixture from bowl with plastic spatula. Place in corner of large resealable bag, remove the air and use as a piping bag (cut the corner and it will be easy to squeeze into the vessel).
At the bottom of your chosen glass/mug/mason jar, add a couple of tablespoons of the cookie mixture and pipe the cake mixture on top, about 1.5 inches. Add a sprinkle of pomegranate seeds, a pinch of cookie crumbs and pipe another bit of the cream cheese mixture. Garnish with pomegranate seeds and a sprinkle of cocoa nibs. Refrigerate covered for 30 minutes or overnight, then serve and enjoy!