Thank you for your support on Becel pro-activ®. We have recently discontinued the production of Becel pro-activ® and apologize for any inconvenience this might cause you. All Becel products currently found in a tub, which include Original, Buttery (Gold in Quebec), Olive Oil, Avocado Oil, Vegan, Light, and Salt Free, are low in saturated fat and free of trans fat per serving. A healthy diet low in saturated and trans fat may reduce the risk of heart disease. Becel Salt Free and Becel Light are suitable for most sodium-reduced or calorie-reduced diets. Please review the specific product label for nutritional information and consult with a healthcare professional to determine which alternate Becel product is best suited for your needs.
Becel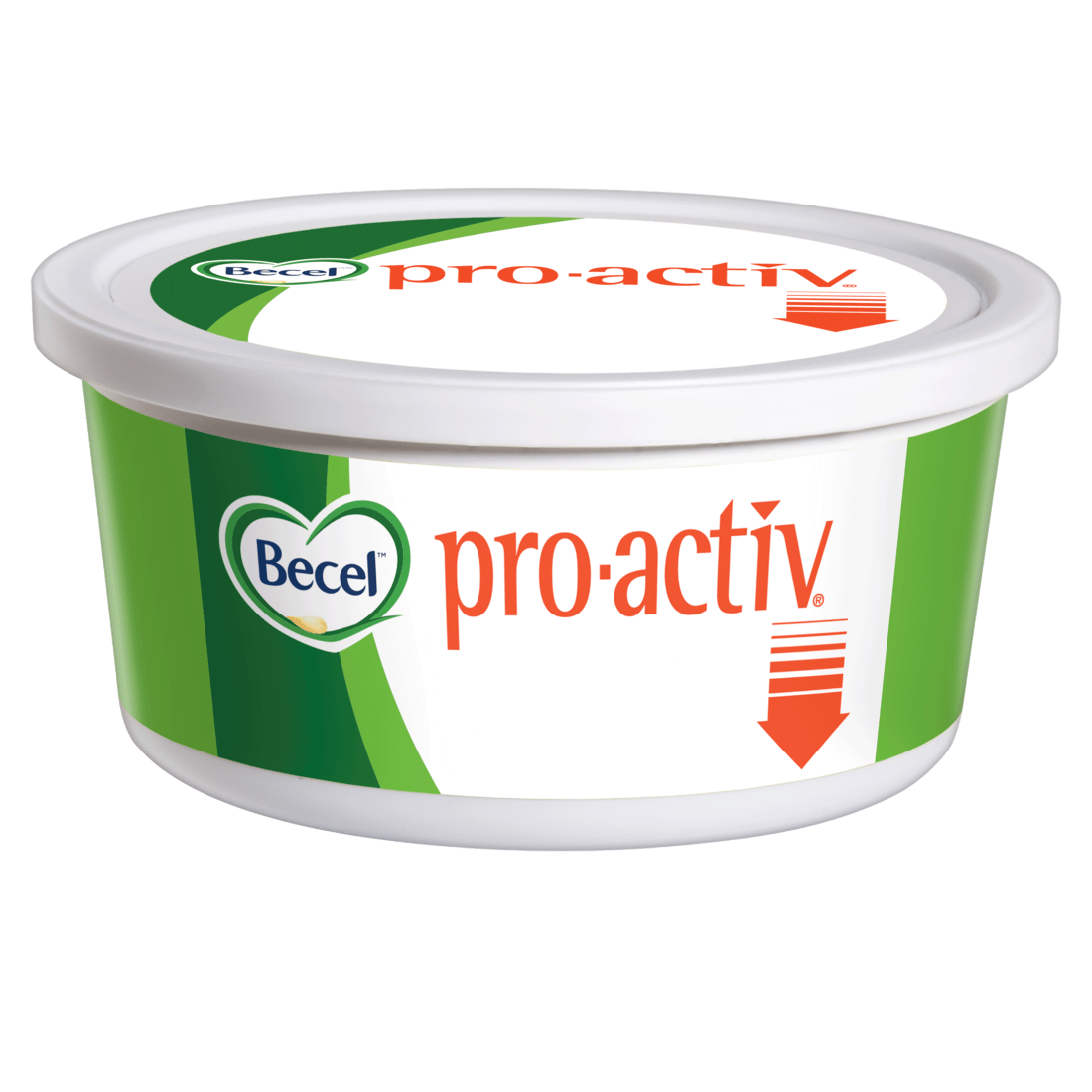 Ingredients
Water 53%, canola and sunflower oils 30%, plant sterol esters 9%, modified palm and palm kernel oils 2.5%, modified corn starch, salt, whey powder 1% (milk), vegetable monoglycerides, soy lecithin, lactic acid, potassium sorbate, calcium disodium EDTA, natural and artificial flavours, citric acid, alpha tocopherol acetate (vitamin E), vitamin A palmitate (vitamin A), vitamin D3, beta carotene.
Frequently Asked Questions
Non-hydrogenated? Yes
No trans fat? Zero grams of trans fat per serving
Low in saturated fat? 0.5 grams of saturated fat per serving
Can you bake and cook with Becel® pro.activ®? Not recommended
Can you pan fry with Becel® pro.activ®? Not recommended
Can you freeze Becel® pro.activ®? Not recommended
How long can you store Becel® pro.activ®? Several months (refrigerated)
Is Becel® pro.activ® dairy free and lactose free? No, it contains whey
Is Becel® pro.activ® kosher? Yes.
Source of Omega 3 fats? No, due to lower fat content
Great for spreading and topping. Not recommended for freezing, frying or baking.