Apricot and Almond Biscotti
Cooking time

50 min

Prep time

20 min

Makes 36 biscotti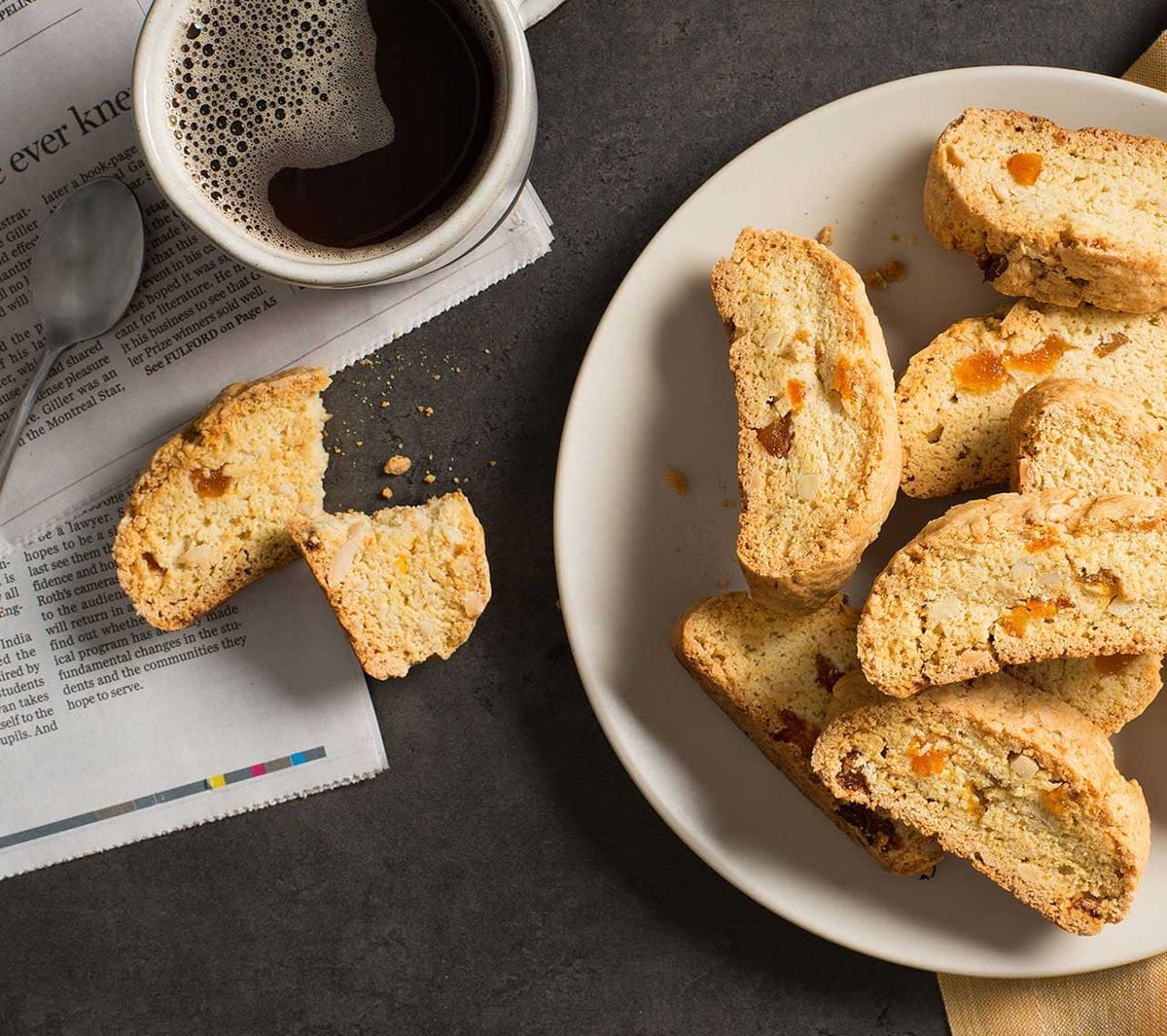 Ingredients
3 cups all-purpose flour
1 cup sugar
3/4 tsp. baking soda
1/4 tsp. salt
1/2 cup dried apricots *, finely chopped
1/3 cup slivered almonds , toasted**
2 eggs
2 egg whites
3 Tbsp. Becel® Buttery Taste margarine* , melted
1 tsp. almond extract
Nutrition facts
| | |
| --- | --- |
| Calories | 80.00 |
| Total Fat | 2.00 g |
| Saturated Fat | 0.000 g |
| Trans Fat | 0.000 g |
| Polyunsaturated Fat | 0.500 g |
| Monounsaturated Fat | 1.000 g |
| Cholesterol | 10 mg |
| Sodium | 55 mg |
| Total Carbs | 15.00 g |
| Dietary Fiber | 1.0 g |
| Sugars | 6.00 g |
| Protein | 2.00 g |
| Calcium | 0 % |
| Iron | 4.00 % |
| Omega-3 | 0.10 g |
| Omega-6 | 0.40 g |
| Vitamin C | 0.0 % |
| Vitamin A | 3.0 % |
Instructions
Preheat oven to 350°F (180°C).
Combine flour, sugar, baking soda, salt, apricots and almonds in large bowl. Make a well in centre of flour mixture; set aside.
Beat eggs, egg whites, melted Becel® Buttery Taste margarine* and almond extract in small bowl or measuring cup with wire whisk. Add to well in flour mixture and mix until combined.
Press and shape dough into a ball. Arrange ball on ungreased baking sheet, then shape into 40 cm-long by 2.5 cm-thick log with slightly moist hands. Bake until light golden brown and cracked on top, about 30 minutes. Let stand on baking sheet 10 minutes. Decrease oven temperature to 325°F (160°C).
Place warm log on cutting board and cut on sharp diagonal 8 mm slices with serrated knife. Arrange, cut side down, on baking sheet. Bake an additional 20 minutes or until pale golden brown. Cool biscotti on baking sheet (biscotti will harden while cooling). Store biscotti in an airtight container.