Breakfast Paninis with Banana & Berries
Cooking time

5 min

Prep time

10 min

Portions 2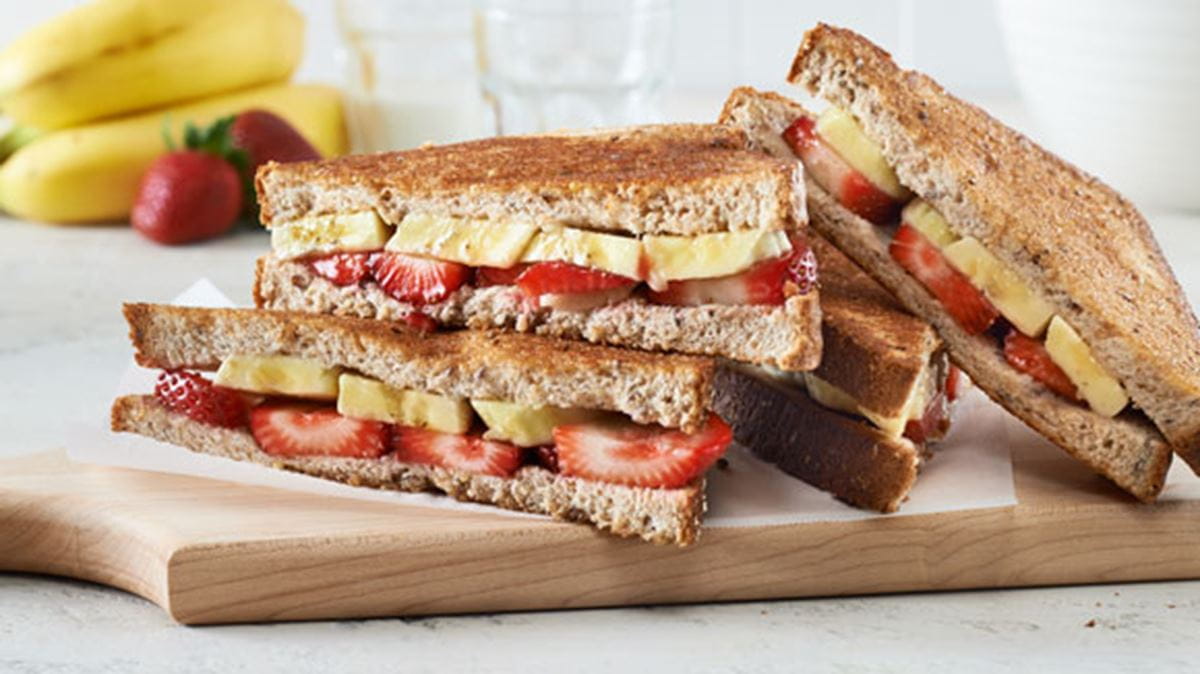 Ingredients
4 tsp. Becel® Buttery Taste margarine*
2 tsp. firmly packed dark brown sugar
1/8 tsp. ground cinnamon
1 large banana , thinly sliced
1/4 cup sliced strawberries
4 slices whole grain bread
Nutrition facts
| | |
| --- | --- |
| Calories | 280.00 |
| Calories from Fat | 90.00 |
| Total Fat | 10.00 g |
| Saturated Fat | 1.500 g |
| Trans Fat | 0.000 g |
| Polyunsaturated Fat | 3.100 g |
| Monounsaturated Fat | 4.800 g |
| Cholesterol | 0 mg |
| Sodium | 320 mg |
| Total Carbs | 46.00 g |
| Dietary Fiber | 5.0 g |
| Sugars | 19.00 g |
| Protein | 6.00 g |
| Calcium | 6 % |
| Iron | 10.00 % |
| Potassium | 398.000 mg |
| Omega-3 | 0.60 g |
| Omega-6 | 2.00 g |
| Vitamin C | 30.0 % |
| Vitamin A | 10.0 % |
Instructions
Combine Becel® Buttery Taste margarine, brown sugar and cinnamon in small bowl.
Evenly arrange banana and strawberries on 2 bread slices then top with remaining bread.
Evenly spread outside of sandwiches with margarine mixture.
Cook sandwiches in large nonstick grill pan or skillet over medium heat, turning once, until golden brown, about 5 minutes.
*Becel® Gold in Quebec. TIP: Best way to start your day with a golden panini stuffed with fresh fruits and cinnamon.