Cheesy Scalloped Potatoes
Cooking time

55 min

Prep time

20 min

Recipe serves 8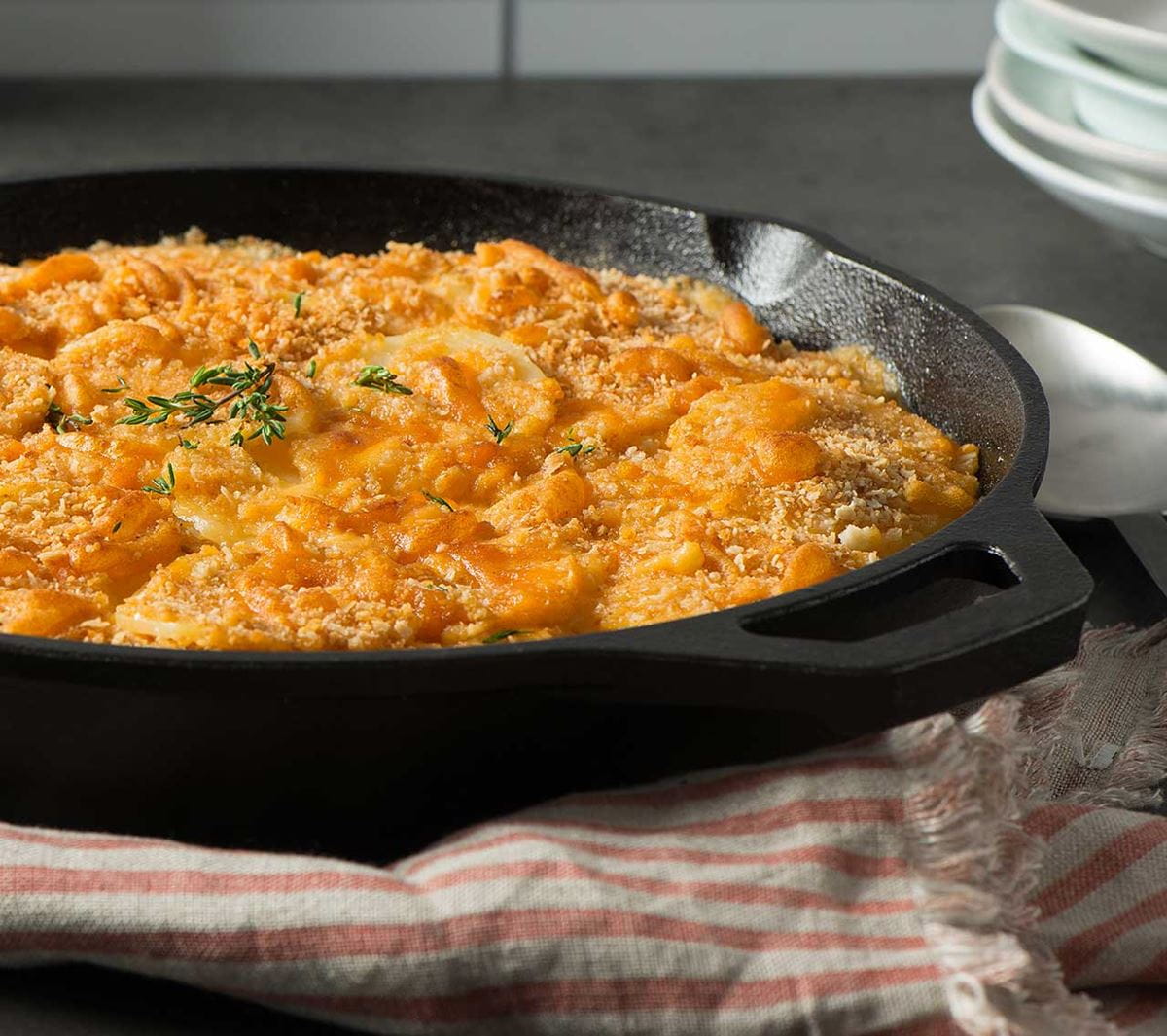 Ingredients
2 Tbsp. Becel® Buttery Taste margarine*
1 small sweet onion , chopped
1 clove garlic , finely chopped
2 Tbsp. all-purpose flour
1 cup 2% milk
3/4 cup reduced sodium chicken broth
1 tsp. fresh thyme leaves
1/8 tsp. ground black pepper
5 ounces shredded reduced fat cheddar cheese , divided
2 lbs. Yukon Gold potatoes , peeled and very thinly sliced (about 3 mm-thick)
2 Tbsp. plain dry bread crumbs
Nutrition facts
| | |
| --- | --- |
| Calories | 140.00 |
| Total Fat | 3.50 g |
| Saturated Fat | 1.000 g |
| Trans Fat | 0.000 g |
| Polyunsaturated Fat | 1.000 g |
| Monounsaturated Fat | 0.500 g |
| Cholesterol | 5 mg |
| Sodium | 170 mg |
| Total Carbs | 21.00 g |
| Dietary Fiber | 2.0 g |
| Sugars | 1.00 g |
| Protein | 7.00 g |
| Calcium | 15 % |
| Iron | 6.00 % |
| Omega-3 | 0.20 g |
| Omega-6 | 0.70 g |
| Vitamin C | 35.0 % |
| Vitamin A | 4.0 % |
Instructions
Preheat oven to 375°F (190°C). Melt Becel® Buttery Taste margarine* in 3-quart saucepan over medium-high heat and cook onion, stirring occasionally, 5 minutes or until starting to brown. Add garlic and cook 30 seconds. Stir in flour and cook, stirring constantly, 1 minute. Whisk in milk gradually. Add broth and bring to a boil. Stir in thyme and black pepper. Remove from heat, then stir in 125 g cheese; set aside.
Lightly spray 33 x 23 cm shallow casserole with no-stick cooking spray. Arrange ½ of the potatoes in overlapping pattern in casserole. Stir cheese mixture, then pour 1/2 over potatoes. Repeat with remaining potatoes and cheese mixture.
Bake uncovered 45 minutes. Combine remaining cheese with bread crumbs; sprinkle over potatoes. Bake an additional 10 minutes or until potatoes are tender and top is golden brown.