Cranberry Barley Pilaf
Cooking time

1 hr 0 min

Prep time

10 min

Recipe serves 6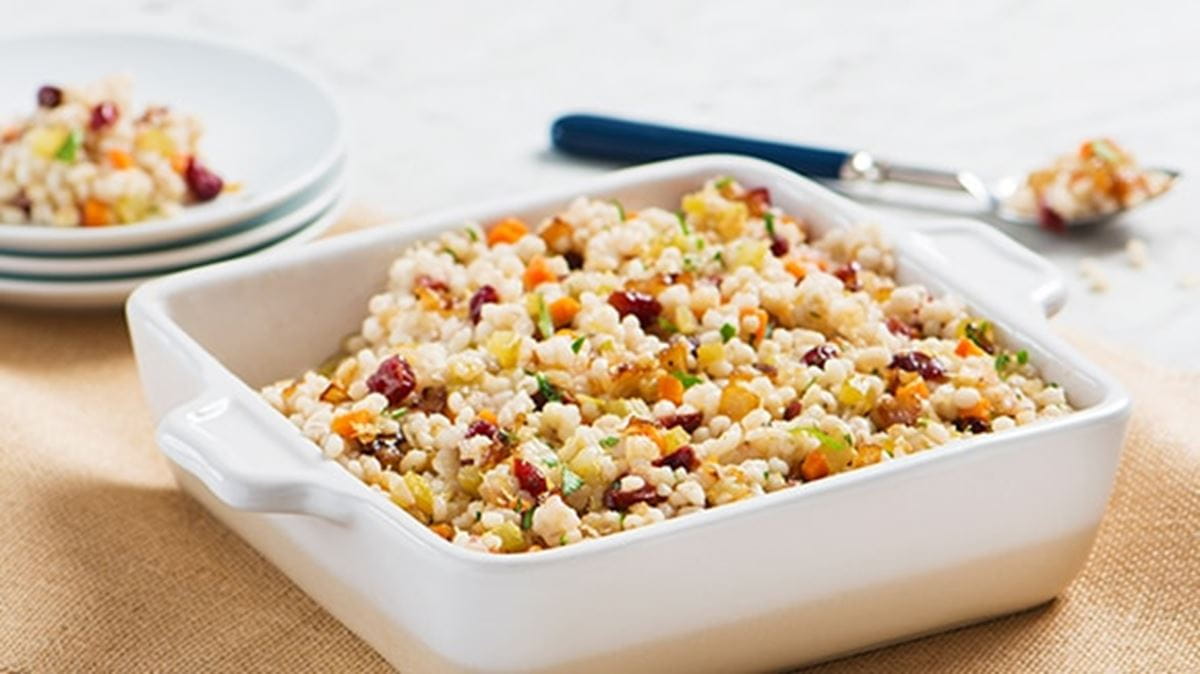 Ingredients
2 Tbsp. Becel® Buttery Taste margarine*
2 ribs celery , finely chopped
1 large carrot , peeled and finely chopped
1 large onion , finely chopped
1 clove garlic , finely chopped
2 Tbsp. chopped fresh sage leaves *
1/2 tsp. dried thyme leaves , crushed
1/2 tsp. ground black pepper
1 1/2 cups dry pearled barley
2 1/2 cups reduced sodium chicken broth
2 1/2 cups water
1/2 cup dried cranberries
1/2 cup chopped fresh parsley leaves
1 Tbsp. lemon juice
1 tsp. finely grated lemon peel
Nutrition facts
| | |
| --- | --- |
| Calories | 280.00 |
| Total Fat | 5.00 g |
| Saturated Fat | 1.000 g |
| Trans Fat | 0.000 g |
| Polyunsaturated Fat | 1.700 g |
| Monounsaturated Fat | 2.200 g |
| Cholesterol | 0 mg |
| Sodium | 90 mg |
| Total Carbs | 53.00 g |
| Dietary Fiber | 6.0 g |
| Sugars | 9.00 g |
| Protein | 8.00 g |
| Calcium | 6 % |
| Iron | 10.00 % |
| Omega-3 | 0.30 g |
| Omega-6 | 1.00 g |
| Vitamin C | 20.0 % |
| Vitamin A | 45.0 % |
Instructions
Melt Becel® Buttery Taste margarine* in large, deep nonstick skillet over medium heat and cook celery, carrot, onion, garlic, sage, thyme and pepper, stirring frequently, until vegetables are softened, about 8 minutes. Stir in barley and cook, stirring frequently, 1 minute.
Stir in broth and water; bring to a boil over high heat. Reduce heat and simmer covered 20 minutes.
Stir in cranberries. Cook an additional 25 minutes or until liquid is absorbed and barley is tender. Stir in parsley, lemon juice and lemon peel. Fluff with fork just before serving.