Crispy Chicken Tenders
Cooking time

15 min

Prep time

15 min

Servings

Recipe serves 4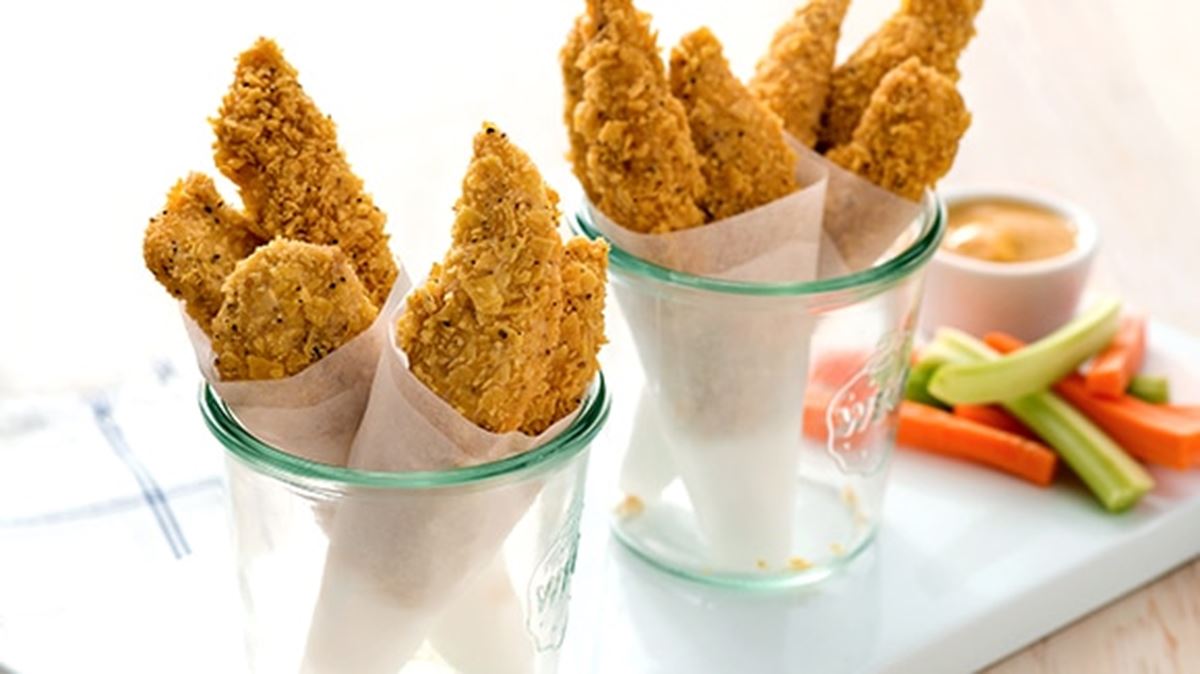 Ingredients
2 cups finely crushed baked tortilla chips
1/8 tsp. freshly ground black pepper
1 lb. boneless, skinless chicken breasts , lightly pounded and thinly sliced
3 Tbsp. Becel® Buttery Taste margarine*
3 large carrots , peeled and cut into strips
3 stalks celery , cut into strips
1/4 cup fat-free honey mustard dressing
| | |
| --- | --- |
| Calories | 380.00 |
| Calories from Fat | 120.00 |
| Total Fat | 14.00 g |
| Saturated Fat | 2.000 g |
| Trans Fat | 0.000 g |
| Polyunsaturated Fat | 3.400 g |
| Monounsaturated Fat | 5.100 g |
| Cholesterol | 65 mg |
| Sodium | 480 mg |
| Total Carbs | 19.00 g |
| Dietary Fiber | 4.0 g |
| Sugars | 6.00 g |
| Protein | 28.00 g |
| Calcium | 8 % |
| Iron | 6.00 % |
| Omega-3 | 0.70 g |
| Omega-6 | 2.30 g |
| Vitamin C | 10.0 % |
| Vitamin A | 190.0 % |
Instructions
Preheat oven to 400˚F (200˚C).
Combine chips with black pepper in shallow bowl or plate.
Dip chicken in Becel® Buttery Taste margarine, then press into crumb mixture.
Arrange on baking sheet and bake until chicken is thoroughly cooked, about 15 minutes.
Serve with carrots, celery and dressing as dipping sauce.