Crunchy Guacamole Bites with Salsa Rosa Dip
Cooking time

12 min

Prep time

30 min

Portions 6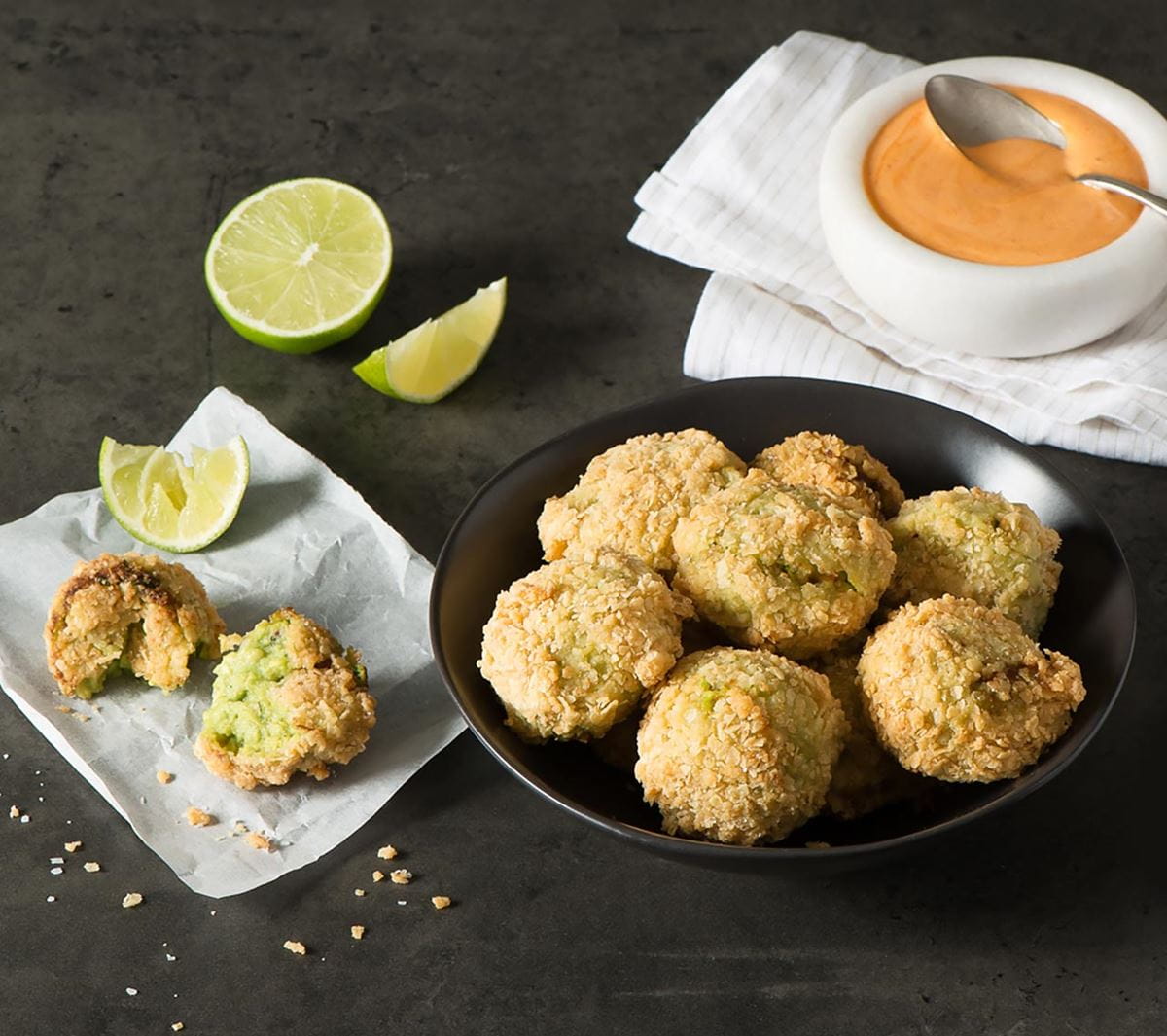 Ingredients
SALSA ROSA DIP:
1/2 cup ketchup
1/2 cup mayonnaise
CRUNCHY GUACAMOLE BITES:
2 large avocados , mashed
1 Tbsp. PLUS 1/2 cup (125 mL) Becel® with Avocado Oil margarine , divided
4 sprigs fresh cilantro , finely chopped
1/2 jalapeno pepper , seeded and finely chopped
1/4 red onion , chopped
1 tsp. ground cumin
Juice of 2 limes
2 cups Becel Avo Plus™ Oil Blend (for frying)
1 cup chickpea flour
8 fresh corn tortillas , baked and finely crushed
Nutrition facts
| | |
| --- | --- |
| Calories | 650.00 |
| Total Fat | 4.00 g |
| Saturated Fat | 8.000 g |
| Trans Fat | 0.000 g |
| Polyunsaturated Fat | 17.000 g |
| Monounsaturated Fat | 27.000 g |
| Cholesterol | 10 mg |
| Sodium | 500 mg |
| Total Carbs | 40.00 g |
| Dietary Fiber | 11.0 g |
| Sugars | 8.00 g |
| Protein | 8.00 g |
| Vitamin D | 143.000 mcg |
| Calcium | 58 mg |
| Iron | 2.00 mg |
| Potassium | 770.000 mg |
| Omega-3 | 2.50 g |
| Omega-6 | 14.00 g |
Instructions
For Salsa Rosa Dip, combine ketchup and mayonnaise in small bowl. Set aside, refrigerated, until ready to serve.
For Crunchy Guacamole Bites, in a medium bowl, combine avocados, 1 Tbsp. (15 mL) Becel® with Avocado Oil margarine, cilantro, jalapeño, red onion, cumin and fresh lime juice.
Working on a clean surface, roll 1 Tbsp. (15 mL) guacamole into a firmly formed ball. Wrap tightly with plastic wrap. Continue until all guacamole has been rolled into balls, then place in the freezer for 45 minutes to 1 hour to set.
Once guacamole balls are set, add Becel® Oil to a medium size deep pot. Heat over medium-high heat to 350° F (180° C). While the oil is heating, prepare your dredging station. Melt remaining 1/2 cup (125 mL) margarine and place in a bowl. Place chickpea flour and crushed tortillas into separate bowls.
Working with one guacamole ball at a time, roll it in chickpea flour, coating evenly. Dip into melted margarine, then coat with crushed tortillas. Ensure each ball is fully coated in a layer of tortilla crumbs.
When oil reaches temperature, carefully lower the guacamole balls into the oil, working in small batches as to not overcrowd the pot. Lightly fry for 2 to 3 minutes, or until crisp and golden brown. Carefully remove guacamole balls from the pot and place onto a paper towel-lined plate to remove excess oil. Serve hot with the Salsa Rosa dip!