Gingerbread Cookies with Dates
Cooking time

10 min

Prep time

30 min

Makes 48 cookies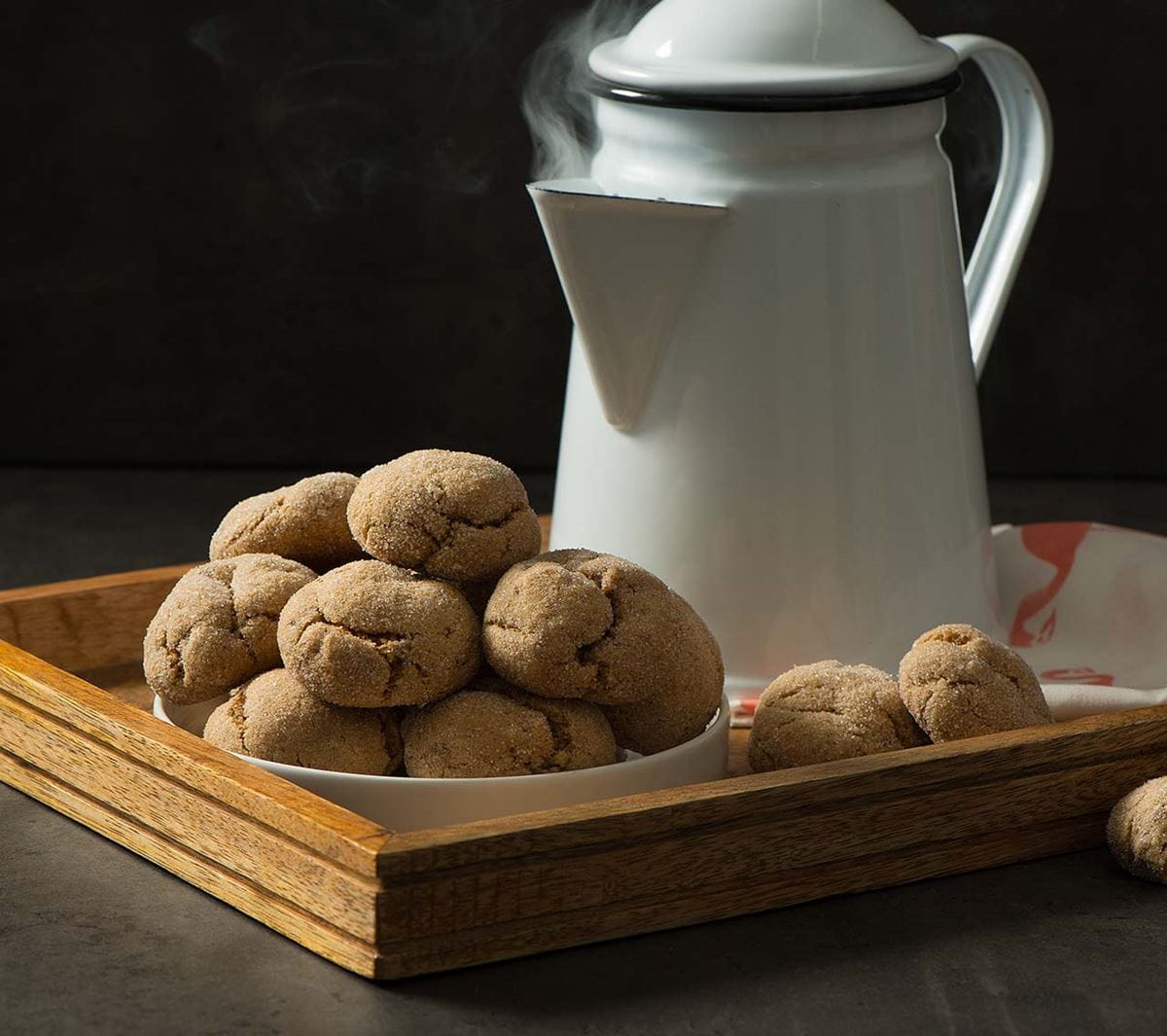 Ingredients
1 cup chopped pitted dates , divided
1/4 cup hot water , very hot, almost boiling
2 1/4 cups all-purpose flour
3/4 tsp. baking powder
3/4 tsp. baking soda
1 tsp. ground ginger
1/2 tsp. ground cinnamon
1/4 tsp. ground nutmeg
1/4 tsp. salt
1/8 tsp. ground cloves
1 egg
1 cup firmly packed brown sugar
2 Tbsp. molasses
2 Tbsp. Becel® salted margarine sticks , melted
2 1/2 Tbsp. granulated sugar
Nutrition facts
| | |
| --- | --- |
| Calories | 60.00 |
| Total Fat | 0.50 g |
| Saturated Fat | 0.000 g |
| Trans Fat | 0.000 g |
| Polyunsaturated Fat | 0.200 g |
| Monounsaturated Fat | 0.300 g |
| Cholesterol | 5 mg |
| Sodium | 45 mg |
| Total Carbs | 12.00 g |
| Dietary Fiber | 0.0 g |
| Sugars | 8.00 g |
| Protein | 1.00 g |
| Vitamin D | 0.000 mcg |
| Calcium | 11 mg |
| Iron | 0.00 mg |
| Potassium | 47.000 mg |
| Omega-3 | 0.00 g |
| Omega-6 | 0.10 g |
Instructions
Preheat oven to 350°. Spray baking sheets with no-stick cooking spray; set aside. Soak 3/4 cup dates in 1/4 cup boiling water in small bowl 15 minutes.
Combine flour, baking powder, baking soda, ginger, cinnamon, nutmeg, salt and cloves in large bowl; set aside.
Combine egg, brown sugar, molasses, melted Becel® sticks and date mixture in another large bowl with wire whisk. Make a well in centre of dry ingredients. Pour in wet ingredients and stir until combined. Stir in remaining 1/4 cup chopped dates. Cover and refrigerate dough 1 hour.
Roll cookie dough into 1-inch balls with lightly floured hands, then roll in granulated sugar. Place 2-inches apart on prepared baking sheets. Bake 9 minutes or until cookies are still soft when lightly touched. Cool completely on wire rack.