Gluten Free Blueberry Buttermilk Muffins
Cooking time

25 min

Prep time

20 min

Makes 12 muffins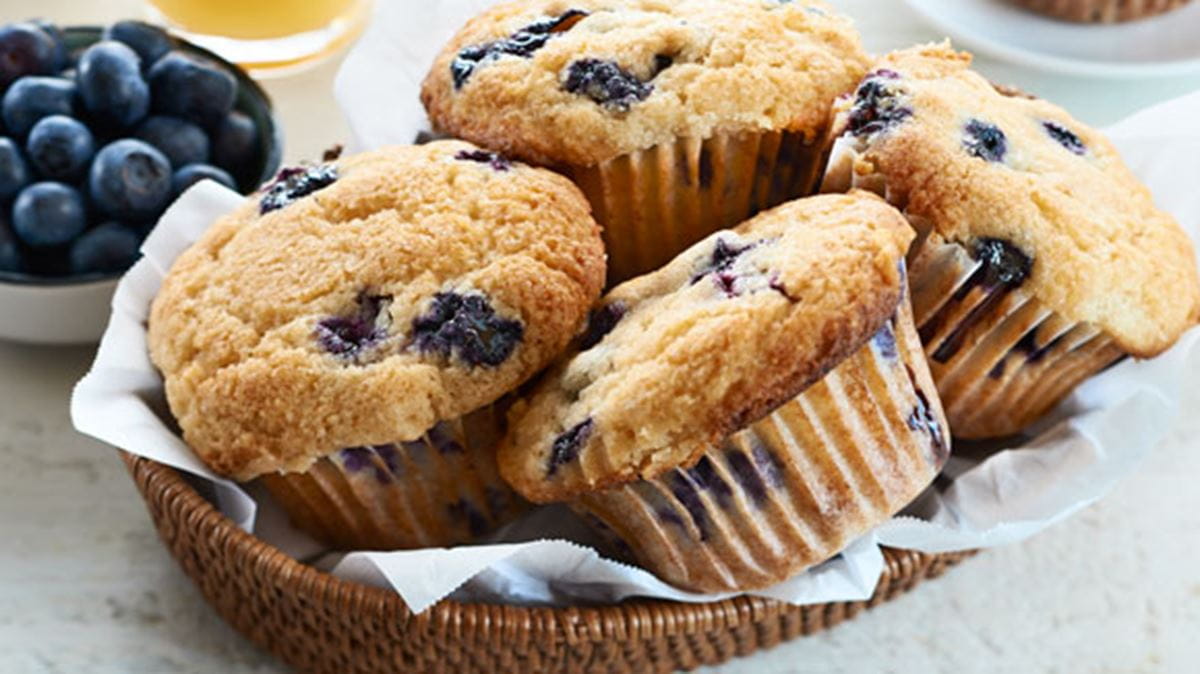 Ingredients
2 1/2 cups gluten-free pancake and baking mix *
1/4 tsp. salt
2 cups fresh blueberries
1/2 cup Becel® Buttery Taste margarine*
1 1/2 cups firmly packed light brown sugar
2 large eggs
1 cup low-fat buttermilk
1 tsp. vanilla exract
1 tsp. finely grated lemon peel
Nutrition facts
| | |
| --- | --- |
| Calories | 340.00 |
| Calories from Fat | 80.00 |
| Total Fat | 9.00 g |
| Saturated Fat | 1.500 g |
| Trans Fat | 0.000 g |
| Polyunsaturated Fat | 2.600 g |
| Monounsaturated Fat | 4.200 g |
| Cholesterol | 35 mg |
| Sodium | 390 mg |
| Total Carbs | 62.00 g |
| Dietary Fiber | 1.0 g |
| Sugars | 31.00 g |
| Protein | 4.00 g |
| Calcium | 15 % |
| Iron | 4.00 % |
| Omega-3 | 0.60 g |
| Omega-6 | 2.10 g |
| Vitamin C | 4.0 % |
| Vitamin A | 10.0 % |
Instructions
Preheat oven to 375˚F (190˚C). Line 12-cup muffin tin with paper liners; set aside.
Combine gluten free pancake and baking mix with salt in medium bowl; gently toss in blueberries.
Beat Becel® Buttery Taste margarine with brown sugar in large bowl with electric mixer on medium-high speed until light and fluffy, about 5 minutes. Beat in eggs, buttermilk, vanilla and lemon peel. Gently stir in pancake and baking mixture with wooden spoon. Evenly spoon into prepared muffin pan.
Bake 25 minutes or until toothpick inserted in center comes out clean. Let cool 10 minutes on wire rack; remove from pan and cool completely.
*If using pancake and baking mix or flour blend without baking powder and baking soda, add 1 Tbsp. (15 mL) baking powder and ¼ tsp. (1 mL) baking soda to pancake and baking mixture. **Becel Gold in Quebec