Granola Bar Cookies
Cooking time

8 min

Prep time

10 min

Makes 24 cookies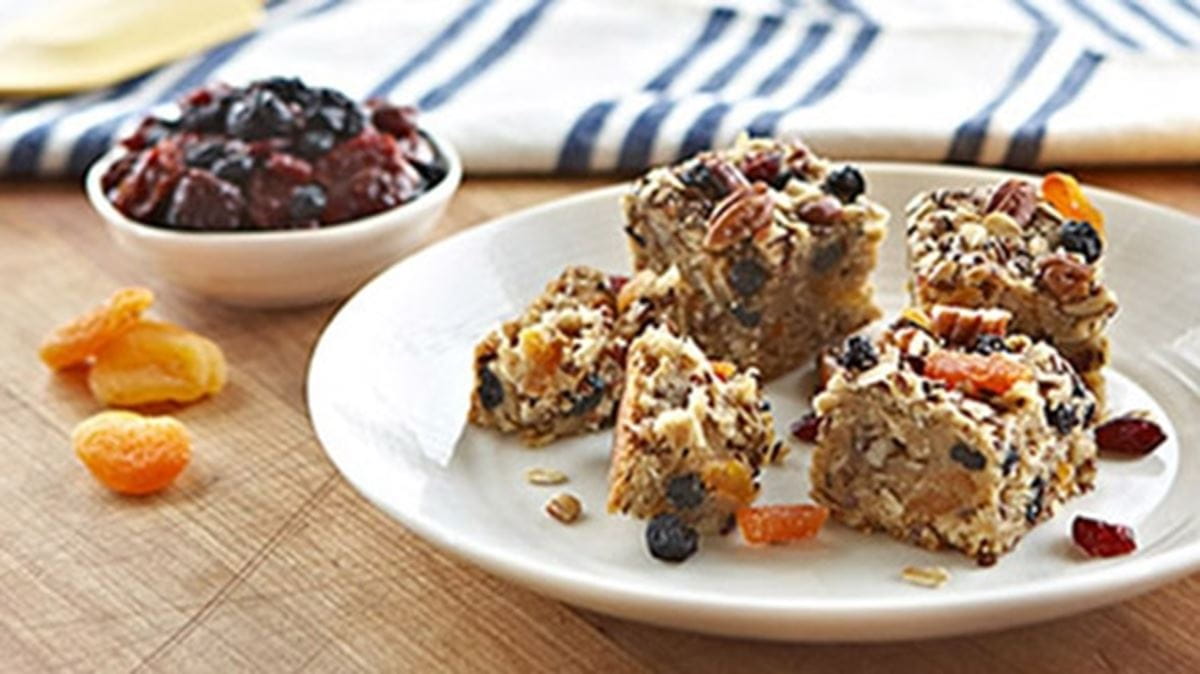 Ingredients
2 1/4 cups all-purpose flour
1 tsp. baking soda
1/2 tsp. salt
1 cup chopped assorted dried fruit
1/2 cup rolled oats
1/2 cup flax seeds
1 cup (2 sticks) Becel® salted margarine sticks
1 cup firmly packed light brown sugar
1/4 cup granulated sugar
2 large eggs
1 tsp. vanilla extract
1 tsp. ground cinnamon
Nutrition facts
| | |
| --- | --- |
| Calories | 200.00 |
| Total Fat | 10.00 g |
| Saturated Fat | 2.500 g |
| Trans Fat | 0.000 g |
| Polyunsaturated Fat | 2.500 g |
| Monounsaturated Fat | 4.000 g |
| Cholesterol | 15 mg |
| Sodium | 180 mg |
| Total Carbs | 26.00 g |
| Dietary Fiber | 2.0 g |
| Sugars | 11.00 g |
| Protein | 3.00 g |
| Vitamin D | 0.000 mcg |
| Calcium | 26 mg |
| Iron | 1.00 mg |
| Potassium | 121.000 mg |
| Omega-3 | 1.50 g |
| Omega-6 | 1.50 g |
Instructions
Preheat oven to 375°F (190 C). Line 13 x 9-in. baking pan with foil or parchment paper leaving 2-in. overhang; set aside. Combine flour, baking soda and salt in medium bowl; set aside.
Combine fruit, oats and flax seed in large bowl; set aside.
Beat Becel® sticks with sugars in large bowl. Beat in eggs and vanilla until blended. Gradually add in flour mixture; beat just until blended. Stir in cinnamon and 2 cups (500 mL) fruit mixture. Spread into prepared baking pan*. Top with remaining 1 cup (250 mL) fruit mixture and gently press into dough.
Bake 25 minutes or until edges are golden. Cool in pan on wire rack 10 minutes. Using foil overhang, lift out of pan and cool completely.