Granola Bars
Cooking time

15 min

Prep time

15 min

Makes 24 squares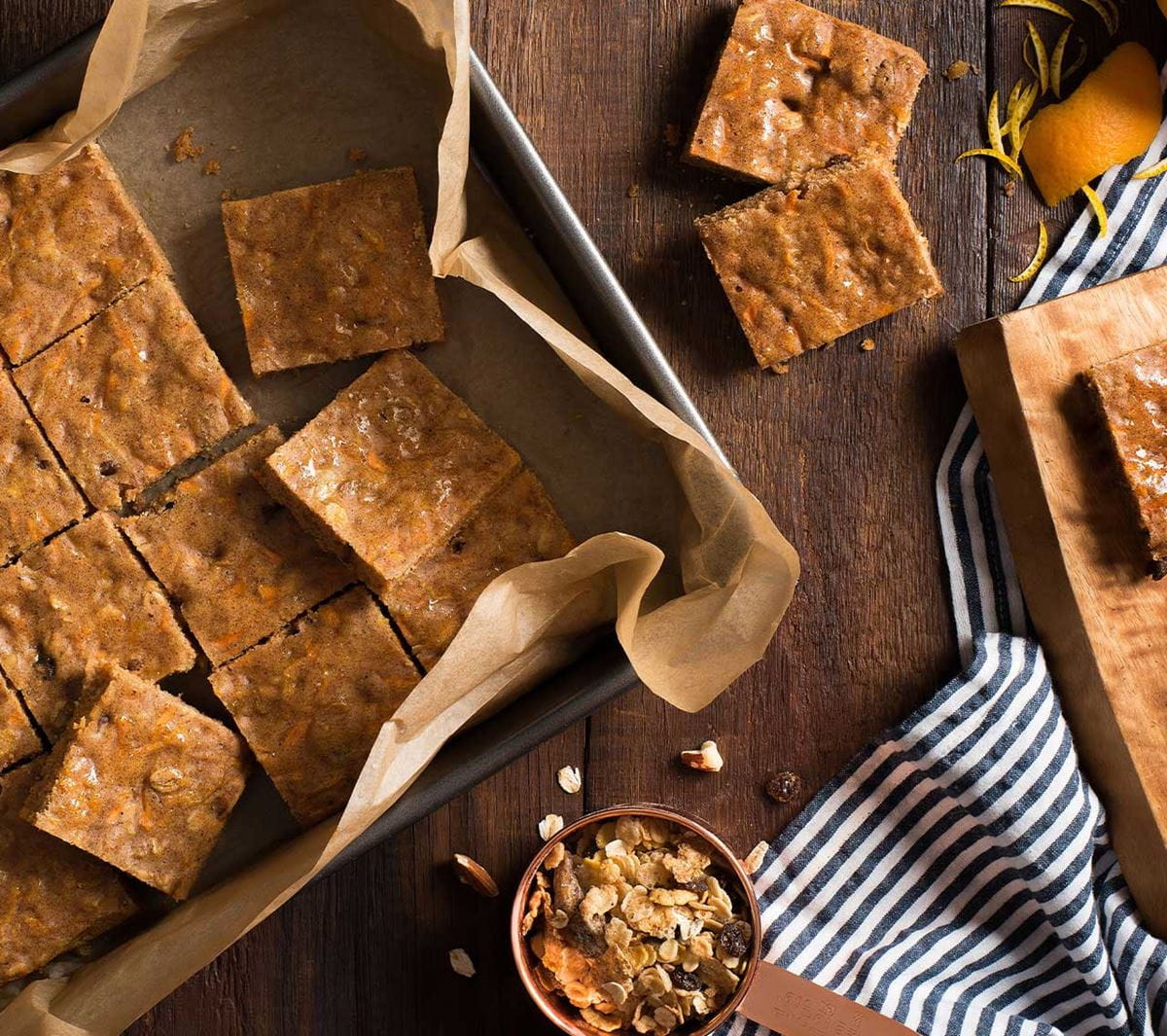 Ingredients
4 egg whites
3/4 cup buttermilk
1/3 cup Becel® salted margarine sticks , melted
1 1/2 cups all-purpose flour
1 1/2 cups coarsely grated carrots
1 1/4 cups bran cereal , (not flakes)
1/2 cup firmly packed light brown sugar
2 tsp. grated orange peel
1 1/2 tsp. ground cinnamon
1 tsp. baking powder
1 tsp. baking soda
1/2 tsp. ground nutmeg
1/2 tsp. salt
Nutrition facts
| | |
| --- | --- |
| Calories | 90.00 |
| Total Fat | 3.00 g |
| Saturated Fat | 1.000 g |
| Trans Fat | 0.000 g |
| Polyunsaturated Fat | 0.500 g |
| Monounsaturated Fat | 1.500 g |
| Cholesterol | 0 mg |
| Sodium | 170 mg |
| Total Carbs | 14.00 g |
| Dietary Fiber | 1.0 g |
| Sugars | 6.00 g |
| Protein | 2.00 g |
| Vitamin D | 0.000 mcg |
| Calcium | 39 mg |
| Iron | 1.00 mg |
| Potassium | 95.000 mg |
| Omega-3 | 0.20 g |
| Omega-6 | 0.50 g |
Instructions
Preheat oven to 350°F (180°C).
Beat egg whites, buttermilk and melted Becel® sticks in medium bowl with wire whisk until blended; set aside. Combine remaining ingredients in large bowl. Stir buttermilk mixture into flour mixture until well combined. Turn into lightly greased 13 x 9-inch (3.5 L) baking pan, smoothing the top.
Bake 15 minutes or until a toothpick inserted in centre comes out clean.
Cool completely on wire rack. Cut into squares to serve. Store refrigerated in an airtight container.