Grilled Thai Turkey Burgers
Cooking time

12 min

Prep time

15 min

Portions 4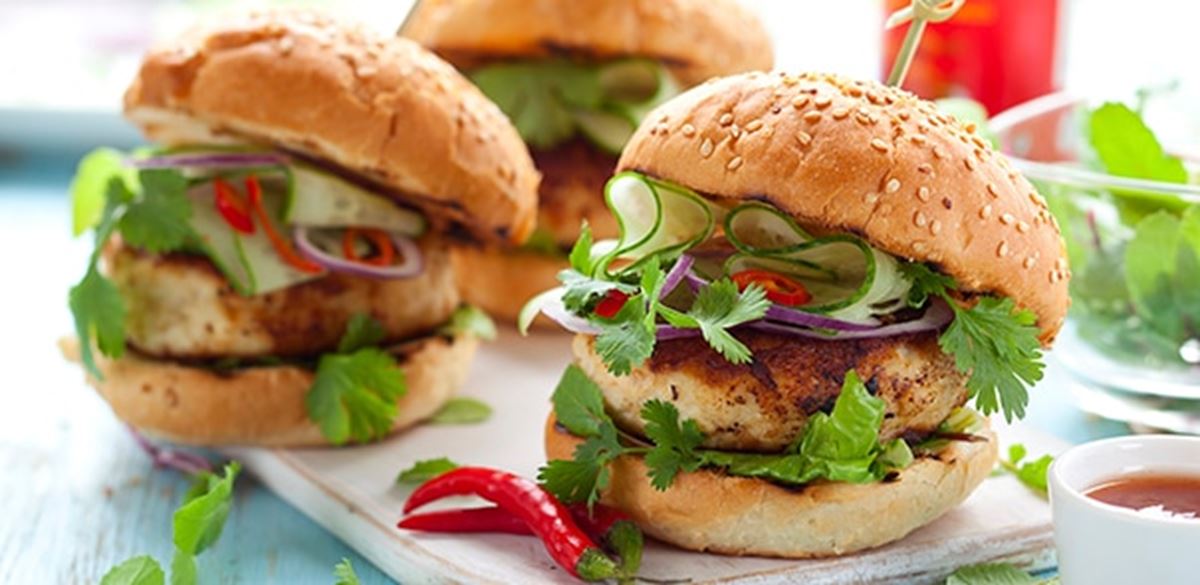 Ingredients
2 Tbsp. Becel® Original margarine
1/4 cup finely chopped sweet onion
2 cloves garlic , finely chopped
1 tsp. Thai red curry paste
2 tsp. fish sauce
1 lb. ground turkey
1/2 cup finely chopped fresh cilantro
2 Tbsp. Hellmann's® 1/2 The Fat mayonnaise-type dressing
Nutrition facts
| | |
| --- | --- |
| Calories | 230.00 |
| Calories from Fat | 130.00 |
| Total Fat | 15.00 g |
| Saturated Fat | 3.000 g |
| Trans Fat | 0.000 g |
| Polyunsaturated Fat | 4.300 g |
| Monounsaturated Fat | 5.100 g |
| Cholesterol | 65 mg |
| Sodium | 480 mg |
| Total Carbs | 2.00 g |
| Dietary Fiber | 0.0 g |
| Sugars | 1.00 g |
| Protein | 22.00 g |
| Calcium | 0 % |
| Iron | 10.00 % |
| Omega-3 | 0.50 g |
| Omega-6 | 1.50 g |
| Vitamin C | 2.0 % |
| Vitamin A | 10.0 % |
Instructions
Melt Becel® Original margarine in small nonstick skillet over medium heat and cook onion and garlic, stirring occasionally, until tender, about 3 minutes. Stir in curry paste and fish sauce; let cool slightly.
Combine cooled onion mixture, ground turkey, cilantro and mayonnaise-type dressing in medium bowl; shape into 4 patties.
Grill or broil burgers, turning once, until done, about 8 minutes. Serve, if desired, on whole wheat hamburger buns with tomato slices and lettuce.
Turn this recipe into a perfect party treat. Shape turkey mixture into 12 mini-burgers and serve on whole grain slider buns!
TIP: For added buttery flavour and to help prevent meat from sticking to the grill, first brush it with melted Becel. Please see nutrition information for sodium content.