Honey Oatmeal-Raisin Scones
Cooking time

10 min

Prep time

15 min

Makes 12 scones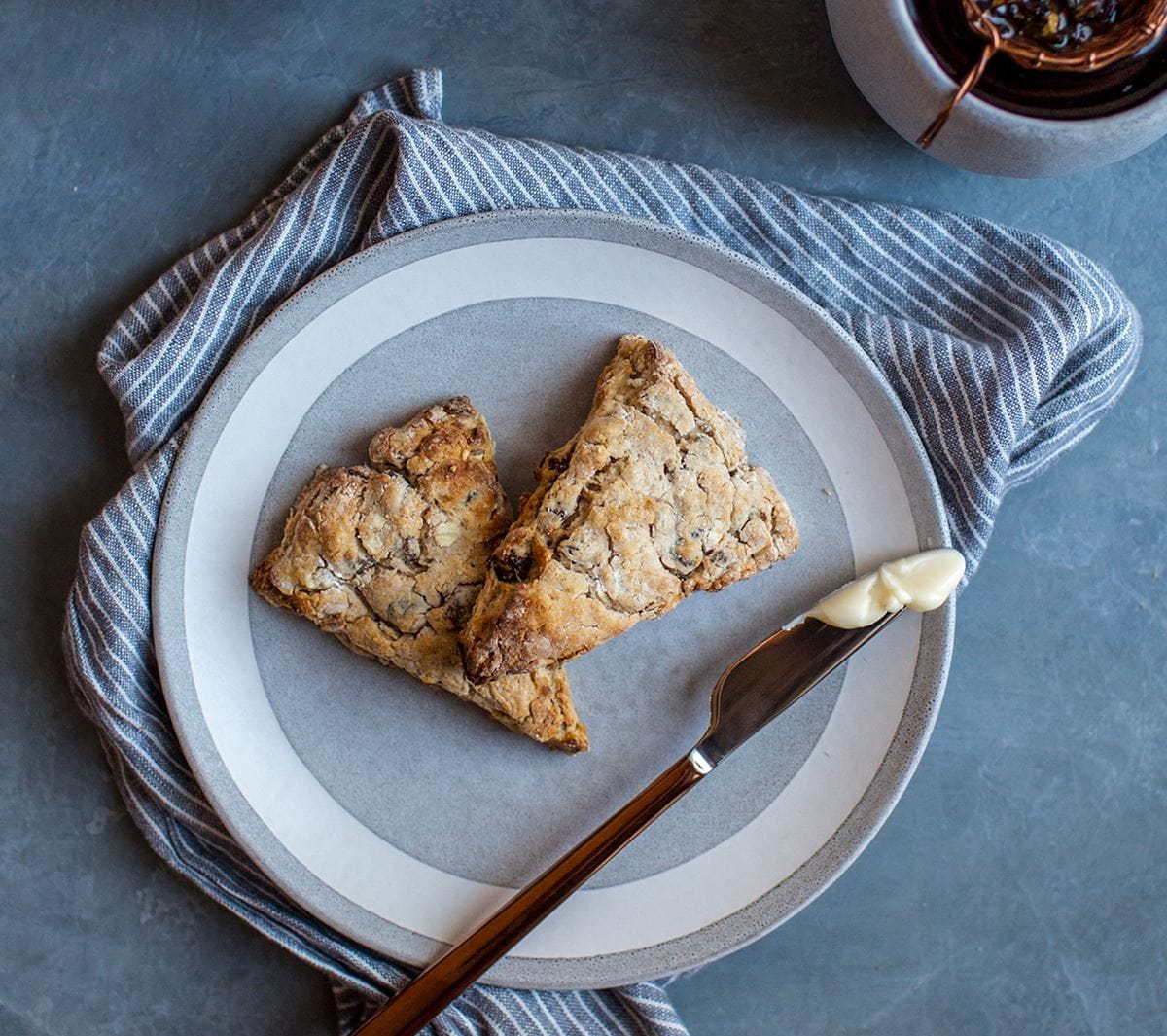 Ingredients
1 1/2 cups all-purpose flour
1/2 cup quick oats
1 Tbsp. baking powder
1 tsp. ground cinnamon
1/4 tsp. salt
1/4 cup Becel® salted margarine sticks
1/3 cup low-fat plain yogurt
3 Tbsp. honey
1 egg
1 cup golden raisins
1 Tbsp. sugar
Nutrition facts
| | |
| --- | --- |
| Calories | 170.00 |
| Total Fat | 5.00 g |
| Saturated Fat | 1.500 g |
| Trans Fat | 0.000 g |
| Polyunsaturated Fat | 1.000 g |
| Monounsaturated Fat | 2.000 g |
| Cholesterol | 15 mg |
| Sodium | 135 mg |
| Total Carbs | 30.00 g |
| Dietary Fiber | 1.0 g |
| Sugars | 13.00 g |
| Protein | 4.00 g |
| Vitamin D | 1.000 mcg |
| Calcium | 61 mg |
| Iron | 1.00 mg |
| Potassium | 135.000 mg |
| Omega-3 | 0.30 g |
| Omega-6 | 1.00 g |
Instructions
Preheat oven to 425°F (220°C). Spray baking sheets with no-stick cooking spray or line with parchment paper.
Combine flour, oats, baking powder, cinnamon and salt in large bowl. Cut in Margarine with pastry blender or two knives until mixture is size of coarse crumbs; set aside.
Beat yogurt, honey and egg in small bowl with wire whisk. Stir in raisins. Add egg mixture to flour mixture. Stir with fork until dough holds together; shape into a ball.
Roll dough on lightly floured surface to 19 cm circle. Cut into 12 wedges. Arrange wedges 2.5 cm apart on baking sheets, then sprinkle with sugar.
Bake 10 minutes or until lightly golden.