Lime & Ginger Albacore Tuna Poke Nachos
Cooking time

5 min

Prep time

15 min

Recipe serves 6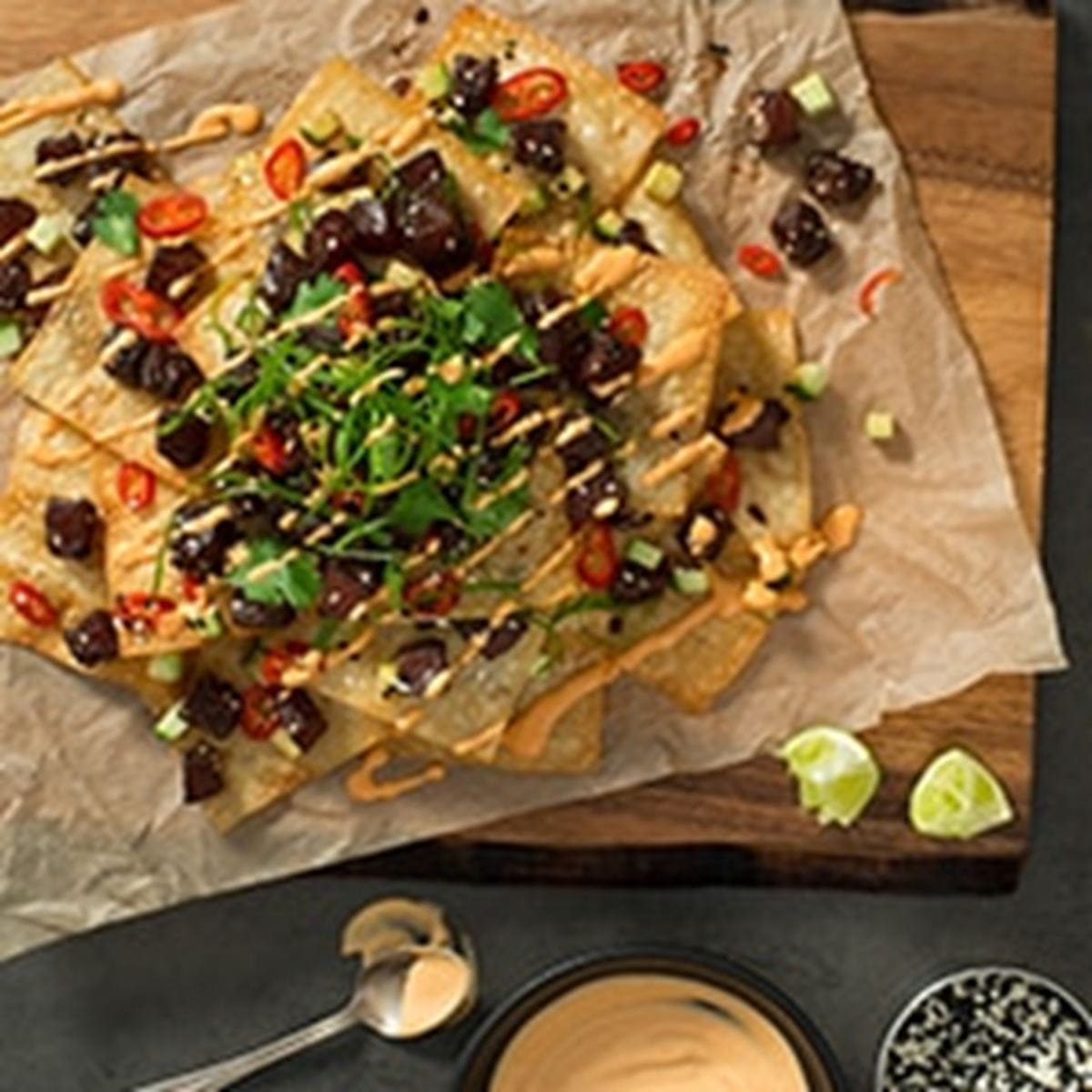 Ingredients
1 package fresh won ton wrappers
2 Tbsp. Becel® with Avocado Oil margarine , melted and divided
1 lb. albacore tuna steak , cut into 1/4-in. (6 mm) cubes*
1/2 cup low sodium soy sauce
2 limes
3 Tbsp. minced fresh ginger
1/4 cup finely chopped English cucumber
1 Tbsp. white and black sesame seeds
Sriracha Mayo Sauce:
3 Tbsp. Hellmann's® Real Mayonnaise
1 Tbsp. sriracha sauce
1 tsp. lime juice
1/4 cup chopped fresh cilantro
1/2 cup thinly sliced on bias green onions , soaked in cold water to crisp and curl
1 Thai hot chili , thinly sliced
Nutrition facts
| | |
| --- | --- |
| Calories | 250.00 |
| Total Fat | 8.00 g |
| Saturated Fat | 1.000 g |
| Trans Fat | 0.000 g |
| Polyunsaturated Fat | 2.500 g |
| Monounsaturated Fat | 4.000 g |
| Cholesterol | 35 mg |
| Sodium | 430 mg |
| Total Carbs | 20.00 g |
| Dietary Fiber | 0.0 g |
| Sugars | 1.00 g |
| Protein | 22.00 g |
| Vitamin D | 20.000 mcg |
| Calcium | 27 mg |
| Iron | 2.00 mg |
| Potassium | 415.000 mg |
| Omega-3 | 0.50 g |
| Omega-6 | 1.50 g |
Instructions
Preheat oven to 375°F (190°C). Arrange approximately 24 wonton wrappers flat on a large, parchment-lined baking sheet. Sprinkle with half of the melted Becel® with Avocado Oil margarine. Place tray in the oven and bake until golden brown, about 5-6 minutes.
While the wrappers are baking, in a bowl add sesame seeds, soy sauce, remaining melted Becel® with Avocado Oil, fresh ginger and the juice of one lime. Mix well.
Evenly coat tuna cubes in margarine mixture. Cover and place in the refrigerator for 45 minutes - 1 hour to marinate and bind flavours. Remove tuna from fridge and drain off any excess liquid. Add and mix in diced cucumber. Alternatively, combine sautéed tofu cubes with diced cucumber.
In a mixing bowl, combine mayonnaise, srirach sauce and 1 tsp. lime juice. Reserve to use as garnish or dip.
Build baked wontons onto on a serving platter. Top with marinated tuna mixture or tofu mixture, and garnish with additional sesame seeds, cilantro, Thai chilies and scallions. Slice remaining lime into quarters and add to platter. Serve immediately and enjoy!