Maple Mustard Salmon
Cooking time

12 min

Prep time

10 min

Portions 4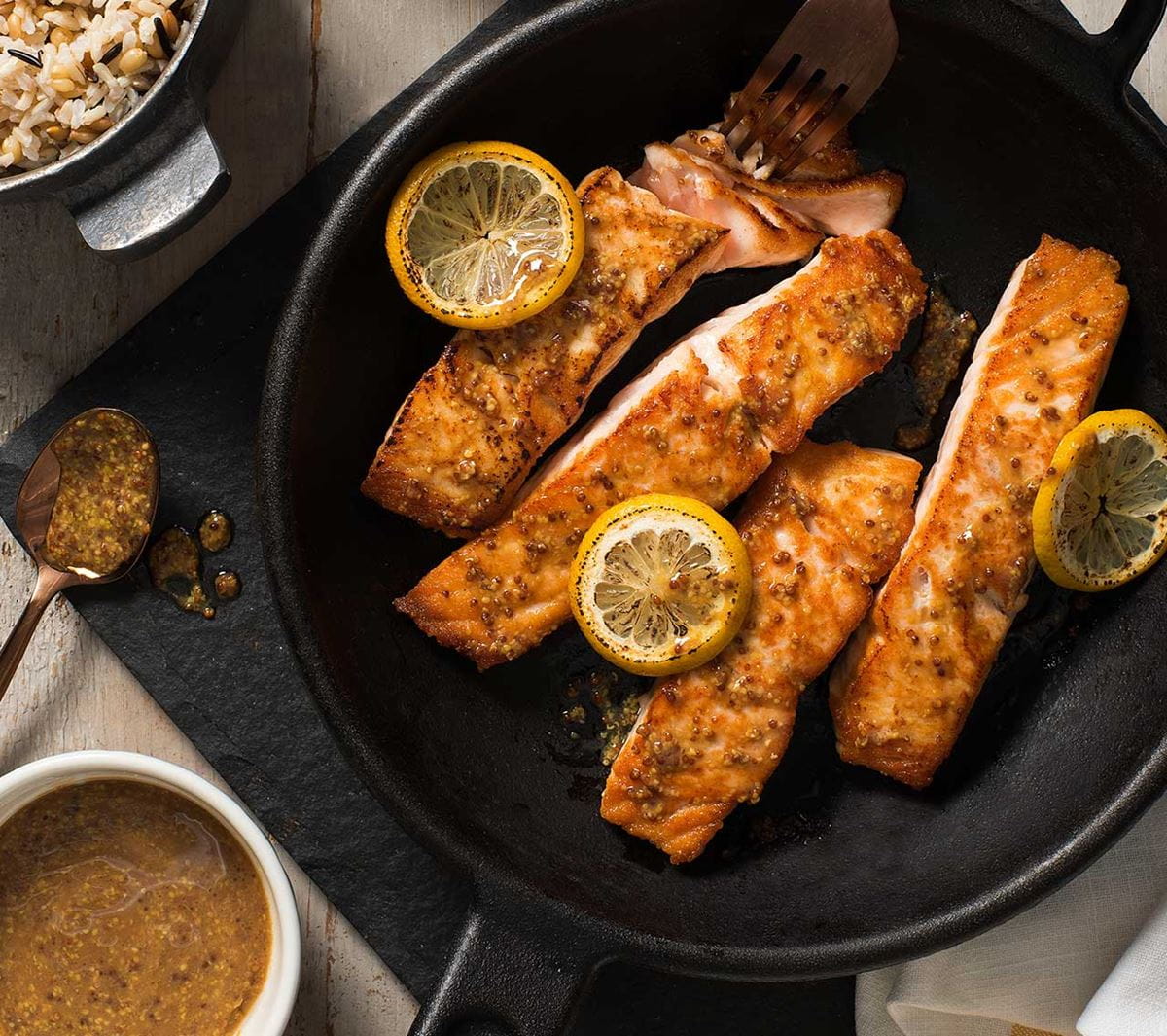 Ingredients
1 -lb. salmon fillet , bones removed and cut into 4 pieces
1/4 cup Becel® Buttery Taste margarine*
1/4 cup maple syrup
4 tsp. Dijon mustard
1 tsp. low sodium soy sauce
Nutrition facts
| | |
| --- | --- |
| Calories | 370.00 |
| Calories from Fat | 220.00 |
| Total Fat | 24.00 g |
| Saturated Fat | 4.000 g |
| Trans Fat | 0.000 g |
| Polyunsaturated Fat | 5.000 g |
| Monounsaturated Fat | 11.000 g |
| Cholesterol | 65 mg |
| Sodium | 320 mg |
| Total Carbs | 15.00 g |
| Dietary Fiber | 0.0 g |
| Sugars | 12.00 g |
| Protein | 23.00 g |
| Calcium | 4 % |
| Iron | 4.00 % |
| Potassium | 560.000 mg |
| Omega-3 | 0.90 g |
| Omega-6 | 2.50 g |
| Vitamin C | 8.0 % |
| Vitamin A | 15.0 % |
Instructions
Preheat oven to 425°F (220°C). Arrange salmon in 8-inch (20-cm) baking dish.
Microwave Becel® Buttery Taste margarine at HIGH until melted about 15 seconds. Stir in maple syrup, Dijon mustard and soy sauce. Pour over salmon.
Bake until salmon flakes with a fork, about 12 minutes. Serve, if desired, with hot rice and vegetables.
Delicious with your favourite rice and vegetable side dishes. *Becel® Gold in Quebec.