Miso-Maple Glazed Grilled Pork & Baby Bok Choy
Cooking time

20 min

Prep time

15 min

Recipe serves 6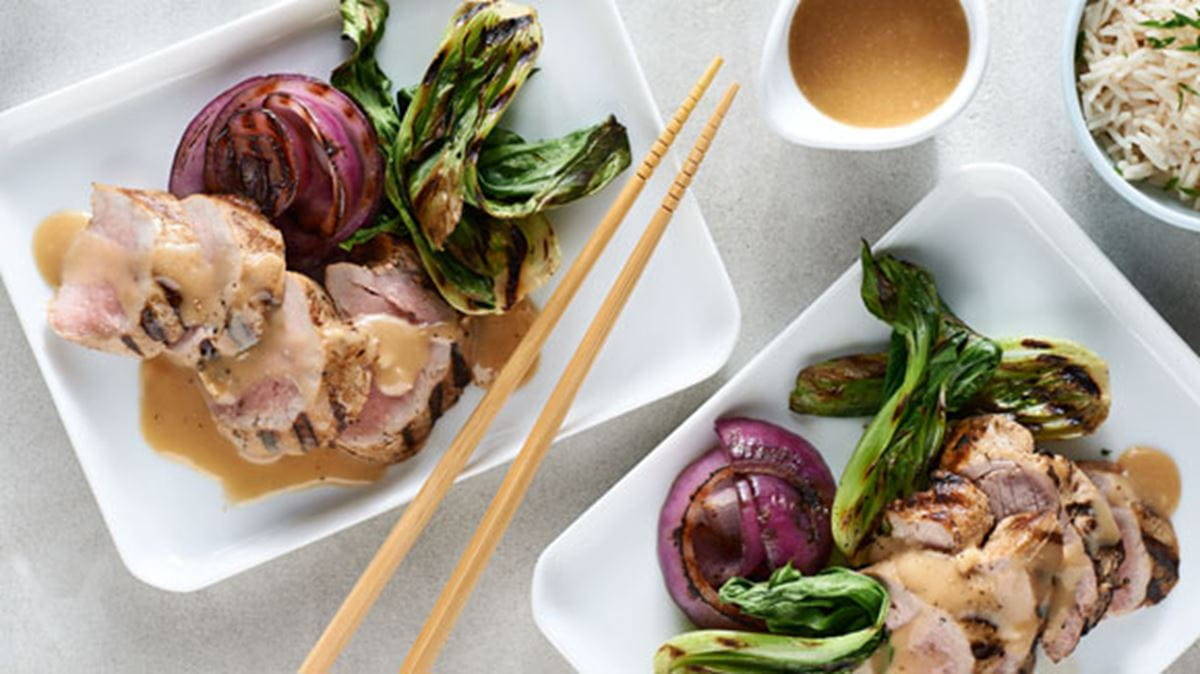 Ingredients
3 Tbsp. Becel® Buttery Taste margarine*
2 cloves garlic , chopped
2 Tbsp. miso paste , (soy bean paste)
2 Tbsp. pure maple syrup
2 Tbsp. rice wine vinegar
3/4 cup water
1 1/2 -lb. pork tenderloin
1 red onion , sliced into 3 rings
1 lb. baby bok choy , (about 4 heads)
Nutrition facts
| | |
| --- | --- |
| Calories | 180.00 |
| Calories from Fat | 40.00 |
| Total Fat | 4.50 g |
| Saturated Fat | 1.000 g |
| Trans Fat | 0.000 g |
| Polyunsaturated Fat | 1.300 g |
| Monounsaturated Fat | 2.100 g |
| Cholesterol | 65 mg |
| Sodium | 210 mg |
| Total Carbs | 6.00 g |
| Dietary Fiber | 2.0 g |
| Sugars | 4.00 g |
| Protein | 27.00 g |
| Calcium | 10 % |
| Iron | 10.00 % |
| Potassium | 652.000 mg |
| Omega-3 | 0.25 g |
| Omega-6 | 0.70 g |
| Vitamin C | 60.0 % |
| Vitamin A | 70.0 % |
Instructions
Melt Becel® Buttery Taste margarine in small saucepan over medium-high heat and cook garlic, stirring frequently, 1 minute. Stir in miso paste, maple syrup, vinegar and water. Bring to a boil over high heat. Reduce heat to low and simmer, stirring occasionally, about 15 minutes; let cool. Reserve ¼ cup (60 mL) miso-maple mixture; set aside.
Grill pork, turning occasionally, brushing with remaining miso-maple mixture, until pork is done, about 15 minutes; thinly slice.
Grill onion and bok choy until tender. Serve vegetables with pork, drizzled with reserved miso-maple mixture.