Mixed Veggies with Ginger and Sesame
Cooking time

10 min

Prep time

10 min

Portions 6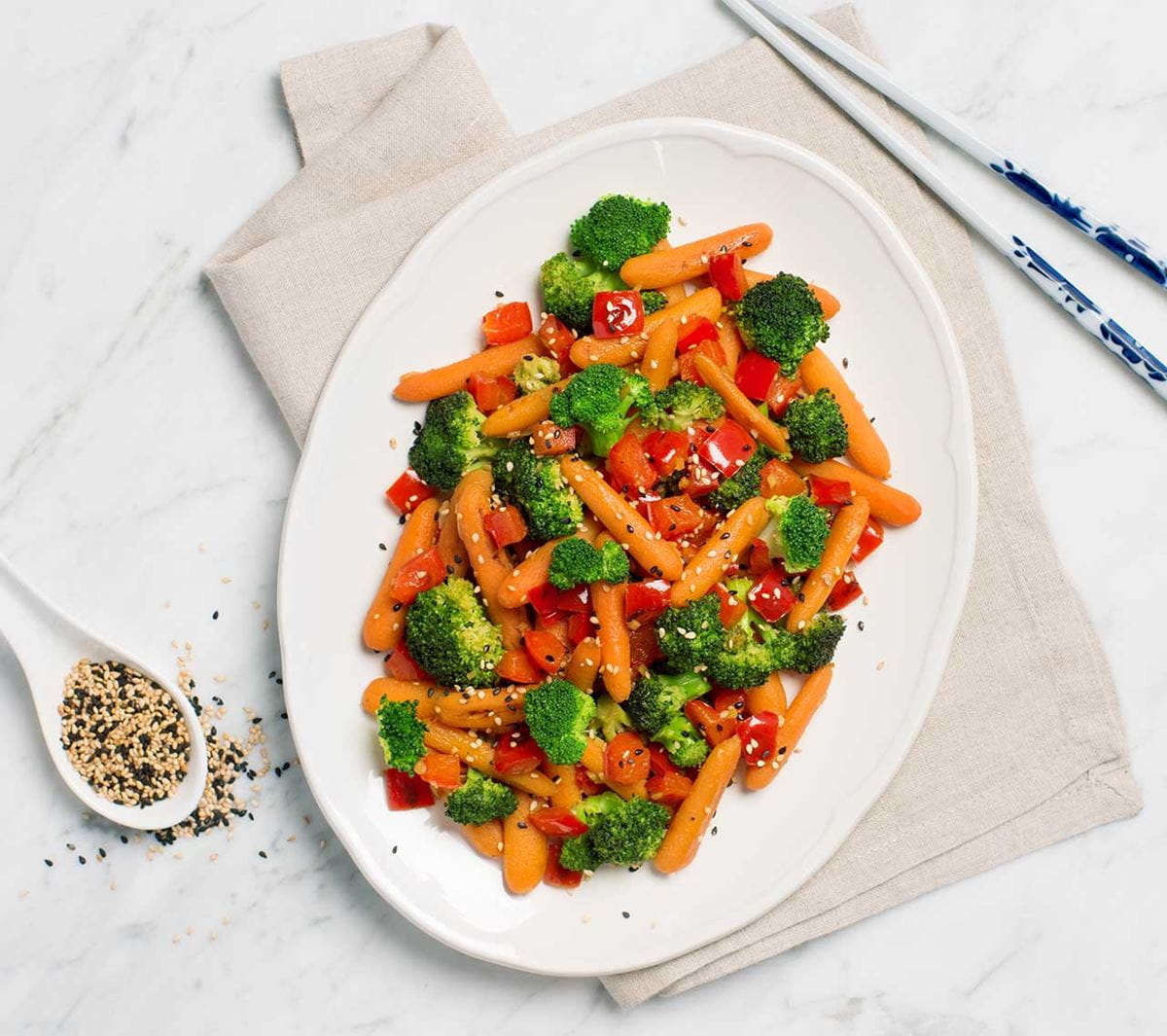 Ingredients
1 cup water
1 package (350 g) baby carrots
2 cups broccoli florets
1 Tbsp. Becel® Original margarine
1/4 cup chopped red bell pepper
1 Tbsp. sesame seeds
2 tsp. grated fresh ginger
1 clove garlic , finely chopped
Nutrition facts
| | |
| --- | --- |
| Calories | 60.00 |
| Total Fat | 3.00 g |
| Saturated Fat | 0.000 g |
| Trans Fat | 0.000 g |
| Polyunsaturated Fat | 1.000 g |
| Monounsaturated Fat | 1.000 g |
| Cholesterol | 0 mg |
| Sodium | 70 mg |
| Total Carbs | 8.00 g |
| Dietary Fiber | 2.0 g |
| Sugars | 4.00 g |
| Protein | 2.00 g |
| Calcium | 4 % |
| Iron | 6.00 % |
| Omega-3 | 0.00 g |
| Omega-6 | 0.00 g |
| Vitamin C | 70.0 % |
| Vitamin A | 50.0 % |
Instructions
Bring water and carrots to a boil in medium saucepan. Reduce heat and cook until almost tender, about 5 minutes. Add broccoli and cook until vegetables are tender, about 3 minutes; drain.
Melt Becel® Original margarine in large skillet over medium heat and cook red pepper, sesame seeds, ginger and garlic, stirring occasionally, until pepper is tender, about 3 minutes.
Add carrots and broccoli to skillet and cook, stirring frequently, until heated through. Season, if desired, with salt and pepper.