Peach Meringue Sponge Cake with Caramel Drizzle
Cooking time

1 hr 30 min

Prep time

20 min

Portions 4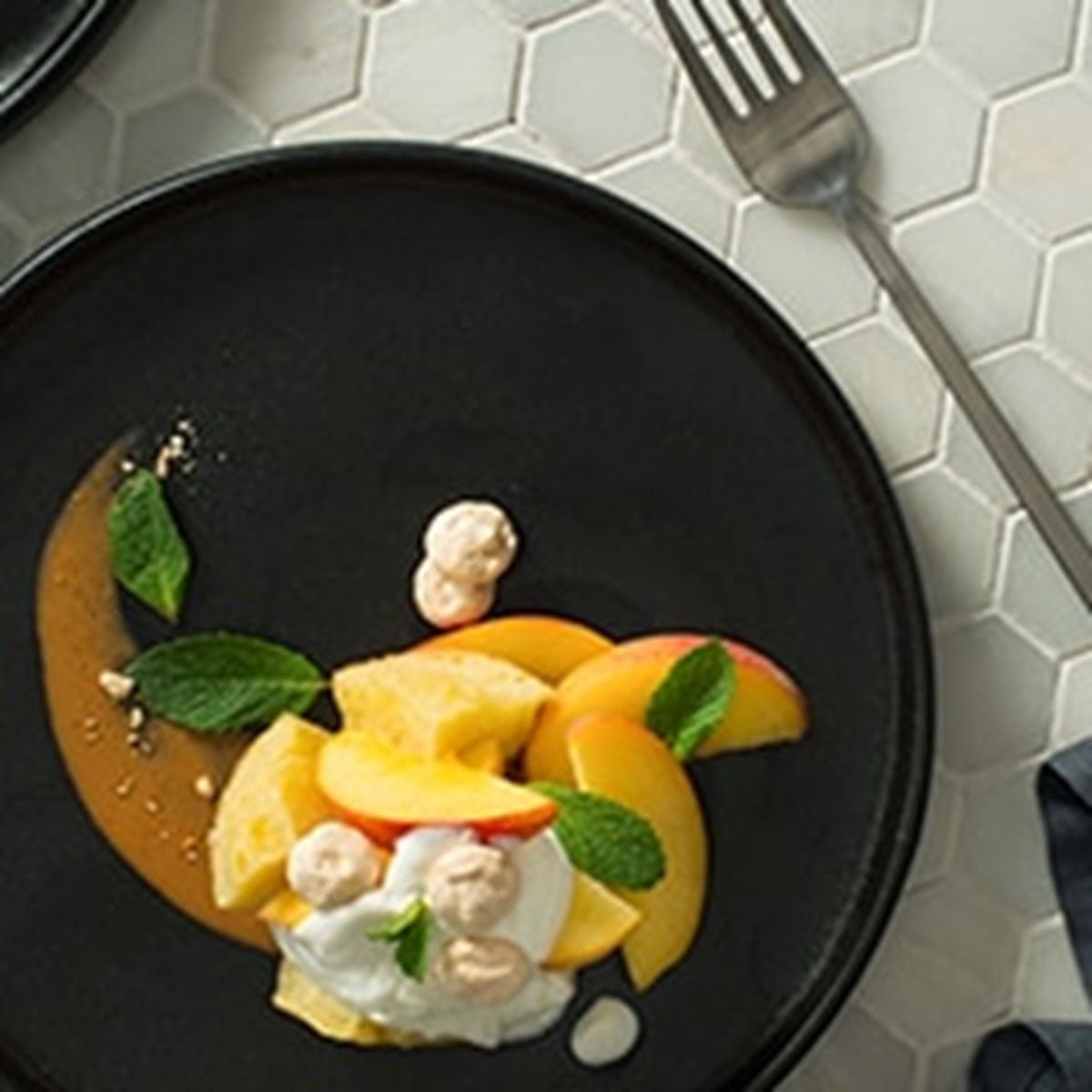 Ingredients
Sponge Cake:
1/4 cup granulated sugar
1/2 cup all-purpose flour
1/2 cup Becel® with Avocado Oil margarine
2 large eggs
Caramel Drizzle:
1/4 cup Becel® with Avocado Oil margarine
1/4 cup firmly packed brown sugar
1 tsp. ground cinnamon
1 cup evaporated milk
Mint Meringues:
4 large egg whites
1 cup granulated sugar
4 sprigs fresh mint leaves , finely chopped
1 drop green food colouring (optional)
Bringing it all together:
1 lime , juiced
2 fresh seasonal Ontario peaches , sliced and rolled in lime juice
4 sponge cake muffins
1/4 cup (60 mL) caramel drizzle
1/2 cup (125 mL) plain Greek yogurt (optional)
8 mint meringues, 2 per dish
8 fresh mint leaves , 2 per dish
Nutrition facts
| | |
| --- | --- |
| Calories | 540.00 |
| Total Fat | 27.00 g |
| Saturated Fat | 4.500 g |
| Trans Fat | 0.000 g |
| Polyunsaturated Fat | 7.000 g |
| Monounsaturated Fat | 14.000 g |
| Cholesterol | 95 mg |
| Sodium | 290 mg |
| Total Carbs | 69.00 g |
| Dietary Fiber | 2.0 g |
| Sugars | 56.00 g |
| Protein | 9.00 g |
| Vitamin D | 207.000 mcg |
| Calcium | 61 mg |
| Iron | 1.00 mg |
| Potassium | 278.000 mg |
| Omega-3 | 1.50 g |
| Omega-6 | 5.00 g |
Instructions
Sponge Cake: Preheat oven to 300°F (150°C). Combine all ingredients into a large mixing bowl, stirring well. Pour mixture into a Becel® coated muffin tin and place in the oven to bake for 15 - 18 minutes, or until a knife can be inserted into the cake, coming out clean. Allow to slightly cool.
Caramel Drizzle: Over medium heat, combine Becel® with Avocado Oil margarine and brown sugar in a small saucepan. Stir until the sugar dissolves and the mixture comes to a boil. Reduce heat to low and simmer for 1 minute. Add evaporated milk and cinnamon into mixture, stir and combine well to set.
Mint Meringues: Preheat oven to 300°F (150°C). Line a baking tray with parchment paper.
Whisk egg whites until peaks form. Slowly add 1 tsp. (5 mL) of sugar and continue to whisk until all the sugar is well mixed and peaks are super firm. Finally, add the chopped mint and a small drop of green food colouring to the mixture. Combine well.
Fit a piping bag with a star tip and place into a tall glass in order to securely fill with the mint meringue mixture. Twist to close or secure with an elastic band. Hold the piping bag close to your baking tray, slowly pipe a dime-sized amount of meringue mixture. Repeat until mixture is gone.
Place tray in the oven and bake for 1 hour, turning the heat down to 250°F (120° C) for the final 30 minutes. Remove from oven and allow to cool.
Bringing it all together: In a serving bowl, place the sponge cake muffin in the middle and divide into quarters, only cutting half way through the muffin. Carefully drizzle hot caramel sauce over the sponge cake, top with Greek yogurt (optional), lime-coated peach segments and mint meringues. Garnish with fresh mint leaves and enjoy!
Reserve extra caramel sauce and meringues for another dessert!