Quick and Easy Rose Cupcakes
Cooking time

25 min

Prep time

20 min

Makes 12 cupcakes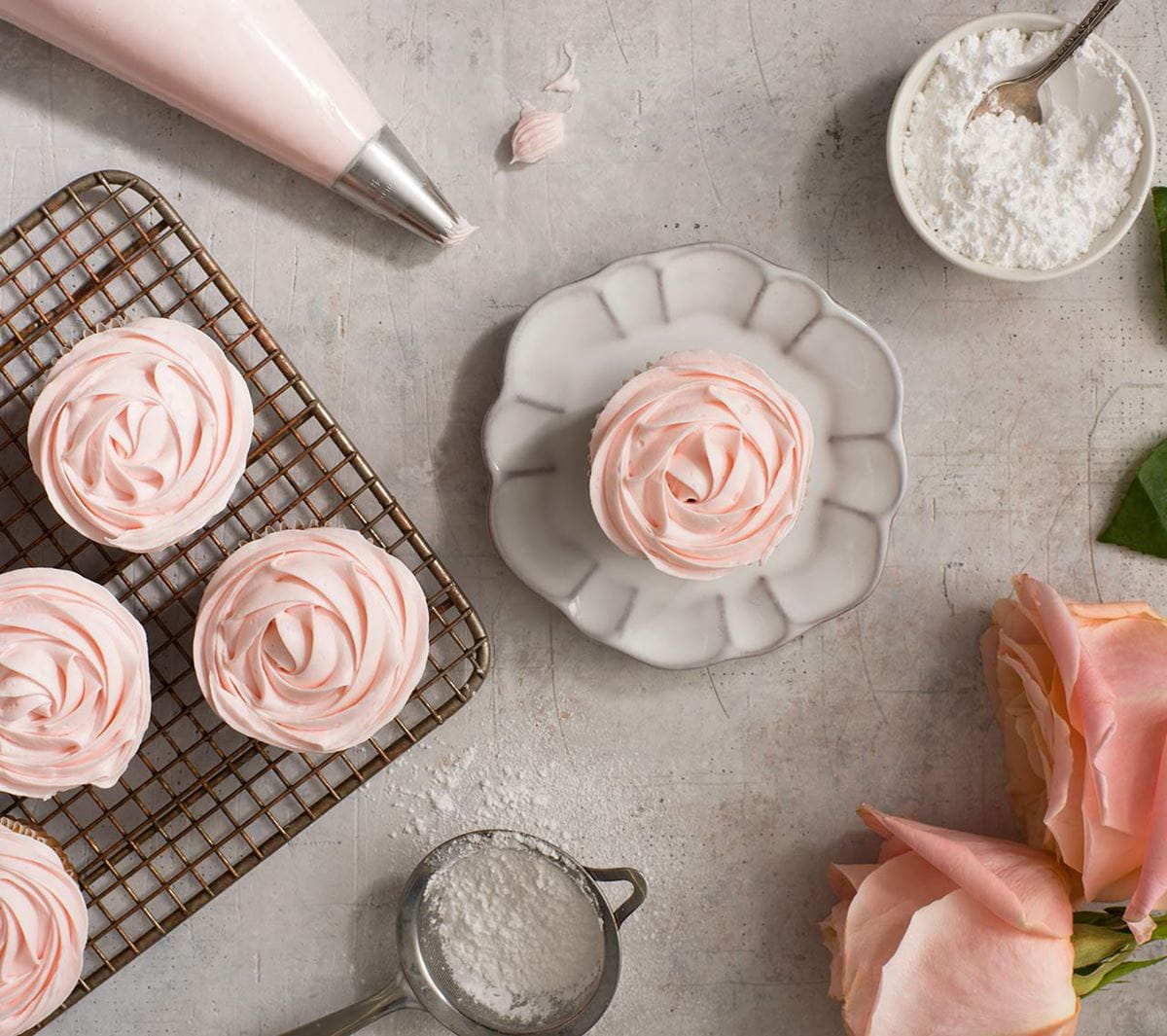 Ingredients
3/4 cup all-purpose flour
3/4 cup whole wheat flour
1 3/4 tsp. baking powder
1 cup (2 sticks) Becel® salted margarine sticks , divided
1 cup granulated sugar
2 large eggs
2 tsp. vanilla extract , divided
1/2 cup PLUS 2 Tbsp. 2% milk , divided
2 cups icing sugar
Nutrition facts
| | |
| --- | --- |
| Calories | 350.00 |
| Total Fat | 16.00 g |
| Saturated Fat | 4.500 g |
| Trans Fat | 0.000 g |
| Polyunsaturated Fat | 3.000 g |
| Monounsaturated Fat | 8.000 g |
| Cholesterol | 30 mg |
| Sodium | 200 mg |
| Total Carbs | 49.00 g |
| Dietary Fiber | 1.0 g |
| Sugars | 37.00 g |
| Protein | 3.00 g |
| Vitamin D | 0.000 mcg |
| Calcium | 46 mg |
| Iron | 1.00 mg |
| Potassium | 77.000 mg |
| Omega-3 | 1.00 g |
| Omega-6 | 3.00 g |
Instructions
Preheat oven to 350°. Line 12-cup muffin pan with paper cupcake liners; set aside.
Combine flours and baking powder in medium bowl; set aside.
Beat 1/2 cup (1 stick) Becel® sticks with granulated sugar in large bowl with electric mixer until creamy. Beat in eggs on low speed until blended, about 2 minutes. Beat in 1/2 cup (125 mL) milk and 1 tsp. (5 mL)vanilla. Slowly beat in flour mixture just until combined, scraping sides of bowl occasionally. Evenly spoon batter into prepared pan.
Bake 25 minutes or until toothpick inserted in centers comes out clean. Cool in pan on wire rack 5 minutes. Remove cupcakes and cool completely.
Meanwhile, beat remaining 1/2 cup (1 stick) Becel® sticks, icing sugar, remaining 2 Tbsp. (30 mL) milk and 1 tsp. (5 mL) vanilla until blended. Beat on medium-high speed, scraping sides occasionally, until light and fluffy, about 2 minutes.
Spoon icing into piping bag fitted with 2D tip and twist end of bag to keep it closed. Pipe small dollop of icing in centre of each cupcake. In a continuous motion, pipe icing in layers of concentric circles over each cupcake to cover top and create rose effect.