Roasted Chicken with Artichokes, Tomatoes & Capers
Cooking time

25 min

Prep time

10 min

Recipe serves 4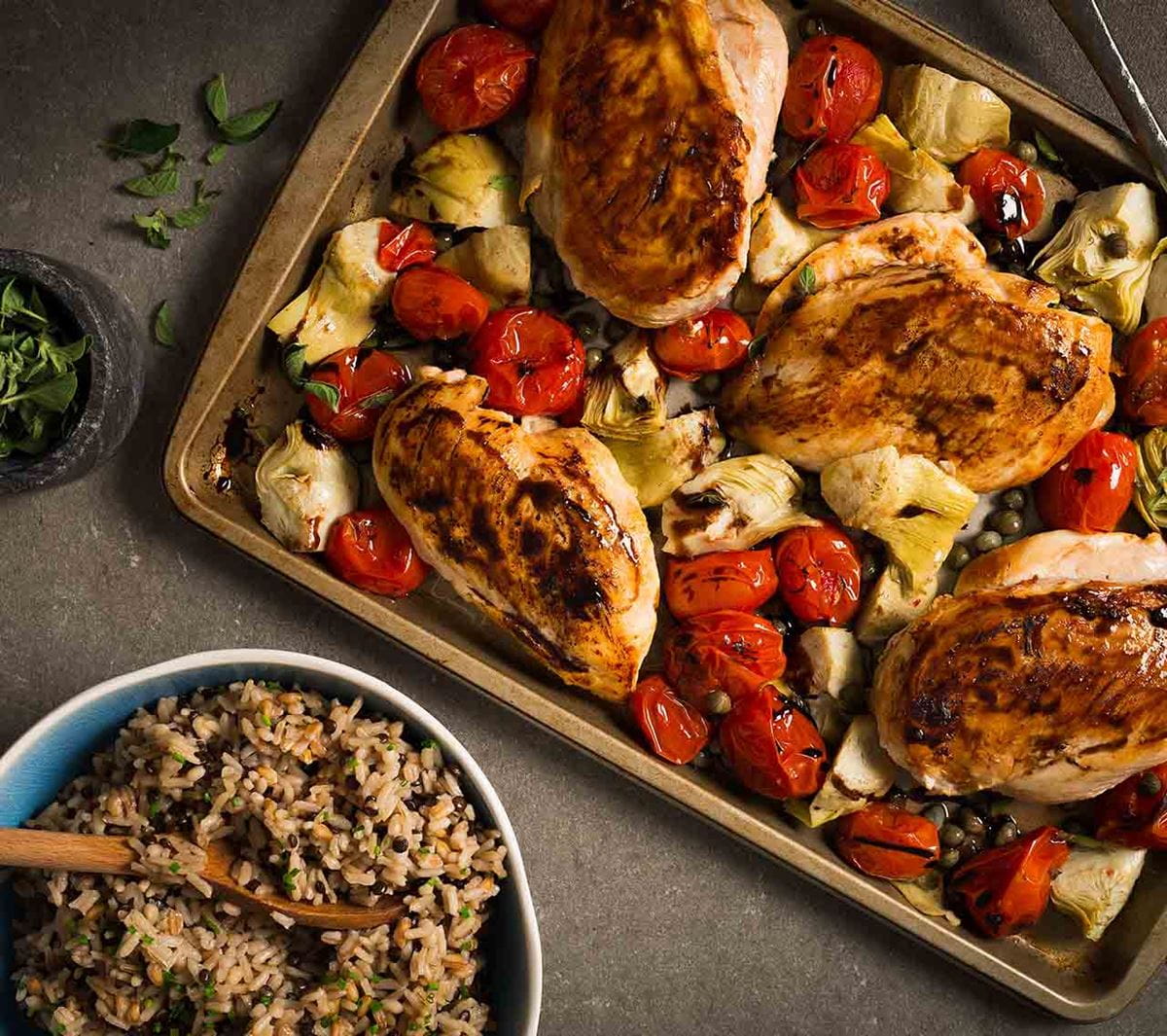 Ingredients
2 cups cherry tomatoes
1 can (398 g.) artichoke heart quarters , drained
4 cloves garlic , finely chopped
1 Tbsp. jarred capers , drained
4 boneless, skinless chicken breasts (about 500 g.)
2 Tbsp. Becel® Olive Oil margarine
1 1/2 Tbsp. balsamic vinegar
2 Tbsp. chopped fresh oregano leaves
1/4 tsp. salt
1/4 tsp. coarsely ground black pepper
Nutrition facts
| | |
| --- | --- |
| Calories | 310.00 |
| Total Fat | 12.00 g |
| Saturated Fat | 2.000 g |
| Trans Fat | 0.000 g |
| Polyunsaturated Fat | 3.100 g |
| Monounsaturated Fat | 6.000 g |
| Cholesterol | 85 mg |
| Sodium | 440 mg |
| Total Carbs | 12.00 g |
| Dietary Fiber | 3.0 g |
| Sugars | 3.00 g |
| Protein | 37.00 g |
| Calcium | 6 % |
| Iron | 10.00 % |
| Omega-3 | 0.70 g |
| Omega-6 | 1.90 g |
| Vitamin C | 35.0 % |
| Vitamin A | 25.0 % |
Instructions
Preheat oven to 425° F (220° C). Spread tomatoes, artichokes, garlic and capers in single layer on large rimmed baking sheet. Top with chicken. Dot chicken and vegetables with Becel® Olive Oil margarine. Drizzle with balsamic vinegar, then sprinkle with oregano, salt and pepper.
Roast 25 minutes or until chicken is thoroughly cooked.
Serve, if desired, with hot cooked couscous or rice.