Sunchoke, Cauliflower & Chestnut Soup with Herbed Toasts
Cooking time

1 h 0 min

Prep time

30 min

Portions 10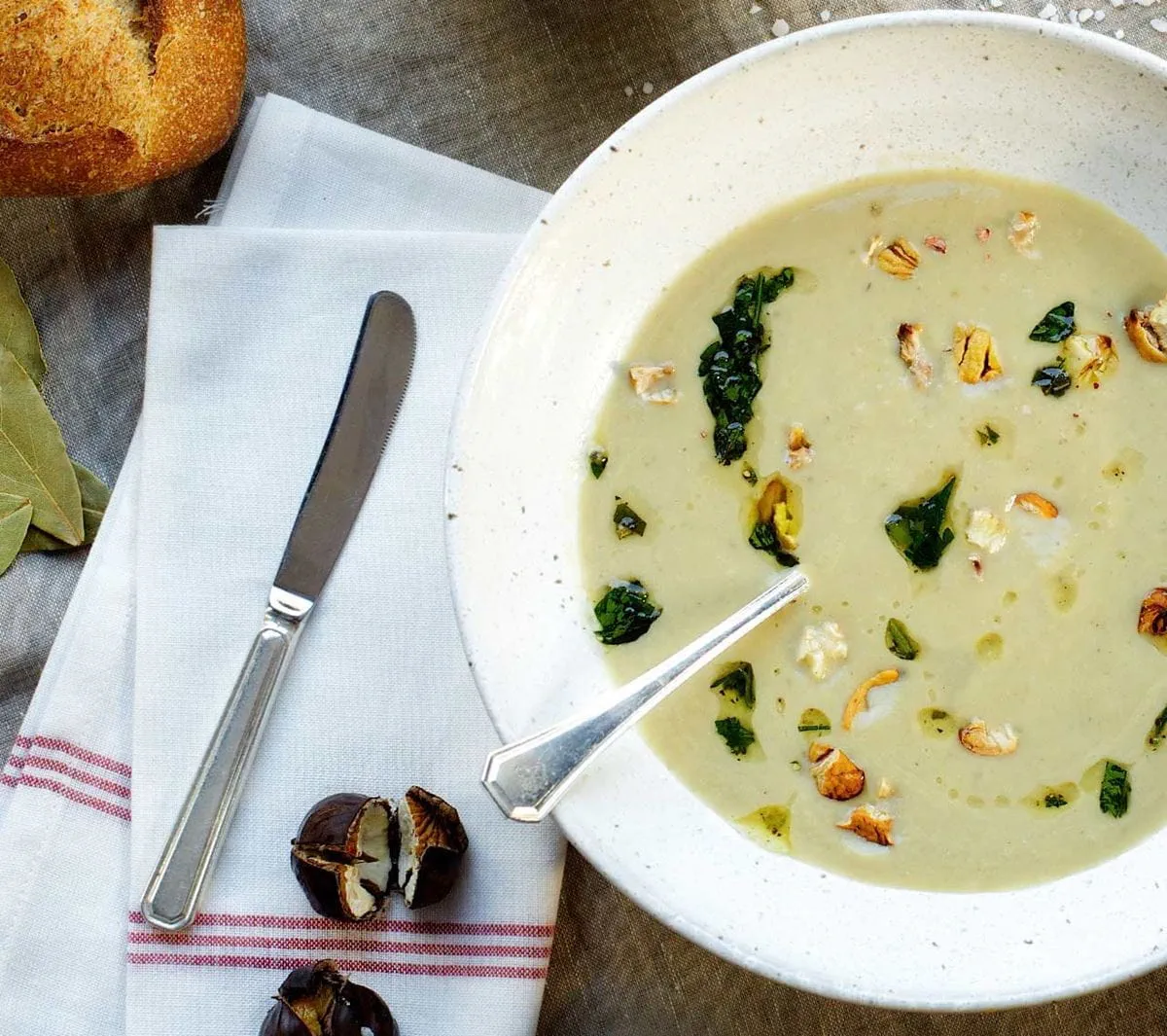 Ingredients
SOUP:
2 Tbsp. Becel® Vegan margarine
2 cups chopped celery
2 cups chopped white onions
2 cups chopped leeks , washed very well
2 bay leaves
Salt and pepper to taste
2 cups chopped sunchokes
2 cups chopped cauliflower
2 cups peeled, cooked chestnuts , divided
6 cups water
1 cube organic gluten free vegan vegetable stock
2 Tbsp. Becel Olive Plus™ Oil Blend
Optional: 1 cup (250 mL)vegan soy or rice or non-lactose cooking creamer
HERBED BECEL OLIVE PLUS™ OIL BLEND TOASTS
6 Tbsp. Becel Olive Plus™ Oil Blend
2 Tbsp. chopped basil leaves
2 Tbsp. chopped green onion
2 Tbsp. chopped parsley
1/2 tsp. sea salt
Cracked black pepper
1 loaf country bread , sliced
Nutrition facts
| | |
| --- | --- |
| Calories | 450.00 |
| Total Fat | 18.00 g |
| Saturated Fat | 2.000 g |
| Trans Fat | 0.000 g |
| Polyunsaturated Fat | 5.000 g |
| Monounsaturated Fat | 9.000 g |
| Cholesterol | 0 mg |
| Sodium | 640 mg |
| Total Carbs | 63.00 g |
| Dietary Fiber | 5.0 g |
| Sugars | 10.00 g |
| Protein | 10.00 g |
| Vitamin D | 0.000 mcg |
| Calcium | 112 mg |
| Iron | 4.00 mg |
| Potassium | 606.000 mg |
| Omega-3 | 1.00 g |
| Omega-6 | 3.00 g |
Instructions
Preheat oven to 400 °F (200° C).
In a soup pot, cook the Becel® Vegan margarine, celery, onion and leeks on medium-high heat, with bay leaves and a pinch of salt and pepper. Cook until vegetables are soft, then add sunchokes, cauliflower, 1 cup of cooked chestnuts, water and vegetable stock. Bring to a boil, then return to medium-low heat.
Place remaining 1 cup cooked chestnuts on a nonstick baking sheet. Drizzle with Becel Olive Plus™ Oil Blend and a sprinkle of salt. Cook until nicely roasted, approximately 15 minutes. Set aside to cool. Once cool, chop for garnish.
After the soup cooks for about 20 minutes, carefully discard the bay leaves. In a blender, puree the soup until smooth. For extra creaminess, add in the optional cup of cream. Return to soup pot and cook on low heat.
Serve topped with chopped, roasted chestnuts(1 to 2 per bowl) and herbed toast.
For Herbed Becel Olive Plus™ Oil Blend Toast, mix the Becel Olive Plus™ Oil Blend with basil, green onion, parsley and salt and pepper.
Toast the bread (either in toaster, oven or grill) and gently spoon/spread the herbaceous olive oil on each piece to add a fresh and crunchy touch to the soup.