Sweet and Sour Glazed Chicken Breasts
Cooking time

15 min

Prep time

15 min

Portions 4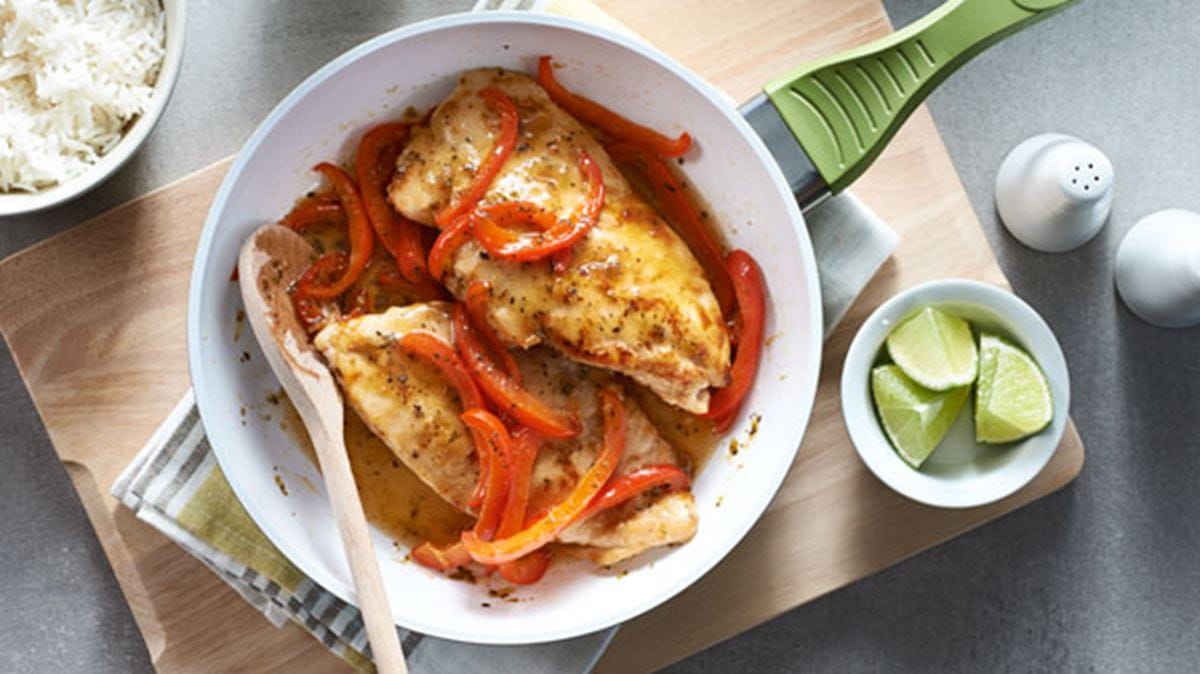 Ingredients
4 boneless, skinless chicken breasts , (about 500 g)
1/4 cup all-purpose flour
2 Tbsp. Becel® Light margarine , divided
1 medium red bell pepper , cut into thin strips
3 Tbsp. honey
2 Tbsp. lime juice
2 tsp. finely grated lime peel
1 tsp. dried oregano leaves , crushed
Nutrition facts
| | |
| --- | --- |
| Calories | 240.00 |
| Total Fat | 5.00 g |
| Saturated Fat | 1.000 g |
| Trans Fat | 0.000 g |
| Polyunsaturated Fat | 1.200 g |
| Monounsaturated Fat | 1.500 g |
| Cholesterol | 65 mg |
| Sodium | 105 mg |
| Total Carbs | 22.00 g |
| Dietary Fiber | 1.0 g |
| Sugars | 14.00 g |
| Protein | 27.00 g |
| Calcium | 2 % |
| Iron | 6.00 % |
| Omega-3 | 0.10 g |
| Omega-6 | 0.60 g |
| Vitamin C | 70.0 % |
| Vitamin A | 25.0 % |
Instructions
Pound chicken lightly between sheets of plastic wrap to flatten. Dust lightly with flour.
Melt 15 mL Becel® Light margarine in large skillet and cook chicken over medium-high heat until thoroughly cooked, about 6 minutes. Remove chicken and set aside.
Melt remaining Becel® Light margarine in same skillet and cook red pepper, stirring occasionally, 1 minute. Stir in remaining ingredients and cook over medium heat, stirring constantly, until sauce thickens to a glaze. Return chicken to skillet to heat through, turning to coat pieces.