Vegan Chorizo Patties
Cooking time

25 min

Prep time

30 min

Servings

10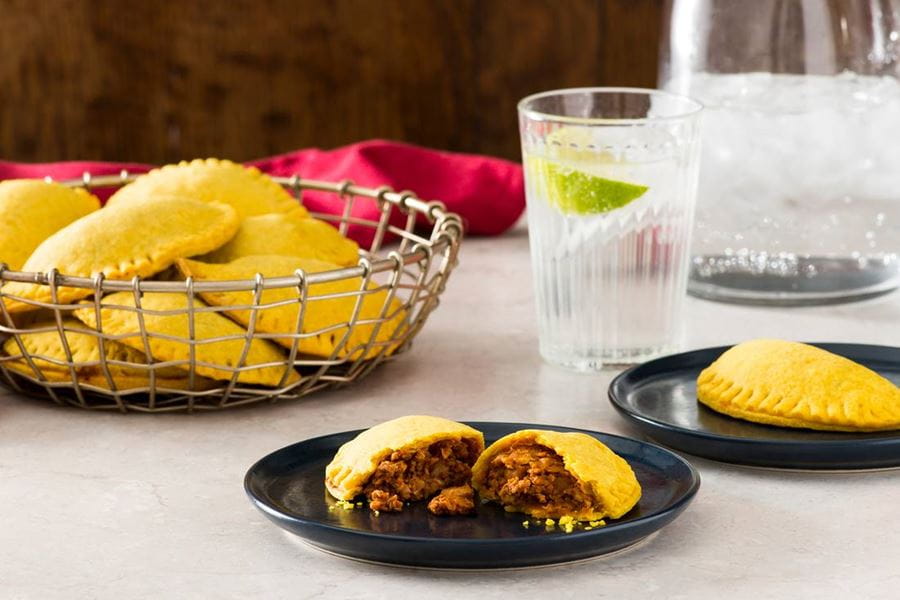 Ingredients
Dough
3 tablespoons (45 mL) chilled water, divided
pinch saffron strands (optional)
1 1/2 (375 mL) cups all-purpose flour
1 tablespoon (15 mL) sugar
1 teaspoon (5 mL) ground turmeric
1/2 teaspoon (2 mL) salt
1/2 cup (125 mL) cold Becel® Plant-Based Salted Bricks, cut into pieces
1 tablespoon (15 mL) tahini (optional)
Chorizo
2 cups (500 mL) quartered white mushrooms,about 6 ounces (170g)
1 small onion, coarsely chopped, about 1/2 cup (125 mL)
1/2 cup (125 mL) walnuts
1 cup ((250 mL) chickpeas
3 cloves garlic
2 teaspoons (10 mL) ancho chili powder
2 teaspoons (10 mL) smoked paprika
2 teaspoons (10 mL) ground cumin
2 teaspoons (10 mL) dried oregano leaves
1 teaspoon (5 mL) kosher salt
2 tablespoons (30 mL) Becel® Plant-Based Salted Bricks
1 tablespoon (15 mL) tomato paste
Nutritional Guidelines (per serving)
(Nutrition information is calculated using an ingredient database and should be considered an estimate.)
Instructions
Dough
Microwave 1 tablespoon (15 mL) water and add saffron; let stand until cool. Add remaining 2 tablespoons (30 mL) chilled water to saffron water. (If not using saffron, skip this step.)
In a large bowl combine flour, sugar, turmeric and salt. Using a pastry blender, cut in Becel until mixture resembles coarse crumbs. In a small bowl combine tahini (if using) and saffron-water mixture (or chilled water). Stir into flour mixture.
Gather mixture into a ball, kneading gently until it holds together; Divide dough in half and flatten into two disks. Wrap in plastic wrap. Chill for 30 minutes.
On a lightly floured surface, roll one disk of dough to ⅛-inch (3 cm) thickness. Using a 4½-inch (12 cm) round cutter, cut dough into 5 rounds, rerolling scraps only once. Repeat with remaining dough. Place rounds on 2 parchment-lined baking sheets.
Vegan Chorizo
Add all ingredients except Becel and tomato paste to the bowl of a food processor. Pulse until very coarsely chopped.
Heat Becel in a large skillet over medium heat. Add mushroom and chickpea mixture to the skillet and stir in tomato paste.
Cook 8 minutes, stirring often, until lightly browned. Let cool.
Assembly
Preheat oven to 400°F (200°C) . Place about 2 tablespoons (30 mL) chorizo mixture in center of each round. Fold dough over filling. Crimp to seal with a fork.
Bake 15 to 20 minutes or until patties are lightly browned.