Vegan Walnut and Oat Pancakes
Cooking time

10 min

Prep time

5 min

Portions 4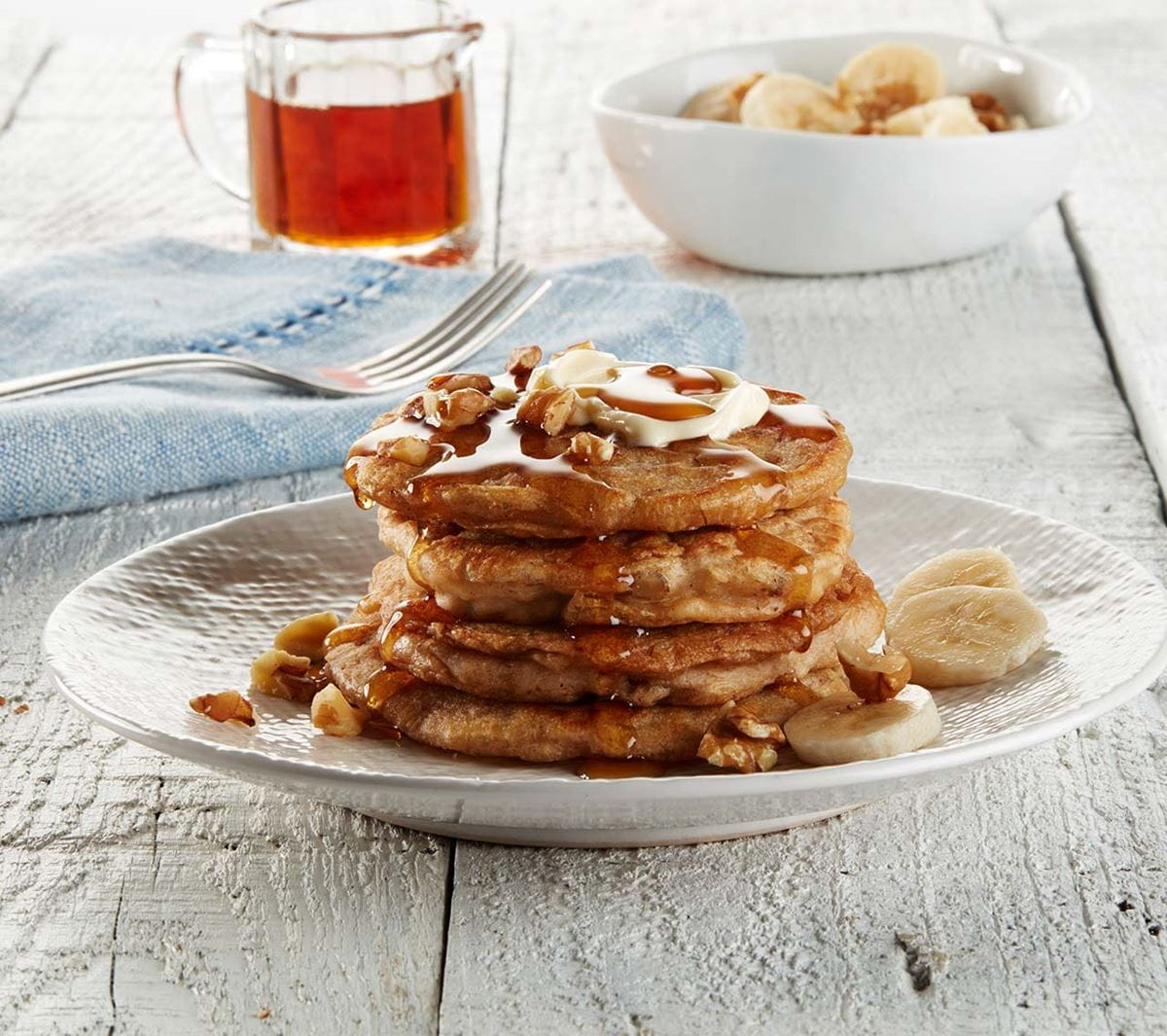 Ingredients
1 cup all-purpose flour
1 1/2 tsp. baking powder
1/4 tsp. salt
1/8 tsp. ground nutmeg
1/8 tsp. ground cinnamon
1/4 cup chopped walnuts
1/4 cup quick-cooking oats
4 Tbsp. Becel® Vegan margarine , divided
1 cup club soda
Nutrition facts
| | |
| --- | --- |
| Calories | 290.00 |
| Total Fat | 18.00 g |
| Saturated Fat | 2.500 g |
| Trans Fat | 0.000 g |
| Polyunsaturated Fat | 7.000 g |
| Monounsaturated Fat | 7.000 g |
| Cholesterol | 0 mg |
| Sodium | 380 mg |
| Total Carbs | 28.00 g |
| Dietary Fiber | 2.0 g |
| Sugars | 1.00 g |
| Protein | 6.00 g |
| Vitamin D | 0.000 mcg |
| Calcium | 69 mg |
| Iron | 2.00 mg |
| Potassium | 68.000 mg |
| Omega-3 | 1.50 g |
| Omega-6 | 5.00 g |
Instructions
Combine flour, baking powder, salt, nutmeg and cinnamon in medium bowl. Stir in walnuts, oats, 2 Tbsp. (30 mL)melted Becel® Vegan margarine, then club soda. Let batter stand 5 minutes to thicken.
Melt 2 tsp. (10 mL) margarine in large nonstick skillet over medium-high heat, then drop batter by 1/4-cupfuls (60 mL). Cook pancakes, turning once, until done. Repeat with remaining margarine and batter. Serve, if desired, with sliced bananas, maple syrup and a dollop of margarine.
TIP: To make these pancakes gluten free, replace all-purpose flour with gluten free flour.