Chocolate Turtle Cheesecake
Cooking time

1 hr 0 min

Prep time

15 min

Portions 18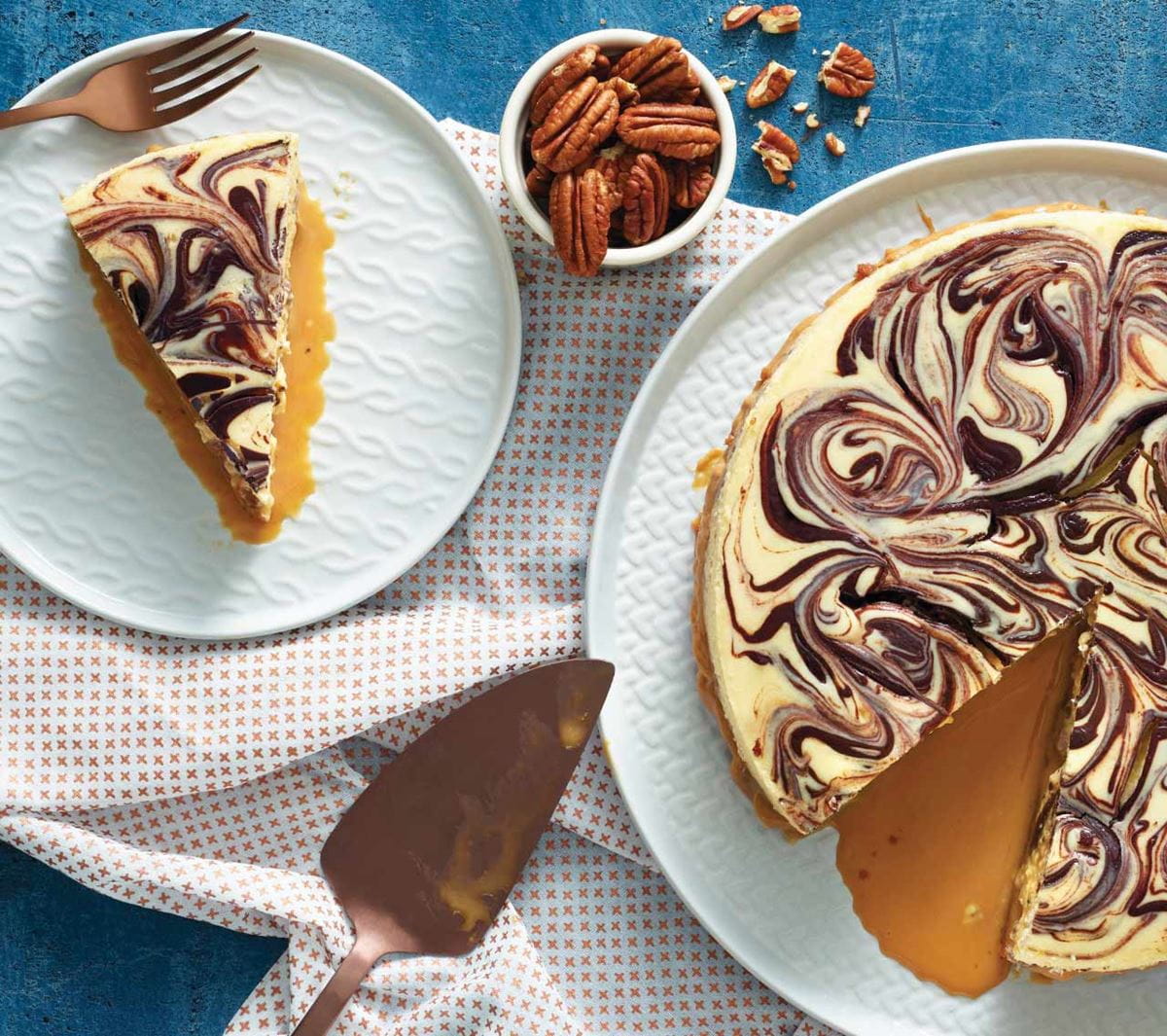 Ingredients
2 cups ground up chocolate wafer cookies
6 Tbsp. Becel® salted margarine sticks , melted
14 ounces soft caramels
5 floz evaporated milk
1 cup chopped pecans , toasted
1 lb. cream cheese , softened
1/2 cup granulated sugar
1 tsp. vanilla extract
2 eggs
1/2 cup semi-sweet chocolate chips , melted
Nutrition facts
| | |
| --- | --- |
| Calories | 370.00 |
| Total Fat | 23.00 g |
| Saturated Fat | 9.000 g |
| Trans Fat | 0.000 g |
| Polyunsaturated Fat | 4.000 g |
| Monounsaturated Fat | 8.000 g |
| Cholesterol | 50 mg |
| Sodium | 220 mg |
| Total Carbs | 38.00 g |
| Dietary Fiber | 1.0 g |
| Sugars | 28.00 g |
| Protein | 5.00 g |
| Vitamin D | 1.000 mcg |
| Calcium | 91 mg |
| Iron | 1.00 mg |
| Potassium | 188.000 mg |
| Omega-3 | 0.40 g |
| Omega-6 | 3.50 g |
Instructions
Preheat oven to 350° F (180° C). Grease a 9-inch (23-cm) springform pan.
Combine wafer crumbs and melted Becel® sticks. Press into bottom and up sides of springform pan. Bake 10 minutes.
Melt caramels with evaporated milk in a heavy saucepan over low heat, stirring constantly, until smooth. Pour over crust and sprinkle with pecans.
Beat cream cheese, sugar, and vanilla in a large bowl with an electric mixer at medium speed until smooth and blended. Add eggs, one at a time, mixing well after each addition. Pour over pecan layer, dollop with melted chocolate and then swirl to marble.
Bake 50 minutes or until firm on top.
Loosen cheesecake from rim of pan. Cool cheesecake completely on wire rack, then remove rim. Chill at least 8 hours or overnight.
Garnish with whipped cream, chopped nuts, or maraschino cherries, if desired.