Creamy Shrimp Risotto
Cooking time

25 min

Prep time

15 min

Portions 4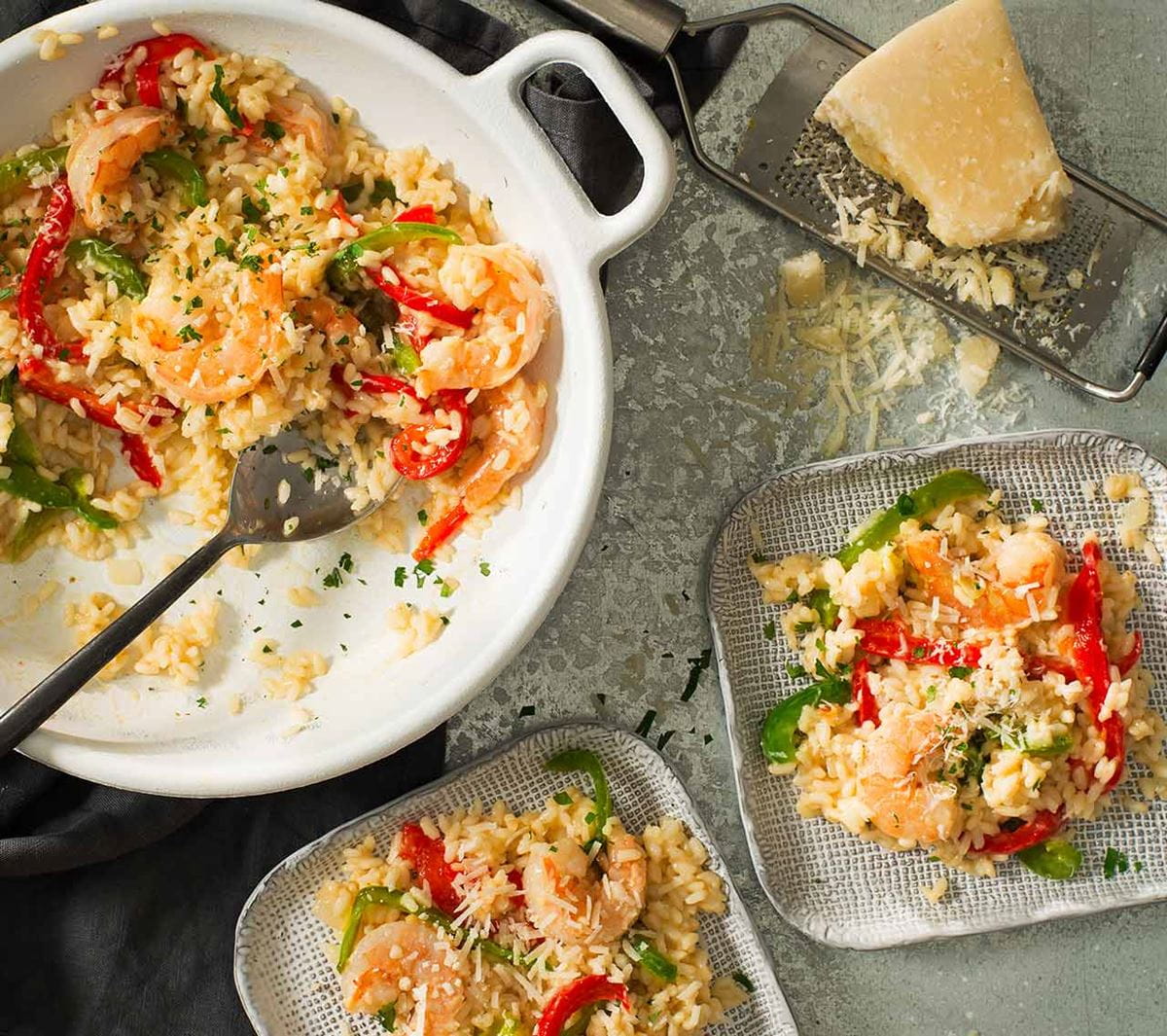 Ingredients
2 Tbsp. Becel® Original margarine , divided
2 cloves garlic , finely chopped
3/4 lb. uncooked medium shrimp
1 cup thinly sliced red bell pepper
1 cup thinly sliced green bell pepper
1 medium onion , chopped
1 cup uncooked long grain rice
1/3 cup dry white wine
1 Knorr® OXO® 25% Less Salt Chicken Bouillon Sachet *
2 1/4 cups water *
1/4 tsp. ground black pepper
1/4 cup grated Pecorino Romano cheese
Nutrition facts
| | |
| --- | --- |
| Calories | 360.00 |
| Total Fat | 9.00 g |
| Saturated Fat | 2.000 g |
| Trans Fat | 0.000 g |
| Polyunsaturated Fat | 2.000 g |
| Monounsaturated Fat | 3.500 g |
| Cholesterol | 115 mg |
| Sodium | 770 mg |
| Total Carbs | 47.00 g |
| Dietary Fiber | 3.0 g |
| Sugars | 3.00 g |
| Protein | 18.00 g |
| Calcium | 15 % |
| Iron | 6.00 % |
| Omega-3 | 0.00 g |
| Omega-6 | 1.50 g |
| Vitamin C | 80.0 % |
| Vitamin A | 25.0 % |
Instructions
Melt 15 mL Becel® Original margarine in large nonstick saucepan over medium-high heat and cook 1 clove garlic with shrimp, stirring occasionally, until shrimp turn pink, about 3 minutes. Remove shrimp from pan.
Stir in bell peppers and cook 2 minutes; remove from pan. Add remaining Becel® Original margarine and cook remaining garlic and onion until onions are almost tender, about 3 minutes. Stir in uncooked rice and cook, stirring frequently, 1 minute. Add wine and stir until almost absorbed. Stir in OXO blended with water and black pepper.
Bring to a boil, stirring frequently. Cover and simmer over low heat 20 minutes or until rice is tender.
Stir in cheese. Return shrimp and bell peppers to pan; heat through. Garnish, if desired, with chopped parsley.
*or use 2-1/4 cups (300 mL) reduced sodium chicken stock.