Hearty Roasted Vegetable and Kefir Lime Quinoa Salad with Black Garlic Vinaigrette
Cooking time

1 hr 0 min

Prep time

30 min

10 Upfield.CalcMenu.Recipes.ServingsLabel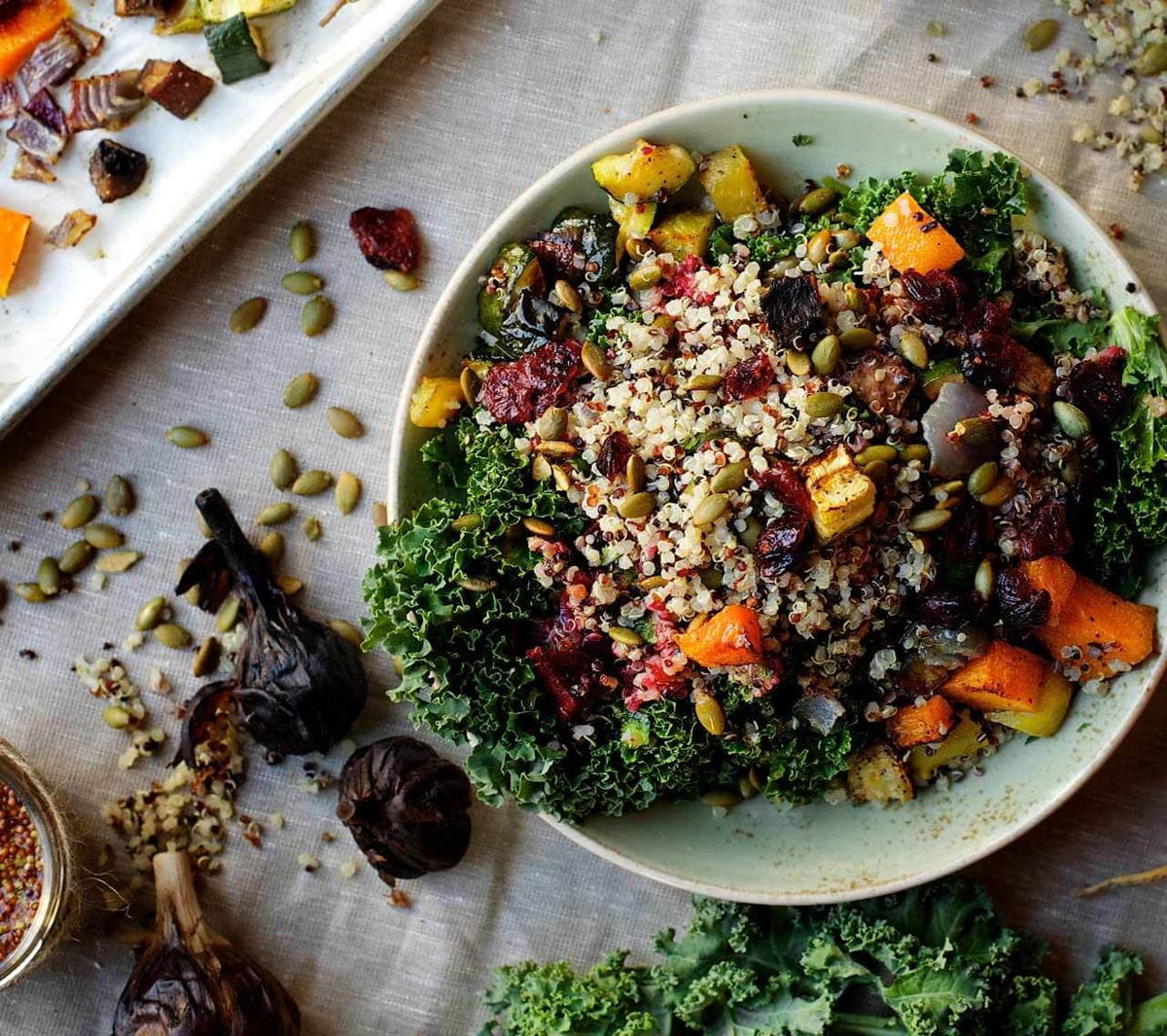 Ingredients
KEFIR LIME QUINOA:
3 cups organic tri-coloured quinoa royal , rinsed
6 cups water
1 Tbsp. Becel® Vegan margarine , with a pinch of salt and pepper mixed in
1 kefir lime leaf
BLACK GARLIC VINAIGRETTE:
1 clove black garlic , well mashed
1 cup Becel Olive Plus™ Oil Blend
1 Tbsp. Dijon mustard
1/4 cup organic apple cider vinegar
1 lemon , juiced
ROASTED VEGGIES:
1/3 butternut squash , peeled and cubed
1 red beet , peeled and cubed
1 yellow beet , peeled and cubed
Pinch each salt and pepper
2 sprigs fresh rosemary
2 sprigs fresh thyme
2 Tbsp. Becel® with Avocado Oil margarine , melted
1 zucchini , skin on, cubed
1 portobello mushroom cap , cleaned (with brush or kitchen cloth) and cubed
1/2 red onion , cubed
1/2 cup pumpkin seeds , (roasted with 15 mL (1 Tbsp) Becel® Vegan)
1/2 cup dried cranberries
2 Lebanese cucumbers , washed and cubed
1/2 pint mixed cherry tomatoes , cut in half
1 large bunch dinosaur kale , rinsed, dried and loosely chopped
Nutrition facts
| | |
| --- | --- |
| Calories | 560.00 |
| Total Fat | 33.00 g |
| Saturated Fat | 3.500 g |
| Trans Fat | 0.000 g |
| Polyunsaturated Fat | 8.000 g |
| Monounsaturated Fat | 18.000 g |
| Cholesterol | 0 mg |
| Sodium | 110 mg |
| Total Carbs | 56.00 g |
| Dietary Fiber | 7.0 g |
| Sugars | 15.00 g |
| Protein | 11.00 g |
| Vitamin D | 19.000 mcg |
| Calcium | 71 mg |
| Iron | 3.00 mg |
| Potassium | 494.000 mg |
| Omega-3 | 1.50 g |
| Omega-6 | 5.00 g |
Instructions
Preheat your oven to 375°F (190 ° C).
Place all ingredients for the Kefir Lime Quinoa in a rice cooker and cook until done. Remove the lime leaf, then set aside to cool.
Mix all ingredients for the Black Garlic Vinaigrette in a blender or by hand with a whisk. It should have the consistency of a loose dressing rather than an emulsion. Taste and season accordingly.
Put the butternut squash and beets in a bowl and add the salt and pepper with the sprigs of thyme and rosemary (whole) . Mix with 1 Tbsp. (15 mL) of melted Becel® with Avocado Oil margarine and toss with your hands. Place ingredients on a baking sheet lined with parchment paper and put in the oven.
While the vegetables are cooking, put the mushroom, zucchini and onion in the same bowl, add the remainder of the melted Becel® with Avocado Oil margarine and a pinch of salt and pepper. Set aside and add to roasting vegetables after 25 minutes have elapsed (so they finish cooking at the same time). Crank up the oven to 400°F (200°C) and cook for the final 15 minutes. Remove from oven and let cool.
Prepare the pumpkin seeds. In a nonstick saucepan set on medium heat, add 1 Tbsp. (15 mL) of Becel® Vegan margarine and allow to melt. Add the pumpkin seeds and keep tossing until seeds have a nutty smell and are golden brown. Set aside to cool.
Mix the roasted vegetables with the quinoa, season with salt and pepper. Plate the salad with the kale at the bottom. Drizzle the black garlic vinaigrette on the kale, add a generous serving of the quinoa salad on top, garnish with the fresh cucumbers, tomatoes, toasted pumpkin seeds and dried cranberries and enjoy!
Recipe tips/notes: Do not be afraid to use black garlic!  Roasted vegetables can be made in advance and can easily be used as a filling for a sandwich the next day should there be leftovers! The vinaigrette can be made in advance and kept in the fridge in an air tight container for up to 2 weeks.  Make the pumpkin seeds in bulk and enjoy them as a snack!