Pear-Ginger Upside Down Cake
Cooking time

35 min

Prep time

15 min

Portions 12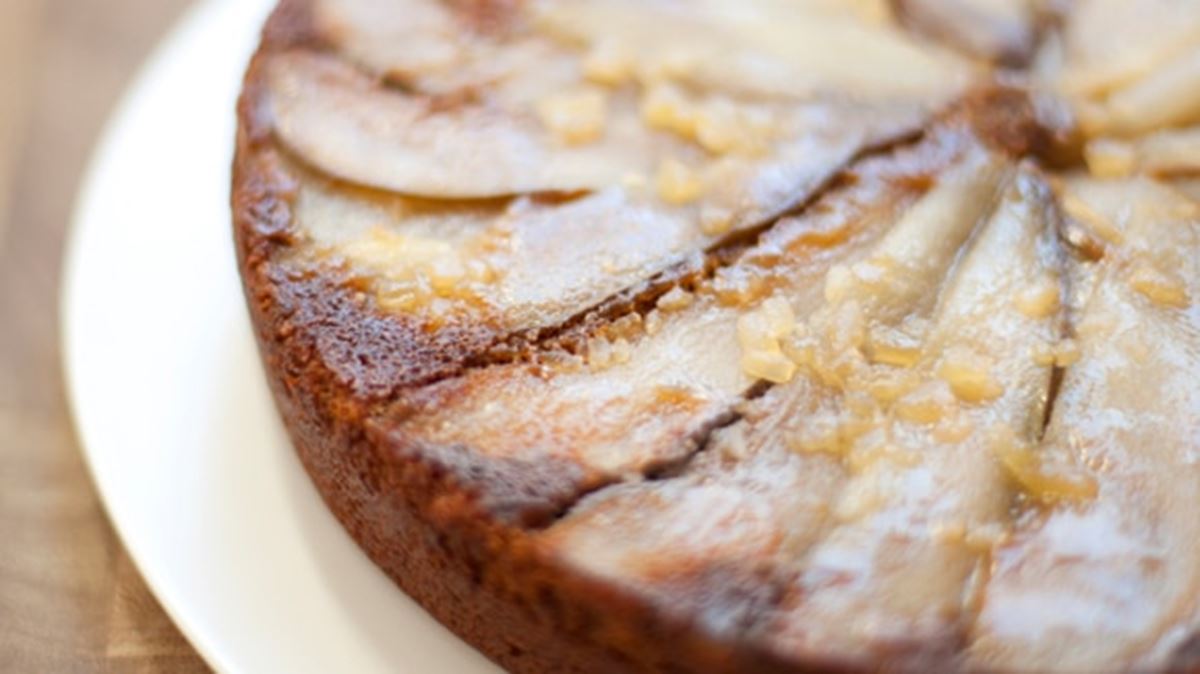 Ingredients
3 pears , peeled and sliced
2 Tbsp. lemon juice
1 Tbsp. PLUS 1/2 cup (125 mL) Becel® salted margarine sticks , divided
2 Tbsp. PLUS 1/2 cup (125 mL) sugar , divided
1/4 cup slivered almonds , toasted
2 eggs , beaten
1 Tbsp. grated lemon peel
1 cup all-purpose flour
1 tsp. baking powder
1/4 tsp. salt
2 Tbsp. 2% milk
1/4 cup finely chopped candied ginger
Nutrition facts
| | |
| --- | --- |
| Calories | 220.00 |
| Total Fat | 11.00 g |
| Saturated Fat | 3.000 g |
| Trans Fat | 0.000 g |
| Polyunsaturated Fat | 3.000 g |
| Monounsaturated Fat | 5.000 g |
| Cholesterol | 30 mg |
| Sodium | 170 mg |
| Total Carbs | 28.00 g |
| Dietary Fiber | 2.0 g |
| Sugars | 16.00 g |
| Protein | 3.00 g |
| Calcium | 34 mg |
| Iron | 1.00 mg |
| Potassium | 131.000 mg |
| Omega-3 | 0.50 g |
| Omega-6 | 2.00 g |
Instructions
Preheat oven to 375°F (190°C). Toss pears with lemon juice; drain, reserving juice.
Grease 9-in. (23 cm) springform pan with 1 Tbsp. (15 mL) Becel® sticks, then sprinkle with 2 Tbsp. (30 mL) sugar and almonds. Arrange pears in circle in bottom of springform pan; set aside.
Beat remaining 1/2 cup (125 mL) Becel® sticks with remaining (125 mL) sugar in large mixing bowl until light and fluffy. Add eggs, lemon peel and reserved juice; set aside. Combine flour, baking powder and salt in another bowl. Stir 1/2 of the flour mixture into the batter, mixing well. Stir in milk, then remaining flour mixture. Fold in candied ginger. Spoon batter evenly over pears.
Bake until golden brown, about 30 minutes. Remove to wire rack and let stand 5 minutes. Invert serving plate over pan and turn out cake. Serve at room temperature and, if desired, with caramel sauce.