Veggie Garden
Cooking time

NA

Prep time

30 min

Portions 8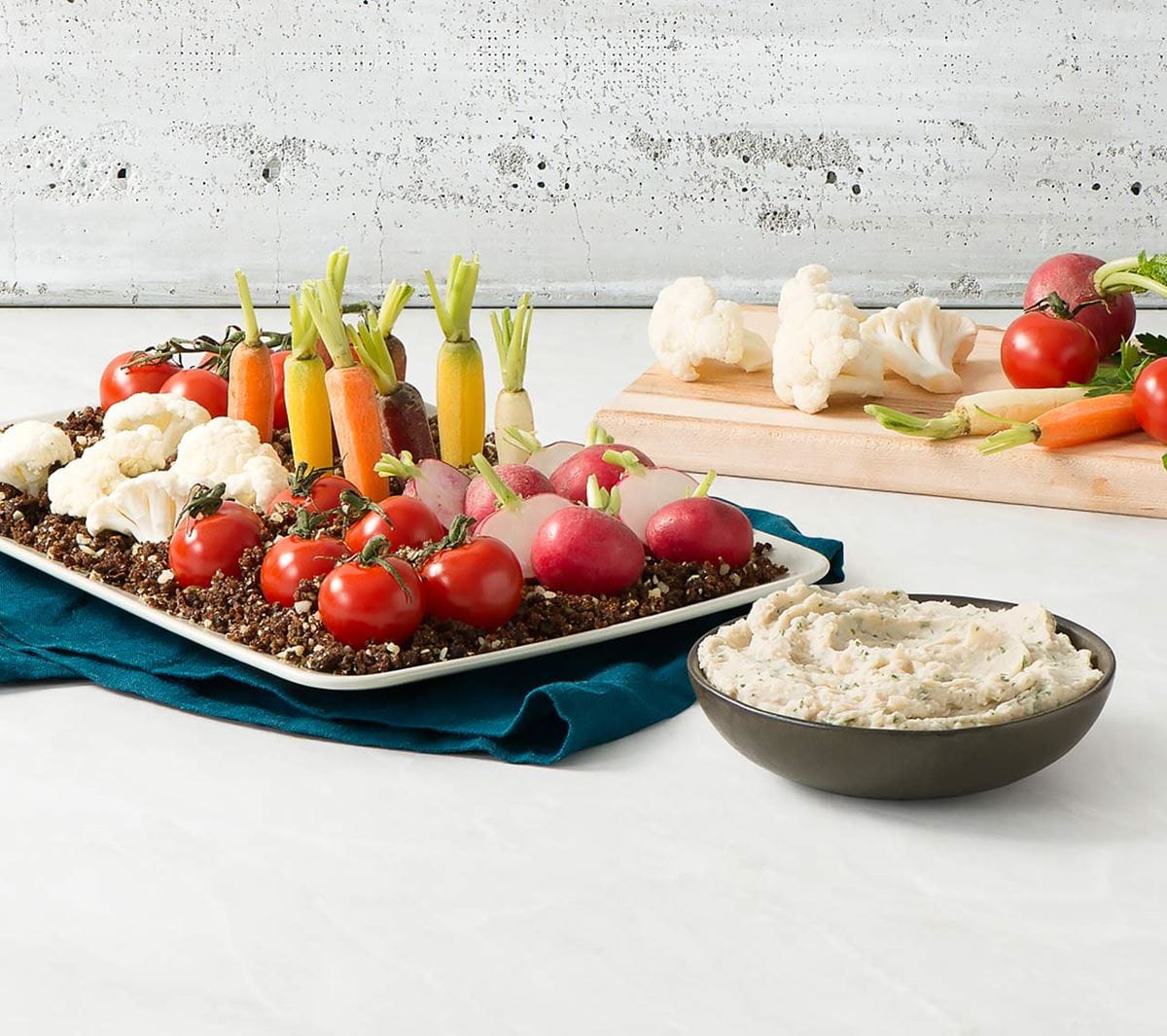 Ingredients
EDIBLE GARDEN:
6 slices pumpernickel bread
1 cup kalamata olives , pitted and chopped
1/4 cup toasted pumpkin seeds
1/4 cup raisins
1/4 cup roasted almonds
8 heirloom carrots , cleaned
6 small radishes , trimmed and cut in half
1/2 head cauliflower , cut into small florets
10 cherry tomatoes
WHITE BEAN DIP
1 Tbsp. Becel® Vegan margarine
1 shallot , finely diced
1 can (425 g) low sodium cannellini beans , rinsed and drained
Juice of 1 lemon
2 sprigs parsley , chopped
Salt and freshly ground black pepper to taste
Nutrition facts
| | |
| --- | --- |
| Calories | 230.00 |
| Total Fat | 7.00 g |
| Saturated Fat | 1.000 g |
| Trans Fat | 0.000 g |
| Polyunsaturated Fat | 1.500 g |
| Monounsaturated Fat | 4.000 g |
| Cholesterol | 0 mg |
| Sodium | 390 mg |
| Total Carbs | 37.00 g |
| Dietary Fiber | 7.0 g |
| Sugars | 9.00 g |
| Protein | 7.00 g |
| Vitamin D | 0.000 mcg |
| Calcium | 103 mg |
| Iron | 2.00 mg |
| Potassium | 568.000 mg |
| Omega-3 | 0.20 g |
| Omega-6 | 1.50 g |
Instructions
For Edible Garden, place pumpernickel bread, olives, pumpkin seeds, raisins and almonds into a food processor. Blitz until ingredients are blended and the mixture has a soil-like consistency.
Evenly distribute the "edible soil" on a large serving platter. "Plant" the veggies into the soil, placing them as if they were growing from it.
For White Bean Dip, in a food processor, add Becel® Vegan margarine, shallot, low sodium cannellini beans, lemon juice and parsley. Blitz until smooth, then season with salt and black pepper. Serve alongside the edible garden as a dip.