Spinach, Tomato and Feta Cheese Penne
Cooking time

15 min

Prep time

10 min

Servings

Recipe serves 4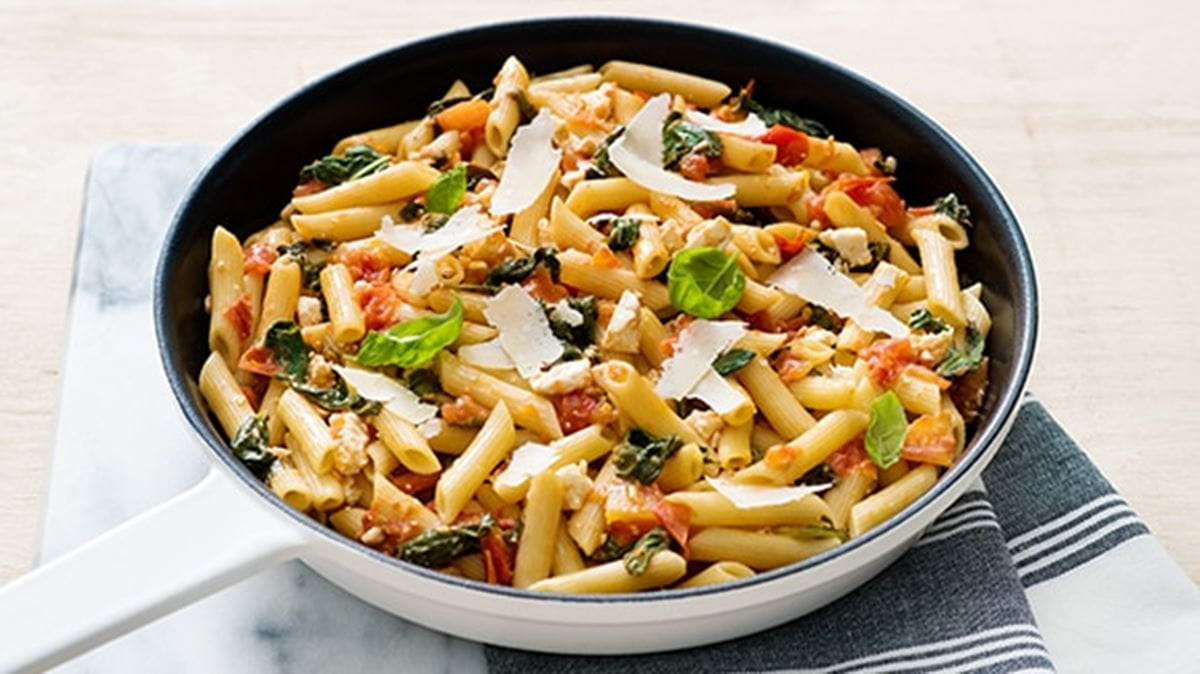 Ingredients
1 lb. penne pasta
1 tsp. Becel® Oil
3 cloves garlic , finely chopped
3 large tomatoes , chopped
1/4 cup fresh basil leaves
1 package (284 g.) fresh spinach , coarsely chopped
1/2 cup crumbled feta cheese
1/4 tsp. salt
1/4 tsp. cracked black pepper , or to taste
| | |
| --- | --- |
| Calories | 520.00 |
| Total Fat | 8.00 g |
| Saturated Fat | 3.000 g |
| Trans Fat | 0.000 g |
| Polyunsaturated Fat | 0.800 g |
| Monounsaturated Fat | 1.500 g |
| Cholesterol | 15 mg |
| Sodium | 420 mg |
| Total Carbs | 91.00 g |
| Dietary Fiber | 5.0 g |
| Sugars | 9.00 g |
| Protein | 20.00 g |
| Calcium | 20 % |
| Iron | 20.00 % |
| Omega-3 | 0.00 g |
| Omega-6 | 0.10 g |
| Vitamin C | 70.0 % |
| Vitamin A | 45.0 % |
Instructions
Cook pasta according to package directions until almost tender; drain and keep warm.
Heat Becel® Oil in large nonstick skillet over low heat and cook garlic until softened and fragrant, about 3 minutes. (Do not brown.) Stir in tomatoes and basil and simmer, stirring occasionally, 5 minutes. Add spinach and cook, stirring occasionally, until spinach wilts.
Add pasta, feta cheese, salt and pepper; toss well.