Gingerbread House
Cooking time

10 min

Prep time

30 min

Servings

60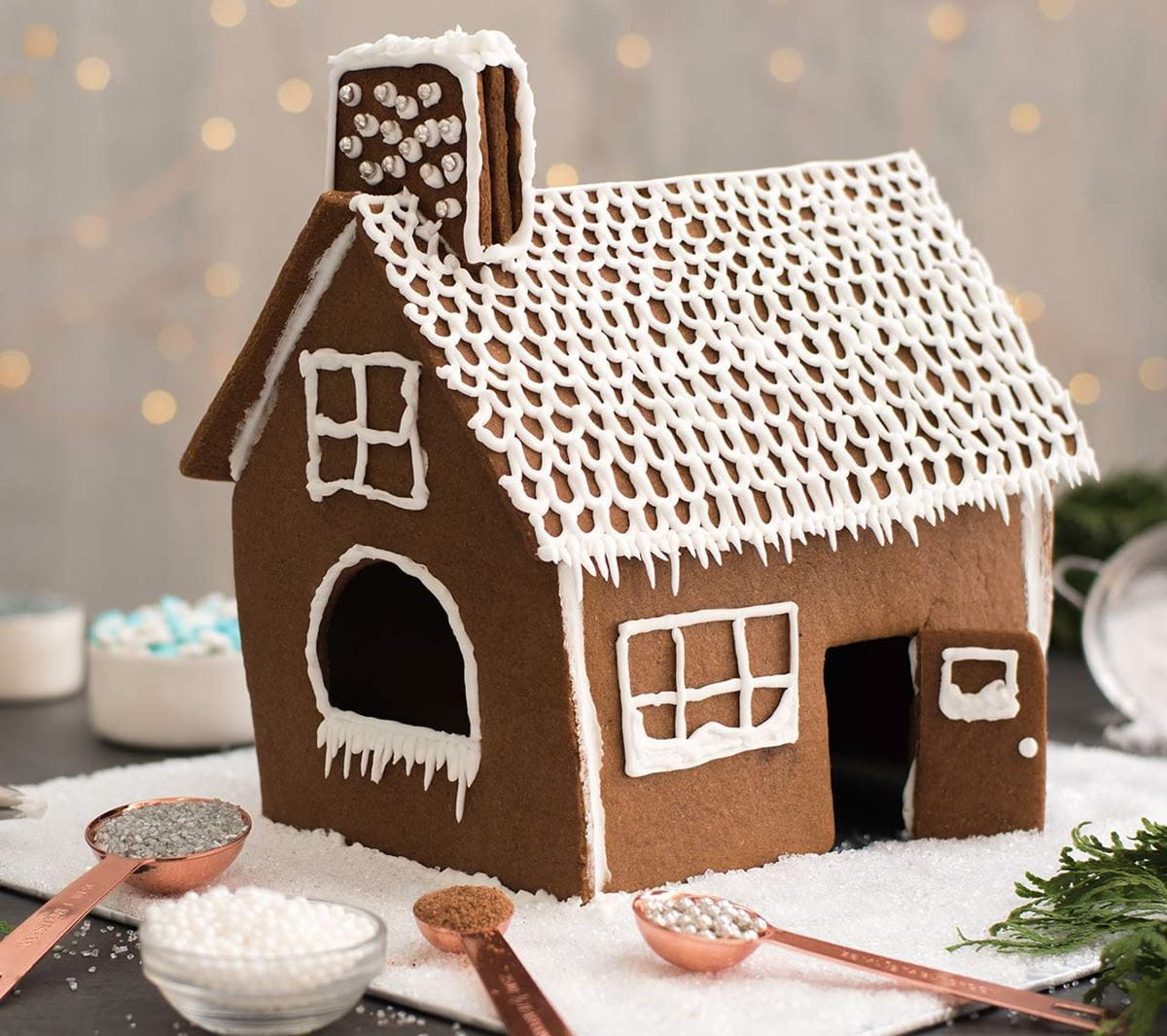 Ingredients
Gingerbread
3.5 cups all-purpose flour
1.33 cups whole wheat flour
2 Tbsp. ground ginger
2 tsp. ground cinnamon
1 tsp. ground allspice
1 tsp. ground nutmeg
1 tsp. baking soda
1 cup (2 sticks) Becel® unsalted margarine sticks
1 cup firmly packed light brown sugar
1 cup molasses
Icing
1 cup meringue powder
0.25 tsp. cream of tartar
3 cups icing sugar, sifted
Assembly
Assorted candies, such as gumdrops, licorice, mints, candy-coated nuts or chocolates, etc.
Calories

100

Total Fat

2 g

Saturated Fat

0 g

Trans Fat

0 g

Polyunsaturated Fat

0.4 g

Monounsaturated Fat

0.8 g

Cholesterol

0 mg

Sodium

25 mg

Total Carbs

21 g

Dietary Fiber

1 g

Sugars

14 g

Protein

2 g

Vitamin D

0 mcg

Calcium

42 mg

Iron

1 mg

Potassium

104 mg

Omega-3

0.1 g

Omega-6

0.32 g
Instructions
Gingerbread
Combine all-purpose and whole wheat flour, ginger, cinnamon, allspice, nutmeg and baking soda in a bowl; set aside.
Beat Becel® sticks, sugar and molasses in large bowl with electric mixer until blended. Gradually beat in flour mixture until well combined. Shape dough into 6 balls. Flatten into discs; wrap in plastic wrap and refrigerate for at least 1 hour or until firm.
Preheat oven to 350°F (180°C). Line a baking sheet with parchment paper.
Create your own gingerbread design or follow pattern. On work surface (working with 1 disc at a time), sprinkle flour lightly over 1 disc, then roll between 2 sheets of parchment paper to 1/4-inch (5 mm) thickness. Cut out pattern pieces from discs (i.e., 1 front, 1 back, 2 sides and 2 sides of roof); gather and reroll scraps to cut out cookies or accessories for the house. Transfer cut-outs to parchment paper-lined baking sheet.
Bake for 8 to 10 minutes or until firm to the touch and golden. Let cool on baking sheet slightly; transfer to rack and let cool completely.
Icing
Beat meringue powder with 1/2 cup (125 mL) hot water using an electric mixer on low speed for 1 minute.
Increase speed to high; beat until soft peaks form, 5 to 7 minutes.
Decrease speed to low; beat in cream of tartar.
Beat in icing sugar, gradually, until stiff peaks form, adding a few drops of water to thin icing or up to 1/4 cup (60 mL) more icing sugar to thicken.
Use a thicker icing to assemble the house and use a thinner icing for decorating.
Assembly
Assemble gingerbread house on cake board, cardboard wrapped in foil or large platter.
Spoon icing into piping bag fitted with small round tip. Using icing as glue to assemble the house, start with building the four walls; let icing set. Add roof and let icing set completely. Decorate house as desired, adhering candies with remaining icing.