Gluten Free Brown Sugar Toffee Cake
Cooking time

25 min

Prep time

10 min

Servings

Recipe serves 48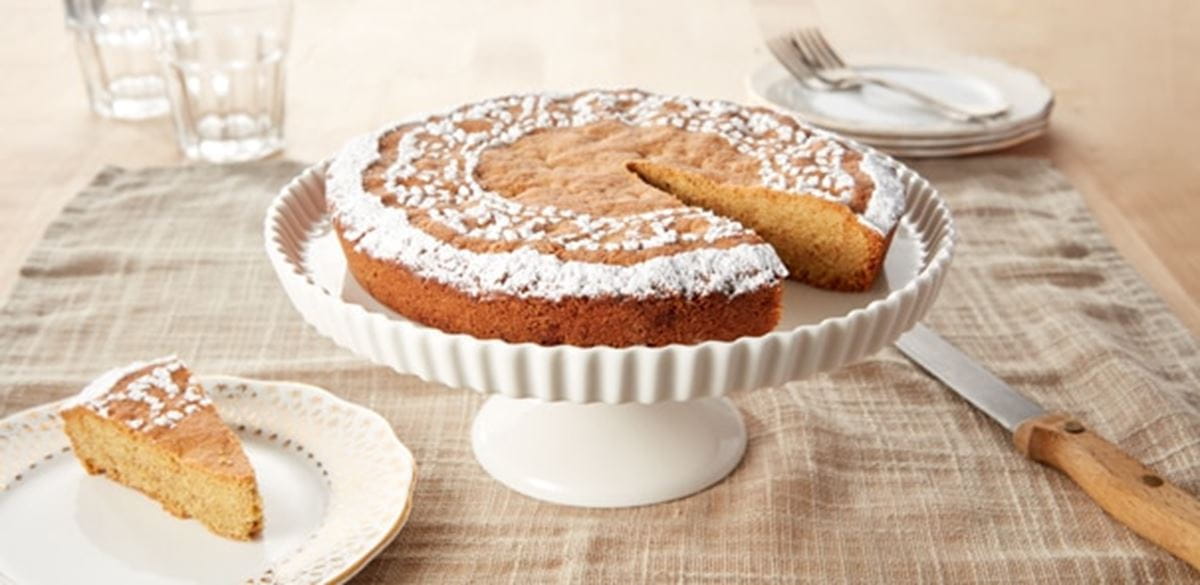 Ingredients
2 1/2 cups gluten-free whole grain oat flour
1/3 cup coconut flour
1/4 cup finely ground potato flour
1 tsp. baking soda
1/2 tsp. salt
1 cup Becel® Original margarine
1 cup firmly packed light brown sugar
1/4 cup granulated sugar
2 large eggs
1 tsp. vanilla extract
2 tsp. rum extract
1/2 cup toffee bits
2 Tbsp. icing sugar
| | |
| --- | --- |
| Calories | 120.00 |
| Total Fat | 6.00 g |
| Saturated Fat | 1.500 g |
| Trans Fat | 0.000 g |
| Polyunsaturated Fat | 1.500 g |
| Monounsaturated Fat | 2.500 g |
| Cholesterol | 10 mg |
| Sodium | 115 mg |
| Total Carbs | 14.00 g |
| Dietary Fiber | 1.0 g |
| Sugars | 8.00 g |
| Protein | 2.00 g |
| Vitamin D | 0.000 mcg |
| Calcium | 10 mg |
| Iron | 0.00 mg |
| Potassium | 17.000 mg |
| Omega-3 | 0.30 g |
| Omega-6 | 1.00 g |
Instructions
Preheat oven to 375°F (190° C). Lightly spray 3 (9-in./23 cm) disposable pie pans with no-stick cooking spray; set aside.
Combine oat flour, coconut flour, potato flour, baking soda and salt in medium bowl; set aside.
Mix Becel® Original margarine with sugars in large bowl. Mix in eggs and vanilla until blended. Gradually add in flour mixture; mix just until blended. Stir in rum extract and toffee bits; evenly divide into prepared pie pans.
Bake 25 minutes or until edges are golden rotating pans about halfway through. Cool completely on wire rack. Arrange doilies in center of cakes and evenly sprinkle with icing sugar. Carefully remove doilies and slice each into 16 slices.