Pork Stroganoff with Wild Mushrooms
Cooking time

20 min

Prep time

25 min

Servings

Recipe serves 4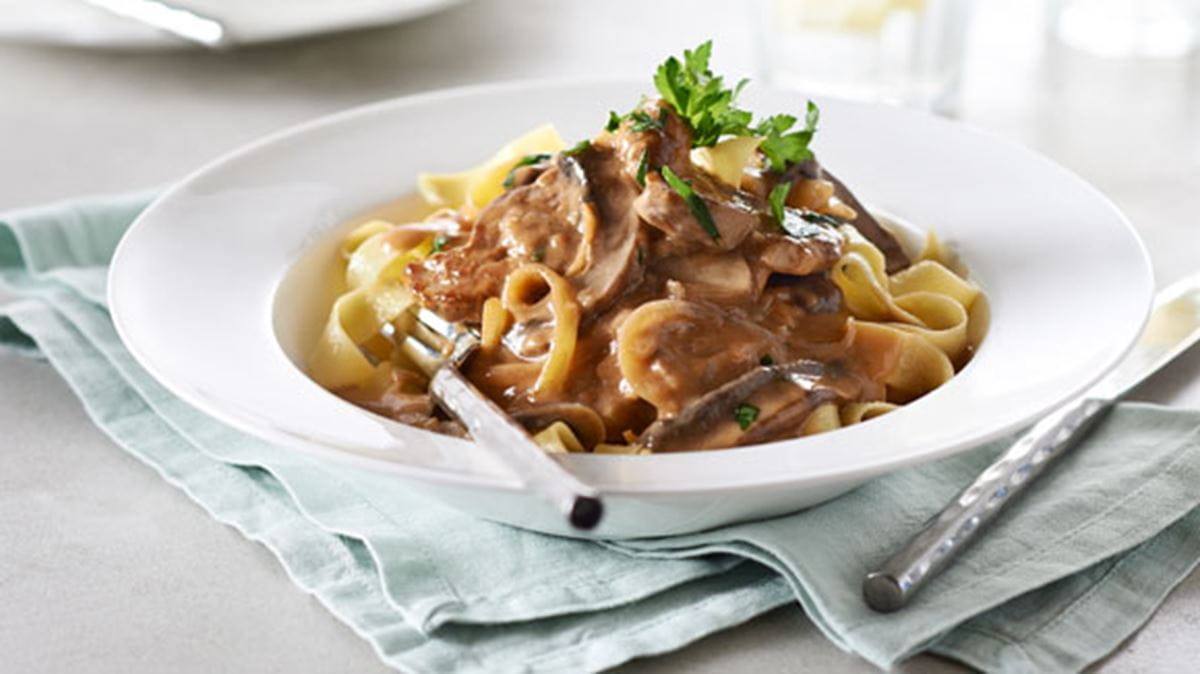 Ingredients
1 1/2 Tbsp. Becel® Original margarine
1 -lb. pork tenderloin , thinly sliced across the grain
1 medium onion , chopped
3 cloves garlic , finely chopped
1/2 lb. portobello mushrooms , stems discarded and caps sliced
2 Tbsp. all-purpose flour
2 cups reduced sodium beef broth
2 1/2 tsp. Worcestershire sauce
1 1/2 Tbsp. tomato paste
1 Tbsp. cornstarch
1/2 cup nonfat sour cream
3/4 lb. egg noodles , cooked according to package directions
1 Tbsp. chopped fresh parsley leaves , (optional)
| | |
| --- | --- |
| Calories | 370.00 |
| Total Fat | 8.00 g |
| Saturated Fat | 1.500 g |
| Trans Fat | 0.000 g |
| Polyunsaturated Fat | 2.300 g |
| Monounsaturated Fat | 3.200 g |
| Cholesterol | 90 mg |
| Sodium | 230 mg |
| Total Carbs | 39.00 g |
| Dietary Fiber | 3.0 g |
| Sugars | 4.00 g |
| Protein | 35.00 g |
| Calcium | 8 % |
| Iron | 20.00 % |
| Omega-3 | 0.00 g |
| Omega-6 | 0.10 g |
| Vitamin C | 10.0 % |
| Vitamin A | 8.0 % |
Instructions
Melt 1/2 of the Becel® Original margarine in medium nonstick skillet over medium-high heat and brown 1/2 of the pork. Remove pork to bowl and keep warm. Repeat with remaining Becel® Original margarine and pork.
Reduce heat to medium and cook onion and garlic, stirring occasionally, until onion is softened and slightly golden, about 3 minutes. Add mushrooms and cook until they begin to give off moisture, about 3 minutes. Stir in flour and cook 1 minute.
Stir in beef broth. Bring to a boil and cook over medium heat, stirring occasionally, until sauce starts to thicken slightly, about 5 minutes. Stir in Worcestershire sauce and tomato paste.
Combine cornstarch with sour cream; stir into sauce. Bring to the boiling point, then reduce heat to low. Return pork and any juices to skillet; heat through. Season to taste with salt and pepper. Serve over hot noodles and sprinkle with parsley.