Red Curry Veggie Rice
Cooking time

25 min

Prep time

15 min

Servings

Recipe serves 4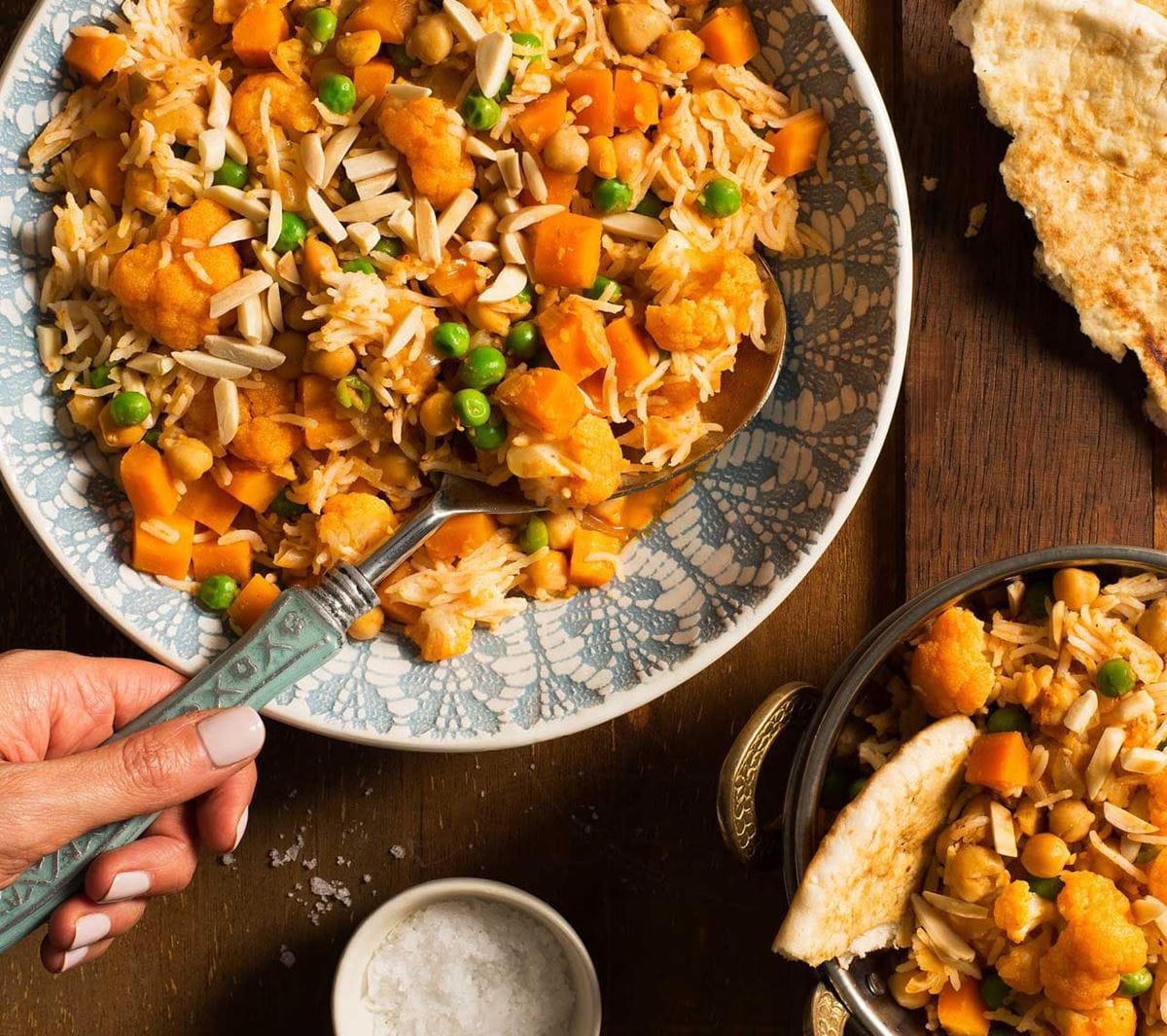 Ingredients
3 Tbsp. Becel® Buttery Taste margarine*
1 small sweet onion , finely chopped
2 large carrots , peeled and diced
2 cups small cauliflower florets , finely chopped
2 cloves garlic , finely chopped
1 Tbsp. Thai red curry paste
1 cup basmati rice
2 cups low sodium chicken broth
1 Tbsp. apple cider vinegar
1 can (439 mL.) no-salt added chick peas , rinsed and drained
1 cup frozen sweet peas
| | |
| --- | --- |
| Calories | 460.00 |
| Calories from Fat | 100.00 |
| Total Fat | 11.00 g |
| Saturated Fat | 1.500 g |
| Trans Fat | 0.000 g |
| Polyunsaturated Fat | 3.100 g |
| Monounsaturated Fat | 4.900 g |
| Cholesterol | 0 mg |
| Sodium | 310 mg |
| Total Carbs | 81.00 g |
| Dietary Fiber | 9.0 g |
| Sugars | 7.00 g |
| Protein | 15.00 g |
| Calcium | 8 % |
| Iron | 20.00 % |
| Omega-3 | 0.70 g |
| Omega-6 | 2.30 g |
| Vitamin C | 60.0 % |
| Vitamin A | 140.0 % |
Instructions
Melt Becel® Buttery Taste margarine in large saucepot over medium heat and cook onion, carrots and cauliflower, stirring occasionally, until crisp-tender, about 5 minutes.
Stir in garlic and curry paste and cook, stirring constantly, 1 minute. Add rice and cook, stirring constantly, until rice is coated well, about 2 minutes.
Stir in broth, vinegar and chick peas. Bring to a boil over high heat. Reduce heat to low and simmer covered 17 minutes.
Stir in peas and cook covered until rice is tender, about 3 minutes.