Written by: Sarah Glinski, RD
There is no doubt that sustainability is a hot topic. In fact, a recent report showed that while most Canadians look to the federal government for leadership on climate change, 42% to 57% of people polled believe the government is not doing enough to fight climate change.1 From forgoing fast fashion, to recycling, to composting, people are looking for ways to reduce their personal environmental footprints. Sustainable diets are another key area in which people are looking to make changes to benefit the environment. As dietitians, we are in a unique position to help our clients make an impact not only on their own health, but on the health of the planet.
What is a Sustainable Diet?
What exactly is a sustainable diet? The definition of sustainable diets from the Food and Agriculture Organization of the United Nations dating back 10 years still holds true as
"… those diets with low environmental impacts that contribute to food and nutrition security and to healthy life for present and future generations. Sustainable diets are protective and respectful of biodiversity and ecosystems, culturally acceptable, accessible, economically fair and affordable; nutritionally adequate, safe and healthy; while optimizing natural and human resources."2


The Environmental Impact of Human Diets
It is well known that raising livestock for human consumption requires many inputs (such as water, land, and feed), and produces undesirable by-products that are harmful to the environment.3 A study from Australia found that livestock farming was the largest greenhouse gas producer among agricultural sectors, with 70% of greenhouse gas emissions coming from livestock farming.4 For each kilogram of beef produced compared to the production of each kilogram of rice or potatoes, beef production requires5: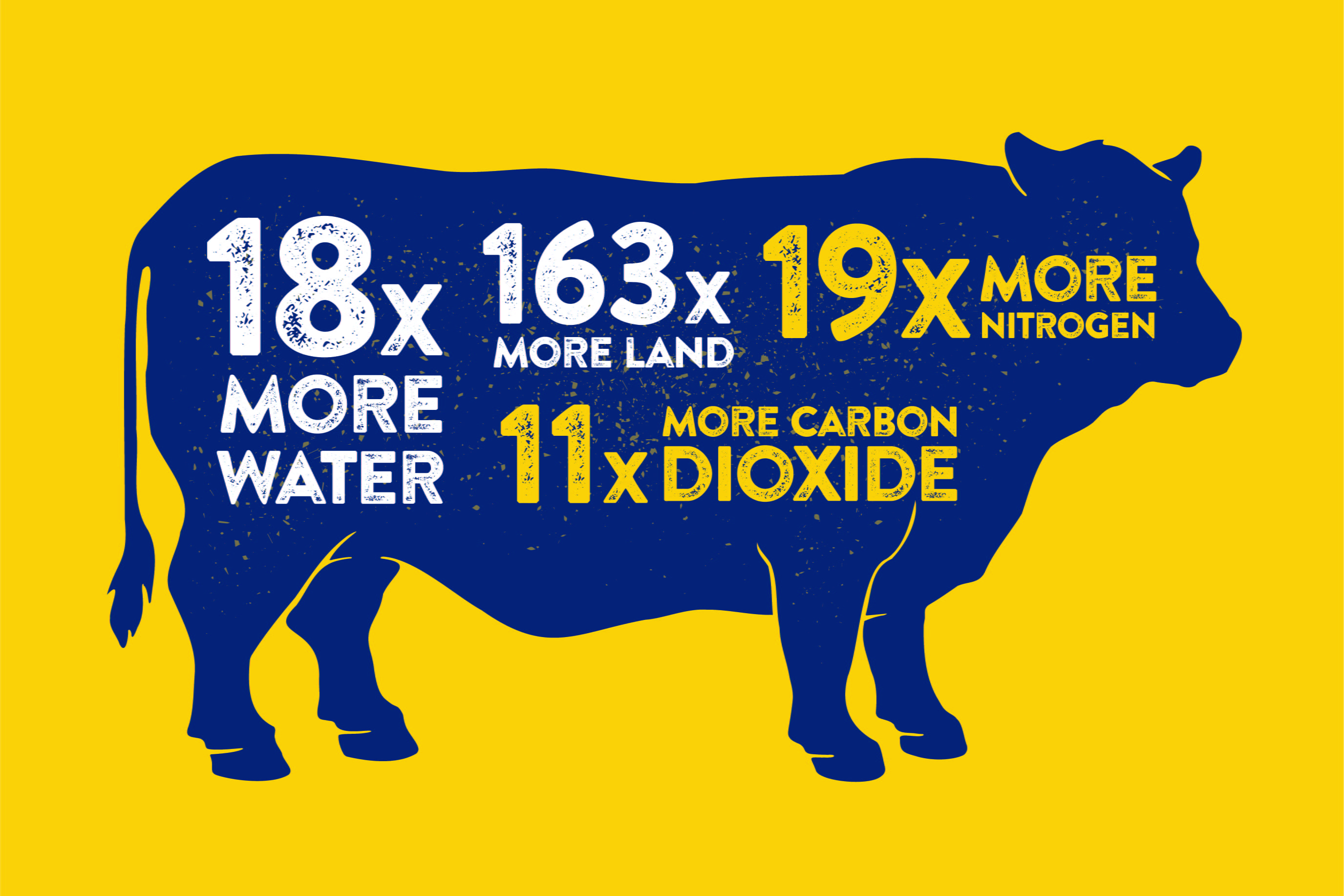 Another study6 showed that, compared with dairy butter, certain plant-based margarines and spreads: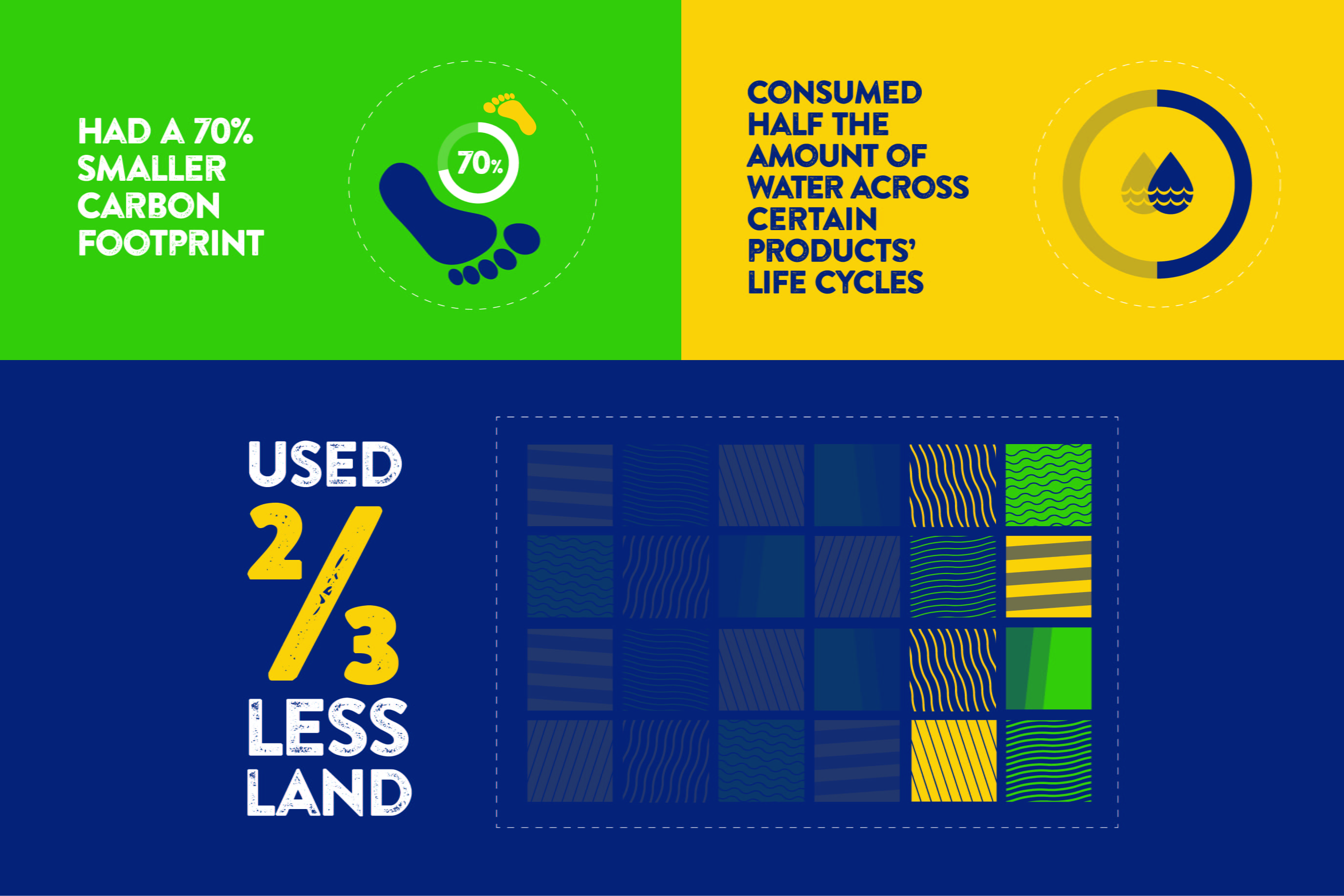 A systematic review of the environmental effects of vegetarian and omnivorous diets found it may be possible to achieve the same environmental impact as a vegan diet without completely excluding meat and dairy, but rather by substantially reducing the intake of these foods.3 Accordingly, following a plant-based diet for environmental reasons does not have to be all-or-nothing. This is an important message to share with our clients, as it may provide encouragement that generally following a plant-based diet is something that can have profound positive effects on our environment.


How Does a Plant-Based Diet Impact the Environment?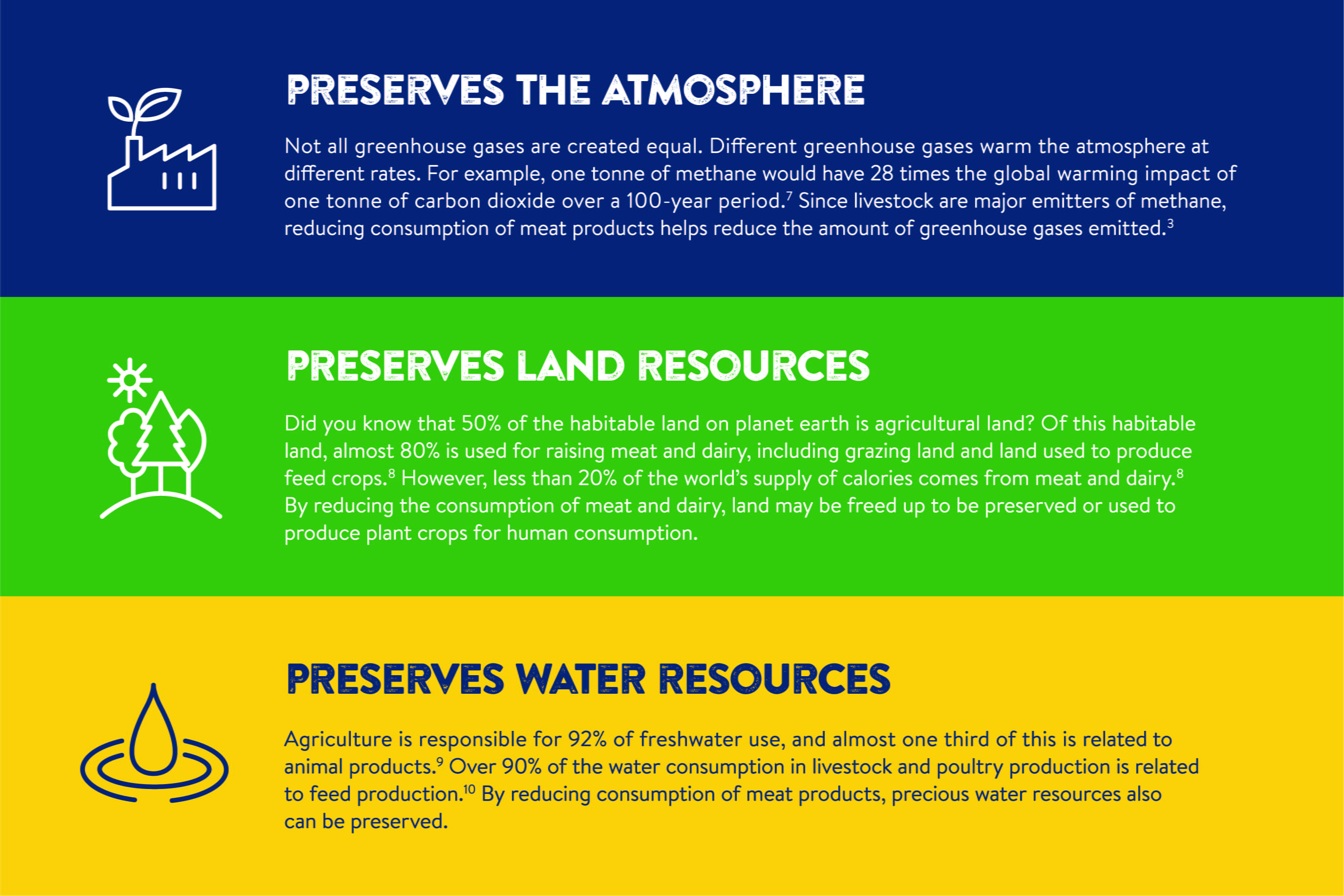 Plant-Based Diets and Health
Contrary to popular belief,
a plant-based diet
is not necessarily a vegan diet. While the two share characteristics, they differ in one fundamental way – plant-based diets can still include the consumption of animal-based products. Rather than focusing on foods to EXCLUDE, people following plant-based diets focus on all the wonderful plant-based foods they can ADD to their diet.
Plant-based diets are not just good for the environment – they may also be good for overall health.
A study11 found that increasing fruit and vegetable consumption by 200 grams per day was associated with: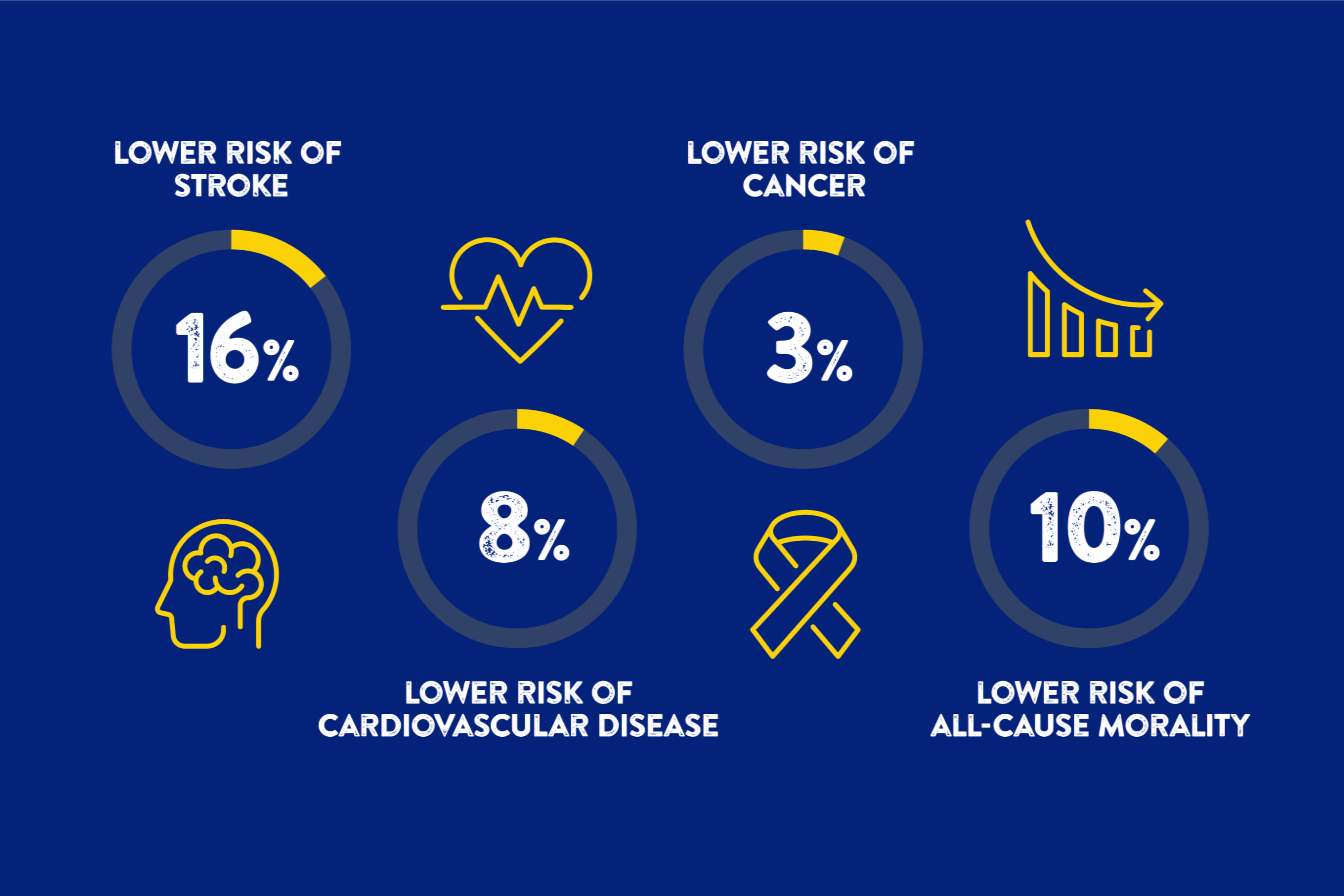 Another study found that following a plant-based diet may be effective to promote diverse and beneficial gut microbiota that support overall health.
12
The effect of unsaturated plant-based fats on heart health has been an area of study for over 50 years, with studies showing that replacing saturated fats with unsaturated fats is associated with lower
LDL cholesterol
, as well as lower overall incidence of cardiovascular disease.
13
Finally, plant-based diets have also been shown to be beneficial in the prevention and treatment
of type 2 diabetes
.
14 15 16
Whether a person decides to cut out animal products completely, or if they are simply looking to reduce the amount of animal products they consume, shifting towards a plant-based diet is an important change they can make towards a more sustainable lifestyle.
For tips on how your clients can get started with plant-based eating, plus strategies for living a more sustainable lifestyle, check out our guide, "
Getting Started with Sustainable Eating.
"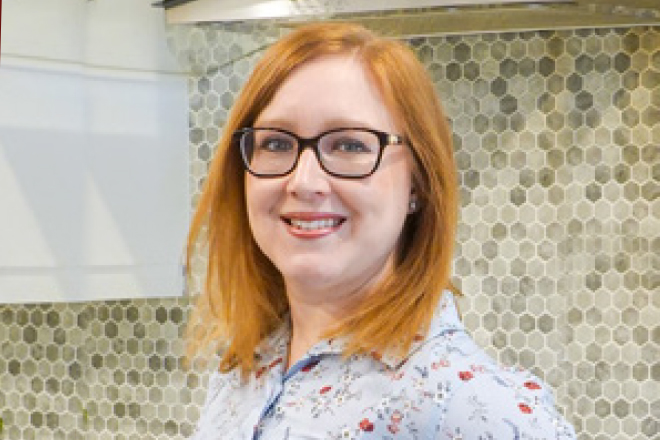 Sarah Glinski is a Registered Dietitian and holds a Bachelor of Science in Biology and a Bachelor of Science in Food and Nutrition Sciences. She is part of a team of leading digestive health experts at Ignite Nutrition in Calgary, Alberta that offers specialized nutrition counselling for digestive issues, women's health and food relationship. Sarah is currently a member of the 2022 Becel Centre for Heart Health Steering Committee, a team of registered dietitians working to create practical and relevant content.
References:
Hatch C. 2021. What do Canadians Really Think About Climate Change? Climate Access. Retrieved from https://climateaccess.org/blog/what-do-canadians-really-think-about-climate-change. Sourced June 19, 2022.
Burlingame B. (2012). Sustainable diets and biodiversity – Directions and solutions for policy research and action. Proceedings of the International Scientific Symposium - Biodiversity and Sustainable Diets United Against Hunger. Rome: FAO. Sourced June 19, 2022.
Chai BC, van der Voort JR, Grofelnik K, Eliasdottir HG, Klöss I, Perez-Cueto FJA. 2019. Which Diet Has the Least Environmental Impact on Our Planet? A Systematic Review of Vegan, Vegetarian and Omnivorous Diets. Sustainability. 11(15): 4110. Retrieved from: https://www.mdpi.com/2071-1050/11/15/4110/htm?utm_campaign=later-linkinbio-honestafnutrition&utm_content=later-4834849&utm_medium=social&utm_source=instagram. Sourced June 19, 2022.
Panchasara H, Samrat NH, Islam N. Greenhouse Gas Emissions Trends and Mitigation Measures in Australian Agriculture Sector—A Review. Agriculture. 2021; 11(2):85. https://doi.org/10.3390/agriculture11020085 Sourced July 11, 2022.
Scarborough, P.; Bradbury, K.; Key, T.; Appleby, P.; Mizdrak, A.; Briggs, A.M.; Travis, R.C. Dietary greenhouse gas emissions of meat-eaters, fish-eaters, vegetarians and vegans in the UK. Clim. Chang. 2014, 125, 179–192. Sourced June 19, 2022.
Upfield. Putting our words into environmental action. Published online at Upfield.com. Retrieved from: https://upfield.com/purpose/better-planet/climate-action/. Sourced June 19, 2022.
Ritchie H, Roser M and Rosado P. 2020. CO2 and Greenhouse Gas Emissions. Published online at OurWorldInData.org. Retrieved from: https://ourworldindata.org/greenhouse-gas-emissions?utm_source=miragenews&utm_medium=miragenews&utm_campaign=news . Sourced June 21, 2022.
Ritchie H. 2017. How much of the world's land would we need in order to feed the global population with the average diet of a given country? Published online at OurWorldInData.org. Retrieved from: https://ourworldindata.org/agricultural-land-by-global-diets#:~:text=Livestock%20takes%20up%20nearly%2080,required%20to%20produce%20our%20food. Sourced June 21, 2022.
Gerbens-Leenes PW, Mekonnen MM, Hoekstra AY. 2013. The water footprint of poultry, pork and beef: A comparative study in different countries and production systems. Water Resources and Industry. Volumes 1-2 (March – June 2013):25-36. Sourced June 21, 2022.
FAO. 2019. Water use in livestock production systems and supply chains – Guidelines for assessment (Version 1). Livestock Environmental Assessment and Performance (LEAP) Partnership. Rome. Sourced June 21, 2022.
Giovannucci E, Boffetta P, Fadnes LT, Keum N, Norat T, Greenwood DC, Riboli E., Vatten LG, Tonstad S. 2017. Fruit and vegetable intake and the risk of cardiovascular disease, total cancer, and all-cause mortality – a systematic review and dose-response meta-analysis of prospective studies. Int J Epidemiol. 46(3): 1029-1056. Sourced June 19, 2022.
Tomova A, Bukovsky I, Rembert E, Yonas W, Alwarith J, Barnard ND, Kahleova H. 2019. The Effects of Vegetarian and Vegan Diets on Gut Microbiota. Frontiers in Nutrition. 6(47). Sourced June 24, 2022.
Sacks FM, Lichtenstein AH, Wu JHY, Appel LJ, Creager MA, Kris-Etherton PM, Miller M, Rimm EB, Rudel LL, Robinson JG, Stone NJ, Van Horn LV. 2017. Dietary Fats and Cardiovascular Disease: A Presidential Advisory from the American Heart Association. Circulation. 2017(136):e1-e23. Sourced June 24, 2022.
McMacken, M., Shah, S. 2017. A plant-based diet for the prevention and treatment of type 2 diabetes. J Geriatr Cardiol. 14(5): 342-354 https://www.ncbi.nlm.nih.gov/pmc/articles/PMC5466941/#:~:text=There%20is%20a%20general%20consensus,and%20treating%20type%202%20diabetes Sourced May 31, 2021.
Satija, A., et al. 2016. Plant-Based Dietary Patterns and Incidence of Type 2 Diabetes in US Men and Women: Results from Three Prospective Cohort Studies. PLoS Med. 13(6): e1002039 https://pubmed.ncbi.nlm.nih.gov/27299701/ Sourced May 31, 2021.
Chen, Z. et al. 2018. Plant versus animal based diets and insulin resistance, prediabetes and type 2 diabetes: the Rotterdam Study. European Journal of Epidemiology. 33: 883-893.