Pumpkin Spiced Streusel Bars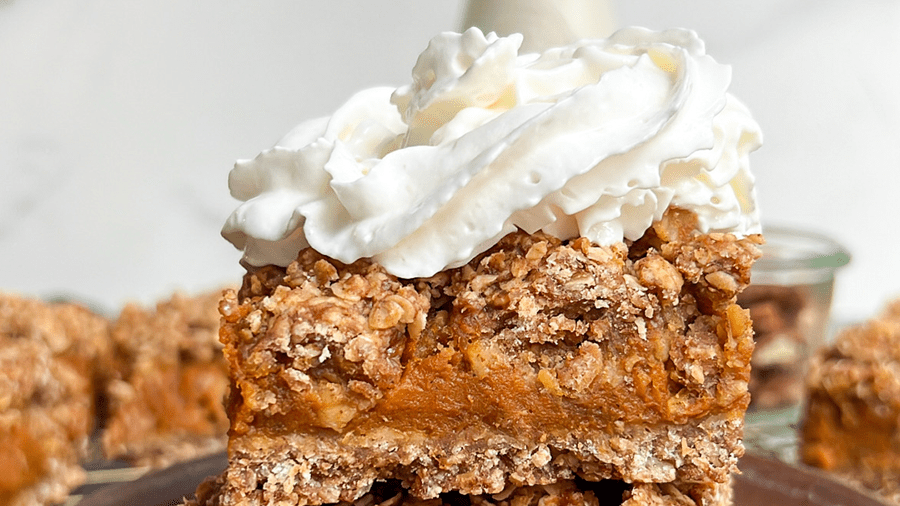 Ingredients
Crust and Topping:
1 1/4 cups gluten-free oat flour
2 cups gluten-free oats
1/2 cup coconut sugar
1 tablespoon cinnamon
1/4 teaspoon salt
3/4 cup + 2 tablespoons Becel® Light, melted and cooled
Filling:
1 1/2 cups pumpkin puree
2 tablespoons maple syrup
2 tablespoons coconut sugar
2 tablespoons non-dairy milk
1 tablespoon arrowroot starch (or cornstarch)
1/4 teaspoon salt
1/4 teaspoon each of allspice, cloves, ground ginger
Nutritional Guidelines (per serving)
(Nutrition information is calculated using an ingredient database and should be considered an estimate.)
Instructions
Preheat oven to 350F.
Start by making the crust and topping mixture by combining the oat flour, oats, coconut sugar, cinnamon and salt together in a large bowl. Once combined, stir in the melted Becel and mix all together
Press half of the crust mixture into the base of an 8 x 8 baking dish lined with parchment paper.
Bake for 20 minutes, or until crust is golden brown. Let crust cool for 10 minutes before filling.
Meanwhile, prepare the filling by stirring all the filling ingredients together. Pour over crust and bake for another 12 minutes.
Remove from oven and crumble the remaining topping mixture over the filling. Bake for another 30 minutes or until the topping is golden brown.
Let cool completely before slicing into bars and serve with whipped coconut cream, maple syrup and crushed pecans.