Asian Chicken Lettuce Wraps
Cooking time

10 min

Prep time

20 min

Servings

Portions 4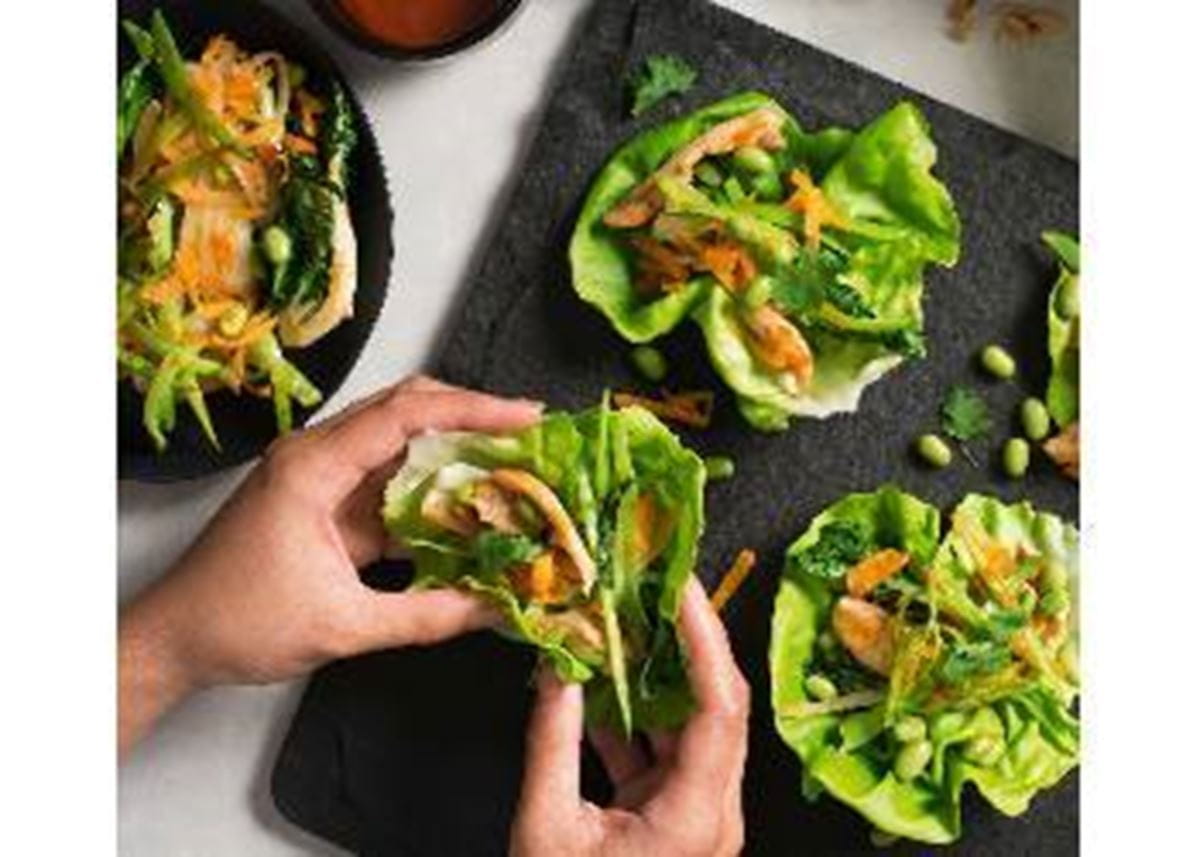 Ingredients
2 Tbsp. (30 mL) Becel Avo Plus™ Oil Blend
1 lb. (450 g) boneless, skinless chicken thighs, sliced very thin
8 ounces (227 g) snow peas, thinly sliced lengthwise
2 heads baby bok choy, quartered
1 cup (250 mL) shredded carrots
1/2 cup (125 mL) sweet onion, thinly sliced
1 Tbsp. (15 mL) gochujang hot pepper paste *
2 Tbsp. (30 mL) lime juice
8 Boston lettuce leaves
1/4 cup (60 mL) chopped fresh cilantro
| | |
| --- | --- |
| Energy (kcal) | 0 kcal |
| Energy (kJ) | 0 kJ |
| Protein (g) | 0.0 g |
| Carbohydrate incl. fibre (g) | 0.0 g |
| Carbohydrate excl. fibre (g) | 0.0 g |
| Sugar (g) | 0.0 g |
| Fibre (g) | 0.0 g |
| Fat (g) | 0.0 g |
| Saturated fat (g) | 0.0 g |
| Unsaturated fat (g) | 0.0 g |
| Monounsaturated fat (g) | 0.0 g |
| Polyunsaturated fat (g) | 0.0 g |
| Trans fat (g) | 0.0 g |
| Cholesterol (mg) | 0 mg |
| Sodium (mg) | 0 mg |
| Salt (g) | 0.00 g |
| Vitamin A (IU) | 0 IU |
| Vitamin C (mg) | 0.0 mg |
| Calcium (mg) | 0 mg |
| Iron (mg) | 0.00 mg |
| Potassium (mg) | 0 mg |
Instructions
Heat Becel Avo Plus™ Oil Blend in large nonstick skillet over medium-high heat and cook chicken, stirring occasionally, 1 minute. Stir in snow peas, bok choy, carrots, onion and gochujang and cook, stirring occasionally, until vegetables are tender and chicken is cooked through, about 6 minutes. Stir in lime juice.
Serve in lettuce cups, then sprinkle with cilantro.
*Use more or less according to taste.